Placing Bids/Offers in JForex
The trading offers the possibility to create Place Bid and Place Offer orders.
Order Panel
Place Bid and Place Offer orders can be created in the order panel which is located on the left side of the platform.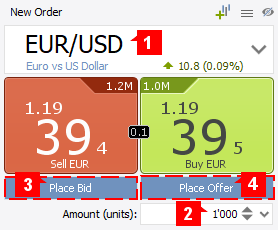 Select the instrument you would like to trade (1).
Set the Order Amount (2) (can still be changed later in the Place Bid/Offer window).
Click on Place Bid (3) to submit a Place Bid order (Buy) or on Place Offer (4) to submit a Place Offer order (Sell).
The Place Bid/Offer window appears. You can still change the order amount or used the pre-defined value.

Set the trigger price and define the expiration time of the order.

GTC - Good till Cancelled
Good for - Good for a specified amount of time (e.g. 10 minutes).
Good Till - Good until a specified point in time (e.g. 27.11.2017 16:29:05 GMT)

Click on Submit and verify order submission.