Canceling Pending Orders
All pending orders (Entry, SL, TP, Bids/Offers) are shown in the Orders tab where they can be canceled (and edited).
Orders tab
To cancel pending orders in the Orders tab:
The order status should be Pending (or Placed) (1) . If an order is stuck in Executing status, please contact support.
Right-click the order to access the options menu and select Cancel Order. If you cancel an Entry order (2), the associated orders will be canceled as well. Alternatively, you may right-click the Stop Loss (3) or Take Profit order directly (4).
Positions Tab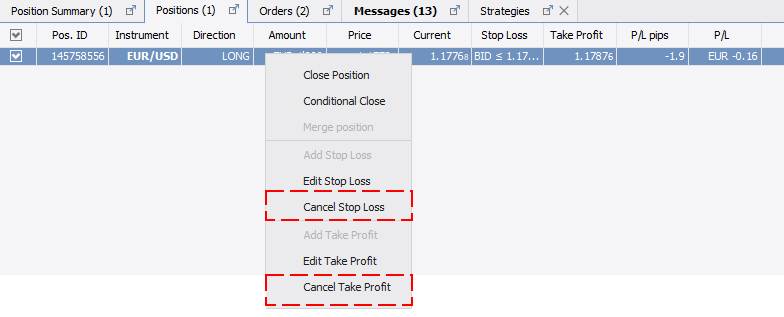 It is possible to edit the associated orders (stop loss or take profit) of an open position in the Positions tab:
Right-click the open position to access the options menu. Select Cancel Stop Loss or Cancel Take Profit.