Macro View:
The FED raised the federal funds rate during its December meeting and the pair reacted negatively to the news. This will most likely keep GBPUSD down for a month or two at least, depending on data.
Technicals:
The pair will try and breach the downward channel as seen on the daily chart and go for the next available Fibonacci level which is at 1.4811, whether it will move straight down from there to the next level at 1.454 or retry 1.50 is irrelevant for the forecast since there's bound to be a reaction from either of those levels with the pair moving up or down respectively back to the previous high or low at around 1.48. On the weekly chart we also see the pair retracing along the longer movement which starts at 1.48 and ends at 1.72.
With the pair post-FED rate hike standing at 1.50 and the view that the pair will remain depressed and move more downwards than upwards we pick the low of the previous longer movement which is also the next Fibo level of the downward channel the pair has been moving along now for a while at 1.4811.
Daily Chart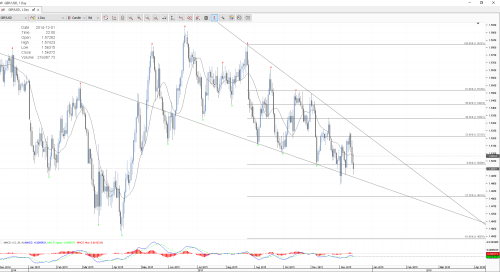 Weekly Chart