Greetings,
Reserve Bank of Australia (RBA) will make its rate decision on Aug 07/2018 (Tuesday) while the Reserve Bank of New Zealand (RBNZ) will do it on Aug 09/2018 (Thursday).
Current prevailing interest rates in Australia and New Zealand are -
Australia = 1.50%
New Zealand = 1.75%
This data chart shows the loose monetary policy followed by RBA and RBNZ -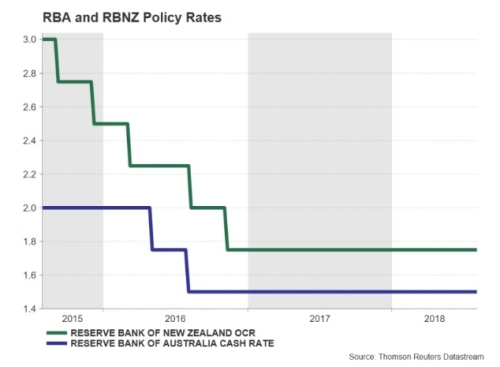 RBA has kept interest rates unchanged since August 2016
RBNZ has kept interest rates unchanged since November 2016
Once again next week, Australian and Kiwi interest rates are expected to remain unchanged.
Both the RBA and RBNZ have been bound to a neutral mode since 2016, there's been a bit of divergence recently, with the New Zealand economy showing some unexpected weakness. The RBNZ has even said the next move in rates could be down, though for now, the broad consensus for the next move is an increase. On the other hand, RBA is widely expected to leave rates on hold until 2020 at least. Home price weakness is at levels where the RBA started cutting rates in 2008 and 2011.
For those - who keep an eye on odds data, the odd of rates by remaining unchanged by RBA is 1.01 !!!!

Lastly, AUDUSD on 4H chart -
Cheers !!