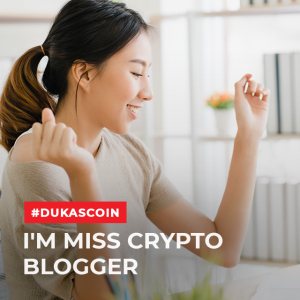 Do you feel like you would be a great blogger? Do you love writing articles or making videoblogs?
Show us your talent and earn the Miss Crypto Blogger title!
Miss Crypto Blogger is the contestant who has been the most active blog writer and has received most points for the completed tasks within the last month.
What do you need to do?
- Complete 4 weekly tasks
- Write your blog with #dukascoin hashtag and share it on your social media.
- Get likes on your blog posts with #dukascoin hashtag
THE TOPIC OF YOUR BLOGS SHOULD BE DUKASCOIN RATING CALCULATION
Participants' overall rating is formed by points for Popularity and Tasks points.
Task points
Complete weekly task from Dukascopy Team and get from 30 to 50 points.
Popularity points
These points are earned by likes for participant's blog posts with #dukascoin hashtag. All posts with this hashtag must be share.
Miss Crypto Blogger — the leader in total points for Activity and Popularity within a particular month (from 1st to 31st day of the month).
Start now and win 300 Dukascoins every month!