At quarterly(3-months period) chart we can see that first quarter of 2013 build bullish engoulfing with preovius candle.
The next candle, which hasn't closed yet, looks like doji.
That shows us that present quarter (from 01th april to today's 30th may) at this moment is consolidating.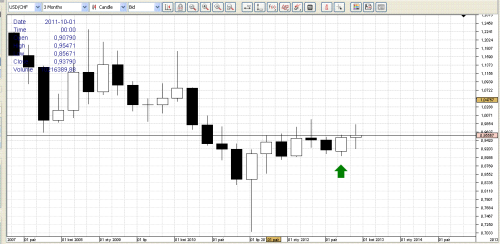 Different picture is showing at one-week time frame, where candles are bearish.
last week build strong shooting star at higher line of rising channel. this candle has closed deep in body of previous week.
In this week price is continuing falling.
That's why i think that in few next weeks price may slowly falling to lower line of channel and rise from that.
two different sentiments (on 1W and 1Q) suggests that price can stay in indecision next month (till 30th jule)
so exchange rate will be near to present course, let's say (i'm shooting ;-) ) 0.9540