Currency Pair:Gbp/Cad
Indicators: technical patterns and Sma30 (blue) + Sma200 (orange)
Current price: 1.8412
Daily Chart:
Very recently we saw the first weakness of the bull trend which began on July 2013.The price managed to break down the support of that ascending channel around 1.8460 and slid in the first phase until 1.8171. From this point gbp climbed once again to 1.8467, but it seems that any rise above 1.8650 has little chances as long as a triple top is right now underway having its neckline situated at 1.8170 and for sure will attract some selling pressure very soon.
Weekly chart
: On a higher time frame it's very clear that we are in a strong bull trend backed by an old golden cross combination between Sma30 and Sma200. Any declines in this pair will be short-lived and any dips is worth to be bought,
Conclusion
: By the end of June the trading range in this pair won't exceed more than 500 pips between 1.86 and 1.81, because neither BOE nor BOC are willing to take monetary actions any time soon.
My target: 1.8270
Daily chart ( below)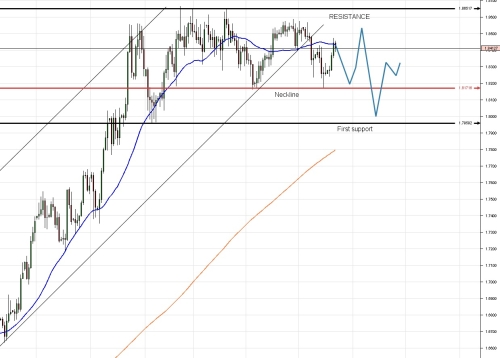 Weekly chart ( below)