Technical tools: simple moving averages (30, 100 and 200) and the relative strength index.
The following weekly EUR/USD chart unveils a significant down-trend, nearly since the 2nd half of 2014, when the Fed started tapering monetary policy with the end of QE programs. At the same time, the ECB endorsed its long-term easing journey coupled with negative interest and QE. After bottoming in March 2015, the pair has been hoovering within the 1.04 – 1.17 range, without being able to turn into a clear path.
On a daily basis perspective, the pair has been suffering a massive down-trend after Trump's shocking election. I expect the pair to retreat, as the RSI enters an area below the 30 level. Fundamentals, such as expectations over a possible Fed interest rate hike in December and a possible QE extension on behalf of the ECB might possibly boost the dollar and weaken the EUR, respectively. SMAs are also providing signals in order to expect the pair to keep moving south.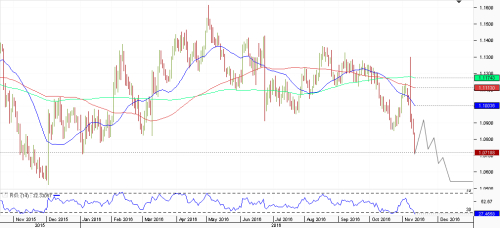 For all these factors, my expected target for the 2nd of January, 12:00 GMT: 1.0550.