CHART SCALE
: Weekly
INDICATORS
: Parabolic Sar, Money Flow Index, Linear regression slope
RESISTANCE LEVELS
: 0.77230
SUPPORT LEVELS
: 0.71687 - 0.73235
PAIR ANALYSIS
:
CAD/CHF has been traded within a bearish trend. The chart indicates a key level price of around the 0.74197 value.
The MFI, the linear regression slope at - 0.00023 suggest an indecision zone and the Parabolic Sar support the validity of the convergence zone intuition with a slightly bearish tendency. The bullish crossing of the resistance line at 0.77230 could facilitate a 0.8 objective level. A bearish crossing at 0.71687 could be interpreted as possible bearish domination market trend. Considering the linear regression tendency the forecast can be evaluated at 0.73235.
This level can be considered as a possible convergence price in consideration of the cyclic analysis. Also the chart analysis and the technical analysis could support this value as a possible forecast.
FIGURE 1
shows the trendlines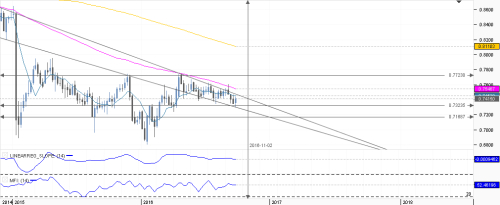 FIGURE 2
indicates the forecasting pattern