Charts timeframe used: Monthly charts, weekly charts.
Technical indicators used: ADX MOMENTUM , GAN FAN , FIBONACCI RETRACEMENT .
As shown on the monthly chart we can see a downtrend is still strong and EUR/USD has been in free fall for more than a month now and predicted to go on falling to target 1.1180 in the next weeks for the 1 st of October.
in the monthly chart, we see EURUSD IS GETTING CLOSER TO 1.1180 supported with GAN FAN LEVELS and strong momentum selling signal as shown in the next monthly chart.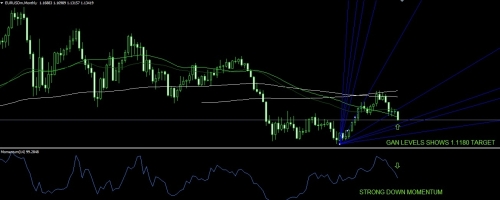 in the next weekly chart, the eurusd is getting closer to 61.8 Fibonacci retracement level at 1.1180 supported with GAN FAN LEVELS
at 1.1180.