Monthly chart:
The pair is in uptrend since 2011. It broke 38.2% retracement (of the 2002 to 2007 decline) in January and then traded around 50.0% retracement for nearly three months. In April, the pair broke back down and continued lower to clear the stops below 1.20 level. The confluence of the broken trendline (drawn off 2003, 2004 and 2009 highs) and 38.2% retracement shall offer further support ahead of 20 month SMA, should the pair continue lower.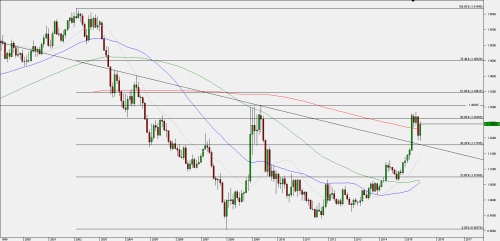 Weekly chart:
After range support at 1.2350 gave way, the pair fell quite substantially but the lower tails on the weekly candles from late April to early May show that there was strong demand coming in below the big 1.20 level. The reversal and subsequent return to Q1 range was equally impressive as the pair needed just a good week to get there. If it can maintain the pace, it may soon find itself testing cycle-high at 1.2835.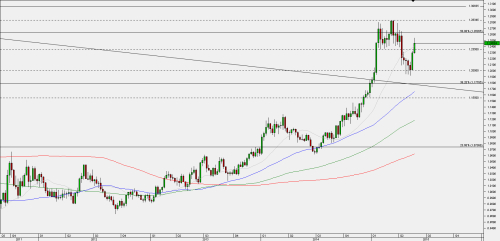 Daily chart:
In the rally from 1.20 to 1.25, the pair retook 20, 50 and 100 day SMA. 1.25 level shall offer initial resistance before April highs into 1.27. Area around Q1 range bottom (1.2350) remains important and will be closely monitored. If this market is indeed bullish, the pullback may now not extend back below it. If it does, 50 and 20 day SMA are next in the line before strong support in the 1.19 - 1.20 band.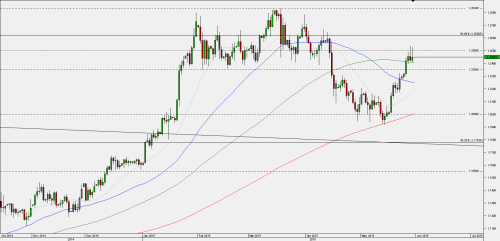 Prediction:
Both technicals (successful break below Q1 range) and fundamentals (oil appears to be consolidating, BOC on the sidelines, Fed in no hurry with hikes) have eased somewhat in favor of CAD. While outlook mostly depends on oil, I think that consolidation in broader 1.1900 - 1.2850 will continue for at least some time to come. On the 1st of July, 2015, at 12:00 GMT, the pair shall be standing at 1.2375.