Monthly chart:
The pair has been in a downtrend since May 2014. After it broke below the long-term trendline that supports lows of years 2005, 2010 and 2012, series of important levels gave way, falling like dominoes: 50.0% retracement (of the 2000 to 2008 uptrend), 2012 low, 2010 low, 2005 low and 61.8% retracement, before it finally stopped near the declining channel-line (drawn off 2008 and 2010 lows). Next support comes in at 2003 low at 1.0331 and and further down 76.4% retracement just above parity.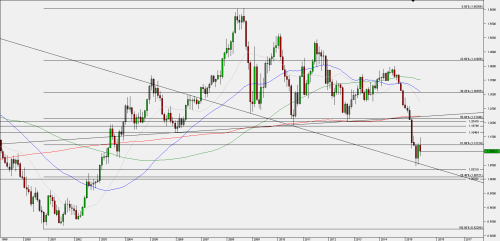 Weekly chart:
The low was put in at 1.0462, after stops below the 1.05 level were cleared. The pair bounced from there twice. The first bounce ran out of steam at 1.10 level while the second was stronger but stalled just ahead of 1.15 level. Should the bounce continue, 1.15 will be the first stronger level to overcome and then the yearly lows in reverse order (2005 at 1.1640, 2010 at 1.1875, 2012 at 1.2040).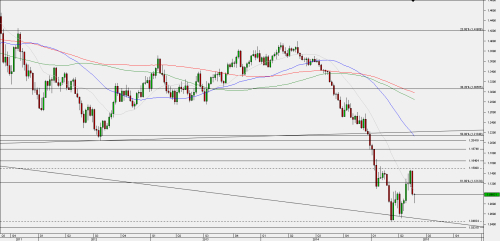 Daily chart:
Spending the first half of May in bullish mode, the pair turned back lower after it failed to breach strong resistance at 1.15. In more than 600 pip pullback, the pair fell back below 1.10 level and 20, 50 and 100 day SMA. Current bias is bearish and implies a retest of the March lows. On the flipside, if the pair wants to re-establish bullish bias it needs to retake 50 day SMA and 1.10 level.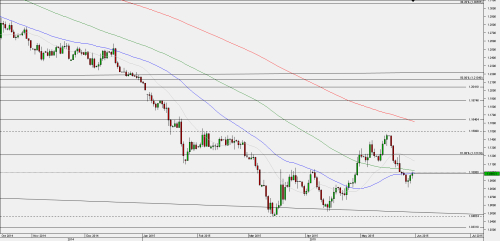 Prediction:
Technicals and sentiment (at least shorter-term) have turned neutral, while economic and monetary divergence between Europe and US has lessened. FOMC stressed data dependence and acknowledged that they are in no hurry to hike rates. Many still expect lift-off to take place sometime later this year but, before US data comes back on the track, I think the pair has some further upside to take care of. On the 1st of July, 2015, at 12:00 GMT, I see the pair at 1.1375.