GBP:

Since bouncing off of lows in mid-March, the GBP has been one of the best performing currencies in the world. Strong economic growth has caused the gains so I am expecting the GBP/USD to continue in uptrend for the remaining year. GDP is expected to be relatively strong this year as well. The unemployment rate is below 5% in UK. The fact that unemployment is so low combined with the fact that employment rates are at the record highs, everything looks to be great!
USD:
The US economy is showing a strong growth which has pushed the Unemployment rate to a decade low. The US economy grew an annualized 0.7 percent on quarter in the first quarter of 2017, following a 2.1 percent expansion in the previous period and below expectations of 1.1 percent, an advance estimate showed. US unemployment rate fell to 4.4 percent in April 2017 from 4.5 percent in the previous month, better than market expectations of 4.6 percent. It was the lowest jobless rate since May 2007.
Weekly Chart:
Trendlines: The GBP/USD has broken above the falling price channel in mid-March 2017.
Fibonacci Retracment: The 38.2 % Fibonacci retracement of Brexit fall from 1.50 to 1.20 is coming at 1.310. So I am expecting the current rally to continue to this level and then show some correction from this levels.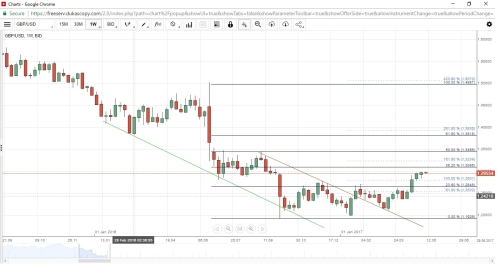 Daily Charts:
EMA: The EMA 10 and EMA 20 crossover is in buy mode so we can look to buy on dips till there is a reversal of trend.
Trendlines: The upward trend lines support is coming towards the level of 1.275. So I think any fall will be a good opportunity to enter in to a buy trade.