Even if the charts show like the pair might go down and generally struggle to break up, we continue to believe that eur has depreciated extremely against the gbp and so despite the struggle it will at least try to reach the previous high @0.7590.
BOE will too delay a hike rate for this 2-month period in our view and some data coming in from the UK aren't as positive as others.
Although we'll support in our view a break of the 0.743 level seen in the weekly chart, we'll choose the next fibo level as our target @0.7565, instead of the monthly 0.7588 high level and certainly not a break of that level, since the pair generally struggles to break up with an aggressive continuous move.
Monthly: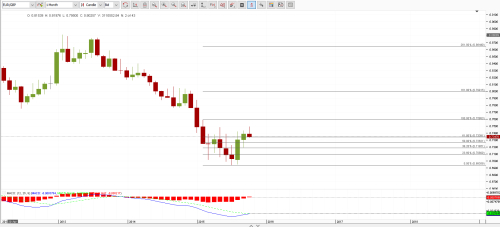 Weekly: