EUR EURO ZONE
Fundamental: The European Central Bank held its benchmark refinancing rate at 0 percent for the eighth straight time and left the pace of its bond-purchases unchanged on January 19th, as widely expected. Policymakers confirmed the monthly asset purchases will run at the current monthly pace of €80 billion until March, and from April, they are intended to continue at a monthly pace of €60 billion until the end of the year.
GBP UNITED KINGDOM
UK Economy Grows 2.2% Year on Year In Q4 2016.

UK Unemployment Rate Steady At 11-Year Low Of 4.8%

UK Inflation Rate Highest Since 2014

UK Trade Deficit Widens Sharply As Imports Jump

TECHNICAL:
TOOLS USED: Stochastic, ADX, Alligator Indicator, Accelerator, Fibonacci Retracement.
WEEKLY CHART:
Stochastic is falling and at upper end.

ADX falling and constant.

AC is in positive territory but falling.

Alligator trying to change direction.

MONTHLY CHART:
Stochastic is at bottom and trying to crossover in buy mode.

ADX rising.

AC is in positive trend and falling.

Alligator is in buy trend.

CHART

WEEKLY CHART: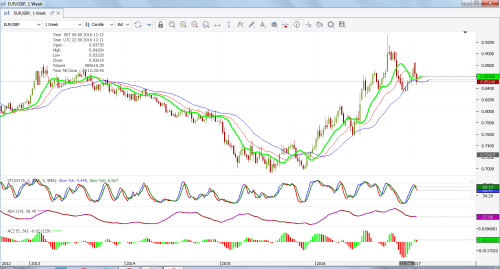 MONTHLY CHART: