LinnuxFX
posted an article : 1 May

Today I come here not to teach anything or present any lucrative strategy, but rather decided to write this article just to congratulate Jforex Strategy Contest for its Second Birthday. For anyone who is new in these parts should not know, but are gone two years since the first Jforex Contest Strategy was launched, in April 2010. When the competition was born, the structure was quite different from the current and participants were much less, sometimes there was not enough competitors to distribute 10 Prizes. In these two years, we just have to congratulate the Dukascopy team for the excellent work he has done to improve the monthly contests (JForex, Trader and Article).
Just to remind, at the begin of the contest, the strategies ran on participants computers, which forced us to have our computer ON 24 hours a day. I say "forced us" because I also participated in the contest along these lines yet, for the first time in September 2010, and my strategy finished in tenth place. Since then I has never ceased to participate in this great contest which gives us the possibility to test the performance of our strategies.
After these two years we can see that the changes were many and Dukascopy team struggled to make JForex Strategy Contest in one of the best strategies contests for today's Forex. Now the competition evolves to take advantage of social networking and created a community of traders to make the JForex platform more known. In the new molds, to finish in the top 10 and earn a prize money, it is not enough that our strategy reach at the end of the month with the highest balance, it is necessary to achieve other objectives and that the participant engages in the promotion of his strategy so that it can finish in the top 10.
I also want to congratulate all those who struggled and continue to strive to develop more profitable strategies and all winners that have participated in these two years of competition. Here is the memory for the first winning strategy in this contest, and I recall that in the Forum are available for download dozens of winning strategies also.
FIRST JFOREX WINNER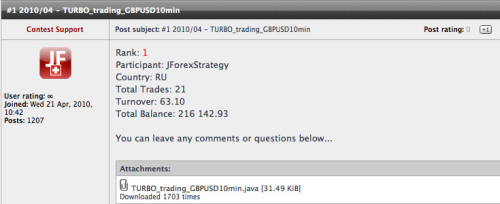 I still like to leave here a message of Fair Play for all competitors in the Jforex Strategy Contest, so that they develop or refine new strategies and not merely copy a winning strategy and set it running. As you know, it discourages the true owners of the strategy, that are required to compete with their own strategy. Although Dukascopy has already developed some new rules in that sense, but they are still not enough, however I think over time the competition will become fairer. I want to finish once again with congratulations to the Dukascopy team, and I hope they continue to maintain this level of innovation in all its contests for a long time.