I hope everyone had a great holidays
and year 2012 will be the best year ever, for everyone! This year is
going to be a very interesting to trade. So be alerted and listen to
fundamentals as this time, no matter how technical you are,
fundamentals may give you a great understanding of where the markets
are going to go.

In this article I will write about my
Asia Calm Market trading strategy. I am using this strategy in a
contest. But contest version is not what you want to trade real. So I
will tell what differences should be between live and contest
versions, how both strategies perform and how it works. Also
I have to mention that in this article I talk only about trading EURUSD pair.
Strategy contest
version results
First let's talk about Asia strategy
results in the Strategy contest. I have started to participate in
this contest with Asia strategy since June, 2011 (on May I was using
another strategy). First participation month wasn't very good, but
later I improved the strategy and began to get better results.
Results are in table below.


Results are different from month to
month because everything depends on quantity of losing trades. Most
common take profit of this strategy is ~15
pips, but loser is 100 pips. So, one loser can destroy all one
weeks profit trades. Also this strategy gets a loser if
market is not in "regular" state. Market is not "regular"
when there are some important new
events in the world. For example - new problems with EU, Fukushima
earthquake, etc. Also some irregular market moves during New York
session might signal about big moves in later session too. So it is
possible to foresee a loser and switch of the strategy. Anyway I
think that strategy generates not so bad results and it can be traded
on real account, but about this later.
I also made a backtest of year 2011.
Strategy was a little bit different. Bad trade filter was always on.
On a contest version bad trade filter is switched on only after 15th
day of every month. This is done because I needed at least 10 trades
per month.
So per 2012 my strategy made 158
trades, 12 trades finished in full 100 pips loss. 7 trades
finished in small loss for reasons I do not know. It made 906,8
pips and $181 032 in
profit. I ran backtest with initial $50
000 deposit and each trade had fixed $2 000 000 position.

Equity in pips chart is
below.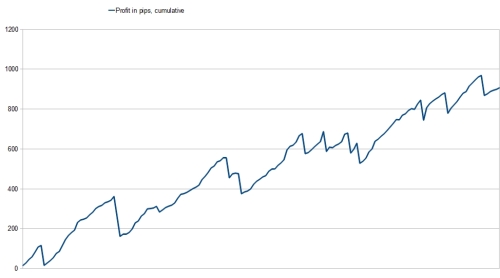 If anyone is
interested in this version, please write a comment and I will send
it. Why is it bad trading on real account? The answer is simple -
because stop is 100 pips. This is way too big stop for a 15 pips
profit. Risk/reward is very bad in this case. Of course it is
possible to trade this version on real, but with small risk. I
guarantee that it will be profitable on yearly basis.
How and why it works
There's most common market
movement and one trade at strategy trading hours on a chart below.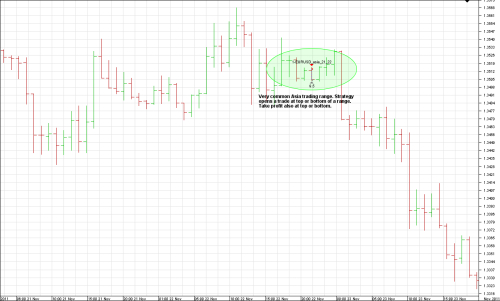 During this time
London session is closed already, New York is calming down and
preparing to close too, other sessions are still not open. Bitwise, I
do not know why I call this strategy "Asia". So in these hours
(this time of the year it's between 20:00 and 22:00 GMT) market
faces lower liquidity and price moves are slow and weak. So we enter
the trade at top or bottom of the range. Take profit also at bottom
or top. This is the basis of this strategy. It's very simple. But
simple things are the best things I think.
Improvements made just for
strategy contest
I have made strategy
improvements (or disimprovements) to participate in a contest. These
improvements were necessary to have a chance to finish in top 10. And
I made it 3 times. So these improvements were:



amount of trades were
limited from 2 to 1. This was needed by the rules;




most bad trade
filters were switched off – to get more trades. According to rules
we need at least 10 trades (currently it's even 20). And also it's
easier to get more popularity points with more trades;




stop losing increased
to 100 pips and was made fixed. This gives a better percentage of
winning trades which means more Dukascopy points;




trading position size
was increased – to get more equity at the end.
Live version
Live version should
be a little bit different. I have made one version, but it's not for
Jforex. I will make Jforex version too. I've made it analyzing
price data from year 2000. Below is equity chart of backtest from
2000 till 2011, lot size is not fixed and increases with equity.
Every trade risks 1.3% of whole equity. Initial equity was $10 000
and it finished with $582 308 848 in 10 years. That is a good result,
but as we all know previous results don't guarantee future success.

So live version
should have these differences from current contest version:



amount of trades
allowed – at least two per day, but no more than 1 per 30 minutes;




all bad trade filters
are on. One filter is already in a contest version. Other filters
– moving average, RSI and CCI;




stop losing can be
fixed and switched to 10-20 pips. But better to have stop above or
below daily range, or for example 14 hourly candles;




strategy should
move take profit to Break Even after 4 hours of being in negative
side;




and most
important – a user should watch London session, beginning of New
York session, news and consider if to switch off the strategy for
the night. If EURUSD has a strong move and momentum breaking all
technicals, I would consider switching it off for the night. Also
very important and unexpected news can crash the market. For example
after Fukushima earthquake I had to switch this strategy for a few
weeks on my live account.



If anyone has any
useful suggestions, I would be glad to implement and share the
strategy.
For now I stop using
current version of my strategy in a contest. The main reason is
increased minimal amount of orders to 20. If anyone has any ideas and
doesn't know how to code it, please write me and I will share the best
version I have.