Hello again, all members of DFC, I hope you have a Good 2012 full of Green Pips!
My article for this month is based on a Scalping Strategy I used to use in MT4 with a group of friends and now decided to make a tool for Jforex, but the main idea is, with the help of those who want to be here in the community, to create a strategy to compete in Jforex Strategy Contest!
This tool is based on an indicator and price movements in 1 Hour Chart. With the Tool I used in MT4 I only entered the market in the last 15 minutes to the closing of the 1 Hour Candle, but here on the platform of Dukas I just enter in the last 5 minutes, if the setup gives me the signal for SELL or BUY.
Strategy Description:
In 1 Hour Chart in any major currency pair (EURUSD, GBPUSD, USDCHF) apply the MA Indicator, as you can see in next image:
MA Type SMMA, with Time Period : 1 and Price: Tipical Price(HLC/3).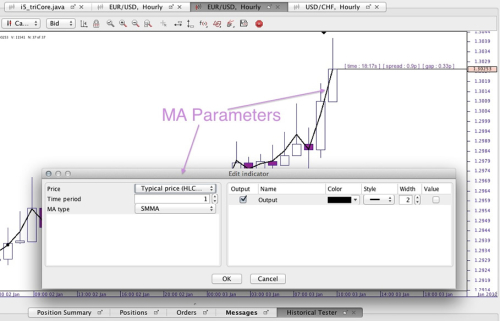 This SMMA is for viewing only proposes, because the developed TOOL give us the desired values.
Run the TOOL (strategy), I developed using some code found in Dukascopy Forum, and improved for my trading needs. This TOOL give us the setup for entry on Market. So, when the current price is greater than at least 13 pips in relation to our SMMA, we enter a SELL order, in the other side if the price is lower than at least 13 pips than our SMMA we place an BUY order, but only, if this happened, in the last 5 minutes missing for closing the 1 Hour Candle . Our TP is the difference when we enter the trade, and the SL is 2x that difference.
We need to be very careful with TP and SL because we are trading against the PIVOT, and do not forget this is a Scalping Strategy... pay attention to Support and Resistance too!
The TOOL:
As you can see in the next image, the TOOL have 3 outputs: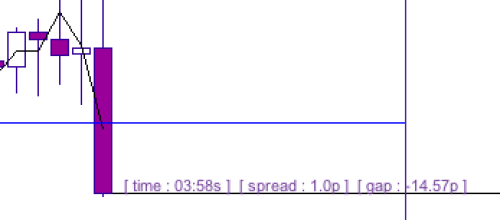 time - time left to close 1 Hour Candle

spread - spread of currency

gap - difference between our SMMA and Current Price.

As I said, when the time to close the 1 Hour Candle is less than 5 mins and the Gap is bigger than 13 pips/ -13 pips we are ready to enter one order in the Market. Then adjust the TP and SL as I described or if you want find some more comfortable values for you. Lets see an example, where you can observe how all this idea works: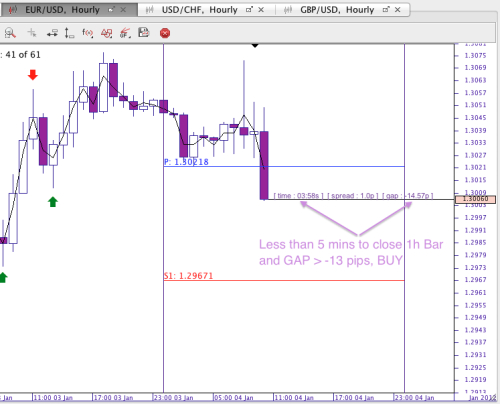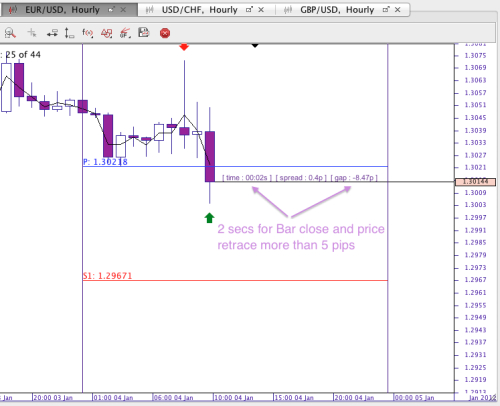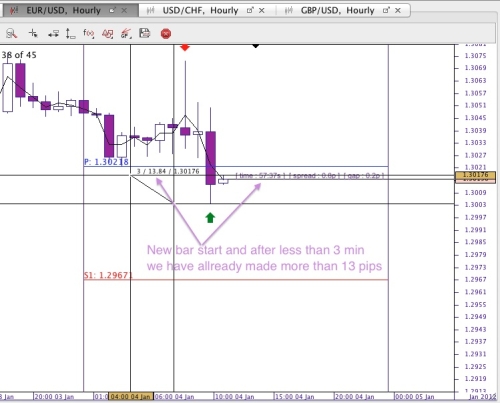 I started use this strategy in Jforex only a few days ago when I try to write a new strategy for Jforex Strategy Contest, but in MT4 it gave me a lot of green pips, so if you think it as a chance and you want develop a strategy with me please let here your comments and ideas to improve this strategy.
If you want theTOOL for test, please ask for it in comments and I will send it for you by e-mail.
Thanks and Good Luck for all members of DFC here in Article Contest.