fskliris
posted an article : 13 Feb.
First of all I would like to
thank everybody that read my article added a like and wrote a comment for my
previous article .
So lets go and see the second of the three winning strategies that I will
give these three weeks.
Your vote will make me go on publishing so add comments and put on some
likes.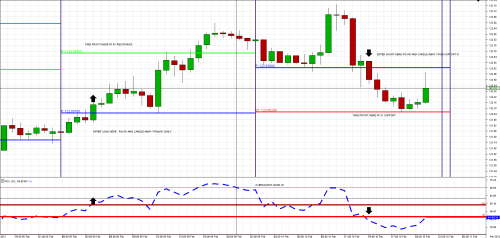 We use RSI ,PIVOTS daily, AND PIVOTS weekly.
On our diagram we put the RSI indicator
with 55 and 45 as trigger lines for long and short entrance and 70 and 30 as overbought and oversold
lines.
We put
the weekly pivot with the resistance and supports and we put the daily
pivots with resistance and supports.
Use 1
hour time frame .
-----So
our chart is ready.
Now how
it works .
Let's see an example for long entrance.
When
the candle close and the RSI is above the 55 line and we are not very close to
a daily resistance -------we go long .
That way we have a good entrance heading up . The movement will go on and we can collect our profits in the levels
of resistances R1 and R2 at the daily pivot. We can collect our profits little by little
close to the resistances . Our ultimate
target is the weekly resistance.
Another way to exit is when the RSI becomes
overbought above the 70 ( overbought line ) .
The
stoploss is when the candle close below the daily pivot and the RSI goes below
the 45 line.
For
short position please do the opposite .
So
simple .
Down is
a pic that you can see two positions with profit using this strategy.
The
first entrance is long when the RSI broke 55 up and the candle closed above
daily pivot . We took the profit on our
daily resistance R1. We waited a little and we got short when the RSI broke the
45 down and the candle closed down the daily pivot . We took our profit on the
daily S1 support. Now why we need the 55 or the 45 on RSI ?
We need
it so we don't have false signals . And why we go out in the first resistance
or support? We could waited to go out in
the second resistance or support, but I think is better to take our profits
early. You could see also the big picture and if there is a big trend going up
or down your could keep the position
open .
Next week a new
strategy is coming up.
So what are you waiting for …..
go on , put a comment , add a like.