When economy starts to move closer to recession and at the same time unemployment is at record levels, when the central bank lowered interest rates to the lowest level, when financial stability is shaken and the market is faced with a distinct lack of liquidity then the central bank often faces pressure to QE or some other measure in order to ensure better liquidity in the market.
After the FOMC statement, we expected something more aggressive monetary easing, however, the Fed has just presented the Operation Twist, which will come to decomposition maturities and so it will sell securities maturing in three years and buying maturities from 6 years out to 30 years. The Fed also left the key rate 0-0.25%.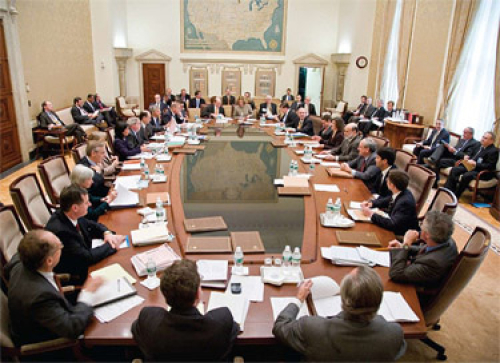 Certainly the highest expectations of the market is to have regard to QE3, this time was not the theme of statement, which is certainly a disappointment for buyers in commodity and stock market.
On the Forex is the expectation the dollar strengthened against almost all currency pairs, so the EURO / USD after two hours of the statement fell about 200 pips.
If we look at the long-term eur/usd pair and dollar index, we will see that the situation to the global recession is always correlated with the fall of the euro against the dollar and significant strengthening of dollar index. The previous period was marked with a significant decrease in GDP growth and growing fears that the world economy will enter a period of recession. Forecasts are still such that it is a slowdown but downtrend risk is very high which is also one of the conclusions FOMC statmenta.
With the debt crisis in Europe and without QE3 in USA and if we add the growing risk of slowing global economy we can certainly expect further growth in the dollar against the euro.
Also if you look at the chart eur / usd on monthly period we will see that this pair has the three highs that were in 1.60; 1:51 and 1:48 respectively. According to technical analysis, if a pair has three failed attempts to break through resistance and each subsequent peak is lower than the previous one, then surely we can conclude that there is a down pressure.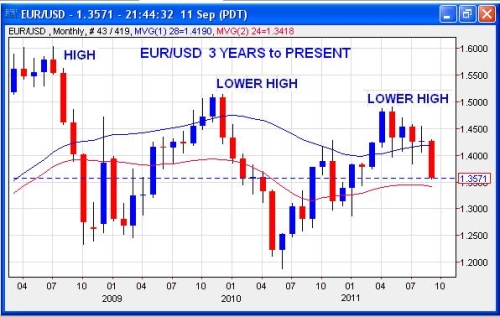 Combining fundamental and technical factors in the case of EUR / USD are compatible ie, refer to the same direction, and we can conclude that in the future and that within 3-6 months from now Euro / usd record drop.
In addition to corrections that are likely in the course of trading, my recommendation is to follow Fibonacci levels and based on them sell EUR/USD.