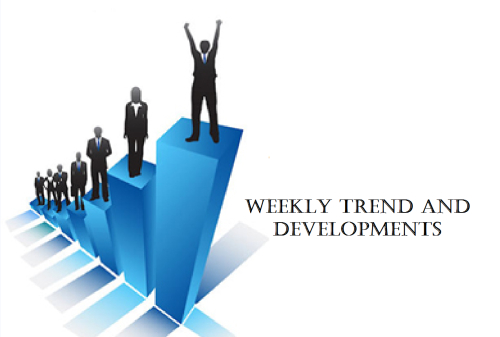 INTRODUCTION
Forex mkt price movement and volatility are compounded weekly monthly, quarterly and yearly ,This week I will keep my focus on the weekly trend as I bring to the fore the weekly technical forecast and ichimoku trend analysis.
The weekly trends and development for the week 13 / 06 / 2016 and my point of view on trending currency pairs; price action, what has happened in the mkt in past week and what may likely be installed for the week ahead.
Reviewing the US dollar index as we all understand that all major currencies trade against the US dollar, so I found it informative and valuable analyzing the US dollar index from week to week to determine its weakness and strength and also gauge mkts trend direction for the week.
The dollar index resumes uptrend after trending support at 93.40 to close at 94.65 last week and Major economic event from the US last week was Yellen speech in Philadelphia which highlighted downside risks to the US economic outlook .
measuring dollar index against bracket of currencies , New zealand remained the top gainer together with Swiss franc , Canadian dollar and Japaneses yen while and Gbp continually depreciated .
This week the dollar index is already positioned to appreciate further as we await key trend change event due for release during the week Advance Retail Sales , Federal Open Market Committee Rate Decision and CPI inflation data, most importantly the upcoming FOMC meeting, i expect the committee to maintain rate unchanged at 0.25-0.50% while major focus will be on the statement, updated economic projections and Fed Chair Janet Yellen's press conference .
From technical and trend perspective the dollar index is currently trading above tenkan sen / kijun sen weak bull cross , i expect the dollar index to remains slightly bullish this week trading around 95.20 , 95.40 .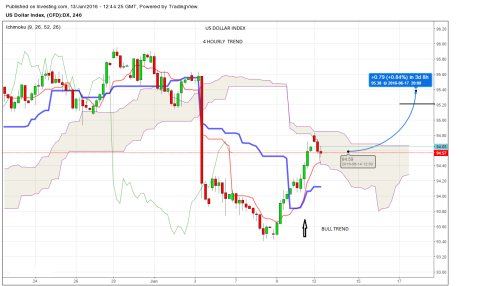 HIGHLIGHTS
Weekly Trend change events (T.C.E) and impact
Technical development to watch on Gbp usd , Aud jpy
TREND CHANGE EVENTS
=======================previous / forecast
TUESDAY
GBP CPI core .................................1.2% 1.3%
USD Advance Retail Sales........ 1.3%0.3%
WEDNESDAY
USD FOMC Rate Decision..... 0.25% / 0.50% , 0.25%/0.50%
THURSDAY
JPY BOJ Policy Rate ........................................-0.1%
AUD Employment Change .................10.8k 16.5k
GBP BOE Rate Decision .....................0.50% 0.50%
USD Consumer Price Index ( YoY)..... 1.1% 1.1%
GBP USD
Gbp usd continues to depreciate strongly against the dollar as concern over Brexit uncertainty and Non Major economic data were released from the UK last week but everything continued to be driven by the upcoming EU in/out referendum .
This week gbp usd downtrend continuation remains certain as brexit risk continues to weigh on the currency pair , aside from the upcoming referendum, Bank of England (BoE) meeting is scheduled on Thursday and i expect the Bank Rate and the stock of purchased assets to unchanged at 0.50% and GBP375bn respectively.
From technical and trend point of views the currency pair is currently trading below senkou span strong bearish cross , chikou span is below the price curve , price strongly remains below tenkan sen / kijun sen bearish cross and as widely expected Gbp may depreciate further trading around 1.4000 this week .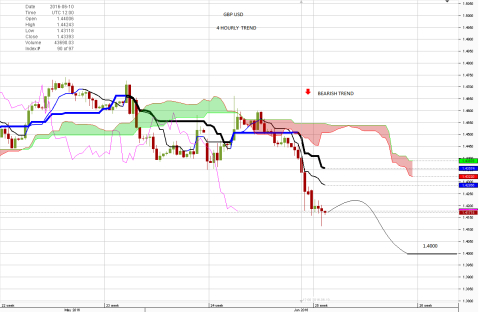 AUD JPY
Aud jpy trades downtrend testing major support at 78.40 as Yen continues to strengthen against the Australian dollar .
Major economic event from Australia last week shows RBA decision to keep rate unchanged at Rate 1.75% .
This week aud jpy is expected to break below key support level at 78.40 to pressure downtrend as we await major trend change event due for release from both Australia and japan with Aud employment change and BOJ monetary policy due on thursday .
From trend perspective the currency pair is currently trading below seukou span strong bearish cross and kumo cloud , chikou span is below the price curve while price is also below tenkan sen / kijun sen strong bearish cross . i expect Aud jpy to continue downtrend trading around 77.40 , 77.20 this week .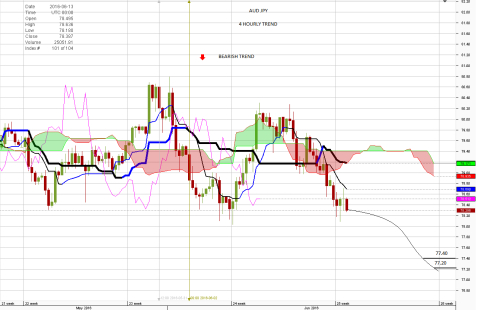 CONCLUSION
As Ichimoku practitioner I will continue to take a look into the trending currency pairs from week to week and share my point of views about the mkts ,This week I will keep watch on Gbp usd and Aud jpy considering Trend change events and impact, probabilities and potential trend directions for the week.
Kind regards
Trendmaster