Introduction
In this article USDJPY will be analyzed both fundamentally and technically and as known nothing is impossible in Forex so different scenarios will be drawn to express about the most probable scenarios with the USDJPY.
What is affected the move of USD/JPY nowadays:
Fundamental analysis
USD/JPY is affected now by two different policies by both Bank of Japan (BOJ) and United States Federal Reserve (FED) and also affected strongly by BOJ quantitative easing which strongly hit Japanese Yen, finally Yen and other currencies is affected due to strong growth in US in the last months which make US$ to be favored.
Different policies by BOJ and FED:
Bank of Japan (BOJ) injected hundreds of trillions yen into its economy which means Japan still increasing stimulus through an expansion of its quantitative easing (QE) program, last decision of BOJ surprised markets with cutting interest rate to negative.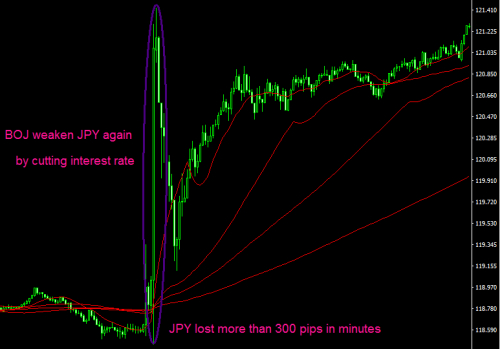 In different, US FED is already raised interest rate for the first time from ten years, FED made the historic decision after strong employment and moderate growth of economy and inflation.
Negative Japanese growth:
Japanese economy suffered for years from negative growth, world crises in 2008 made investors to buy JPY currency as haven, this send USD/JPY strongly lower towards 75 in 2012 from 125 in 2007, this JPY strength hit Japanese exporting and Japanese economy suffered more.
BOJ aimed from the beginning to raise inflation to 2% but then it seemed that it failed till now despite of stimulation and rate cut.
US growth still so strong in last quarter as it growth increase 3.7% in last quarter VS 0.6% quarter before, last US growth Q/Q were as follows (4.6%, 4.3%, 2.1%, 0.6% and 3.7%, 2% and 0.7% last quarter), US growth still moderate and accepted for FED.
Stock market lost more than 10% last month before retracing losses to 5%, Stock market turmoil historically affect JPY crosses, any stock crisis will strong affect the BOJ efforts to weaken JPY.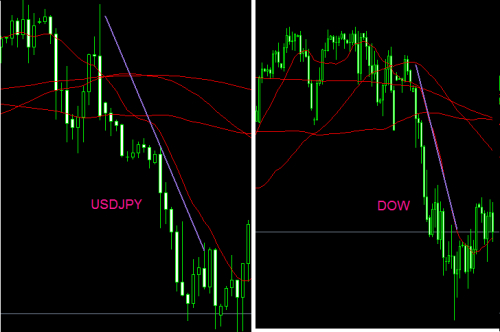 Technical analysis
USDJPY moved in last 15 months in a range between 115 and 125, after strong gains of the pair, this consolidation may mean that pair may be near to fall if lower range is broken, but in other side, it may be rest or relax area before more strong gains,
break lower 115 will open the door for strong looses for the pair which may send the pair towards 100-105, but break about 125 may open the door for 130.

USDJPY will stay move between 115 and 125 without any break up or down, this scenario may have probability 50%, USDJPY moved between this range for 15 months and may be not able to break the range and this may happen if stock market bottomed or near to bottom.
USDJPY will break higher current range aiming 130, this scenario may have probability 25%, after consolidation of 15 months, pair may break higher if supported by recovery in stock market or if Japan inject more QE or if US accelerate interest rate raise.
USDJPY will break lower current range aiming 100-105, this scenario may have probability 25%, pair may break lower if collapse in stock market happen or if crisis hit any of both countries.
Conclusion
USDJPY still affected by different BOJ and FED policies but any collapse or turmoil of stock market may significantly affect the BOJ efforts to weaken JPY.