Today I want to talk about a very famous micro blogging service -
Twitter
. Everyone knows what is
Twitter
, but not all people use this very convenient service. Some people, like my wife - even hate
Twitter
. Today I will try to fix this annoying fact, and tell - how
Twitter
is useful for each trader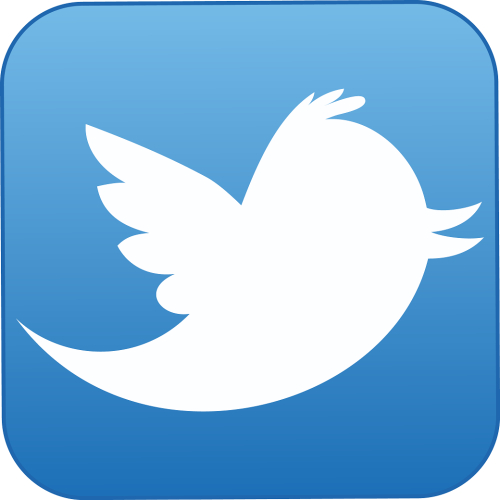 It is no secret that the economic news from countries around the world have a huge impact on the price movement of currencies of these countries in the
FX
market. If you are
FX
trader, of course you can do technical analysis, analyze the candles and various indicators, draw trend lines, and analyze support and resistance levels and volume levels. But let's be honestly, sometimes it is absolutely does not work. Every unexpected (or expected) economic news can completely cross out any market analysis that you have done.
Of course, if you do only scalping - and never keep the trade open for more than a few seconds, and do not trade during important economic news - in this case the news is not so relevant for you. But we're talking about the vast majority of traders, and the majority are not so engaged in scalping, most traders trade more in long-term.
Any trader should be informed of all the expected and previously released economic news, no doubt. However there's a slight problem - there are dozens of news websites, and often information on them very different. There is no any website, on which the information would be exhaustive.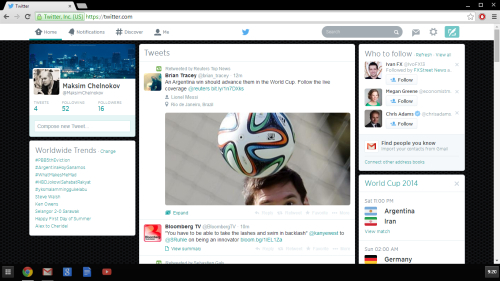 Accordingly, you have two options: First – either every day you are viewing a dozen news websites, which is time consuming and not very comfortable. Second - you are simply register an account in
Twitter
and everything becomes much easier. The main plus point of
Twitter
- all the information will be in one place, and in a brief, concise manner. Only basic, nothing more.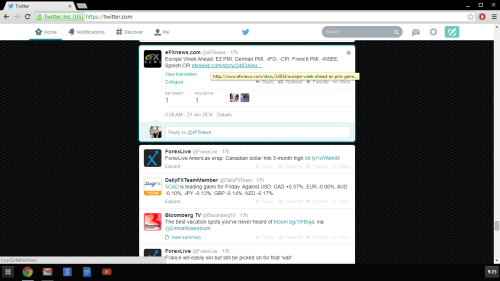 Many news sites have their own
Twitter
account, which you can follow. And then immediately after the news - you'll see it in a concise form in your
Twitter
account, but if you want to read about it in more detail - you only need to click on the link in the tweet and the web page with the full version of this news will be opened.
Here I want to add some advantages of
Twitter
in short way:
-
many information in one place
-
short information in thesis
-
an opportunity to open full information
-
you can subscribe only on Tweet in your own language
-
save your time
-
you can share with people your own thoughts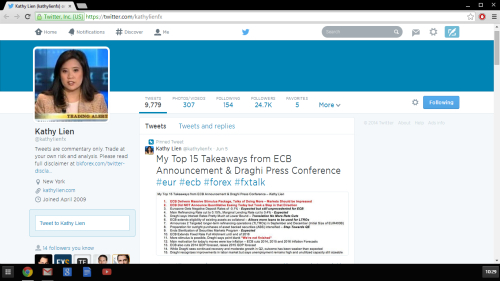 All known market analysts also have accounts on
Twitter
, and it's very convenient - track opinions of different people about the market in one place. Also there are many
Twitter
accounts - which are very useful to you trading signals, such as account
@DukascopyFX
- this is the first account that you need to be follow on
Twitter
.
@Dukascopy_News
- second.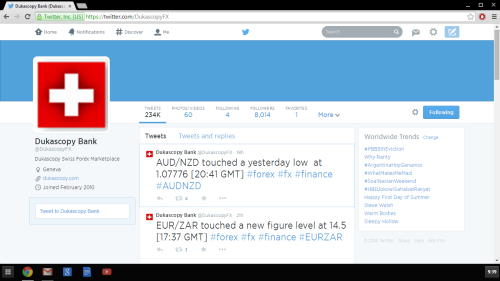 I want to share with you part of the list of
Twitter
accounts that I follow:
These are only examples, you can subscribe to any other accounts, a lot of them. After you follow 10-15 news accounts, every morning - you do not need to browse multiple websites, you simply open
Twitter
, see 10-20-30 new tweets, and quickly view them. If you already use
Twitter
to get the latest news from the sphere of the FX market - and follow some useful accounts, please, share them in the comments to my article.