The MACD is an oscillator that is used by traders to determine the turning points of the market. Basing on this fact the MACD oscillator can be used to determine the high ands and the lows of the market making it a reliable tool for timing entries and exits in the market. In this article I will focus on mainly how the MACD indicator can be combined with the trend line and be used for trading.
Drawing trend lines based on the MACD
To draw the trend lines one has to use the MACD oscillator set to default settings. The MACD oscillator can be added to the chart by selecting it from the inbuilt indicators on the Jforex platform.
Using the tops and bottoms formed on the MACD oscillator, one can accurately identify the highs and lows of the market thus eliminating any subjectivity. By joining these highs or the lows using the ray or trend line tool one can accurately determine the direction of the trend i.e. whether the trend is bullish or bearish.
In the chart below, one can draw a rising trend line by connecting two higher lows being formed. The higher lows must coincide with the higher lows being formed on the MACD oscillator.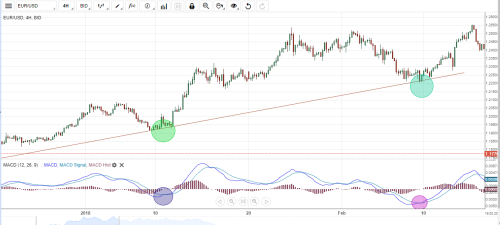 In the next chart, we draw a falling trend line by connecting two lower highs which also coincide with the lower highs being formed on the MACD oscillator.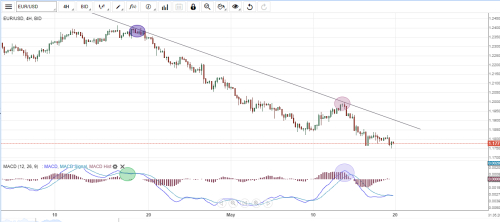 Trade entry using the MACD and the trend line
To enter a trade using the trend line and the MACD, one needs to draw two opposing trend lines i.e. one rising trend line and falling trend line. After drawing the trend lines, one has to wait prices to break from the rising trend line for short trades and falling trend line for short setups. Once the setup is ready the MACD acts as the trigger.
For Bullish trades
Wait for the price to move past the falling trend line

The value of the MACD Histogram must move from below the zero-line to above the zero-line

Buy on the candle high with a stop loss below the low

For take profit use the 14 period ATR or two times the risk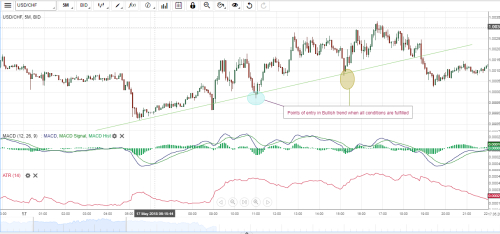 For Bearish trades
Wait for the price to break below the rising trend line

The value of the MACD Histogram must move from above the zero-line to below the zero-line

Sell on the candle low with a stop loss at the above high

For take profit use the 14 period ATR or two times the risk