Fundamental analysis


Few weeks ago, after NFP (Non Farm Payrol ) report, US dollar gain was huge. Whole market started to talk about interest rate increase. Last week FOMC (Federal Open Market Committee) report gave clear picture about excellent USD results. Around 68% is probability that we can see interest rate increase in December based on several polls.
The European Stability Mechanism , intended for the rescue of heavily indebted Eurozone members, has approved today the payment of a new tranche of aid to Greece in the amount of two billion euros, after the country adopted a new austerity measures.It has approved the payment of a new tranche to Greece, after her late August paid EUR 13 billion.
Greek parliament last week passed a new austerity measures that include raising taxes on wine and raising tolls, and less protection for the citizens of mortgage loans.Athens wanted to find a way to about 70 percent of homeowners protection from seizure of real estate, but the creditors considered that the level is too generous and sought to be protected by only the most vulnerable.
This week we will have several important reports for US dollar EUR, GBP and AUD, as we can see in Dukascopy economic event calendar for this week below.We expect excellent news for USD.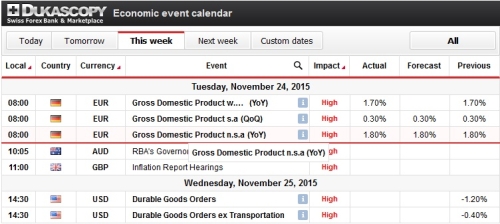 Trading ideas
Below we can see blue slides which represent charts before FOMC report. Red slides represent current charts and they are created today morning.
EURUSD


Before and during FOMC EURUSD started to create rising pullback. This was excellent chance for short trade as we can see in slide below.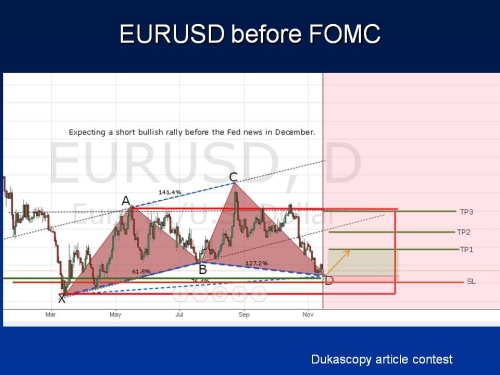 After that, based on bigger picture on daily chart we can see strong bearish trend and nice level at 1.08 for more selling positions.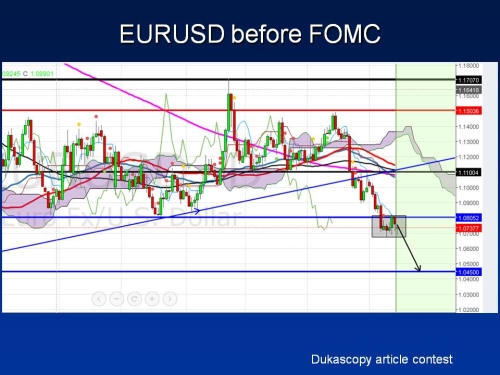 Price level, which was previous selling point two weeks before, now is excellent level for new sell trade. Major structure shows that 1.074-1.08 is excellent resistance area for sell trades.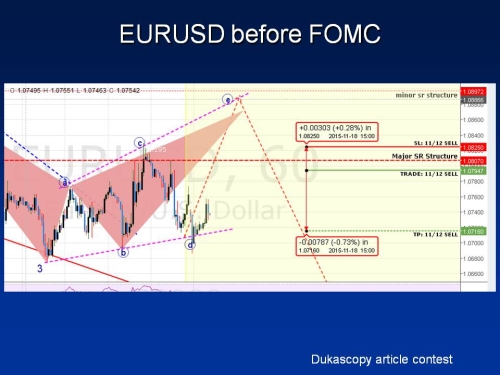 Today, as we can see on red slide, price is again below 1.07 and in one moment went till 1.06.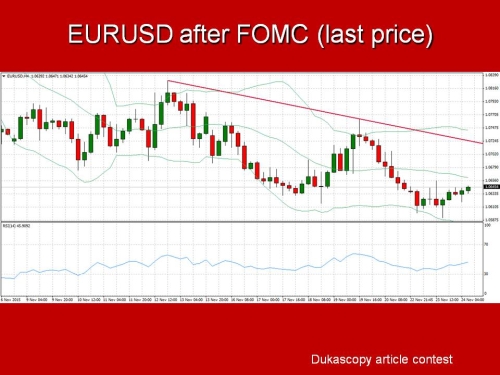 Trading idea for EURUSD: I will trade range and try to buy from 1.06 and sell at 1.074. My targets will be very tight as well as stop loss.
GBPUSD
GBPUSD is in strong bearish trend last weeks as we can see on slide below.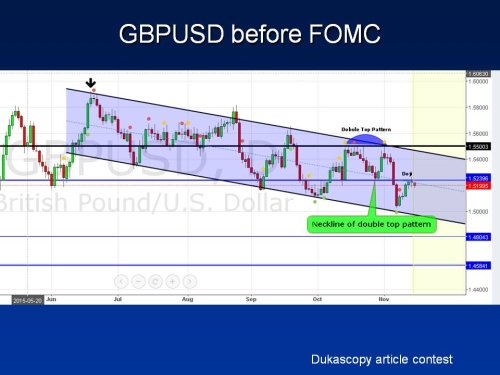 Divergence shows clear target at 1.5 and 1.486 as we can see on slide below.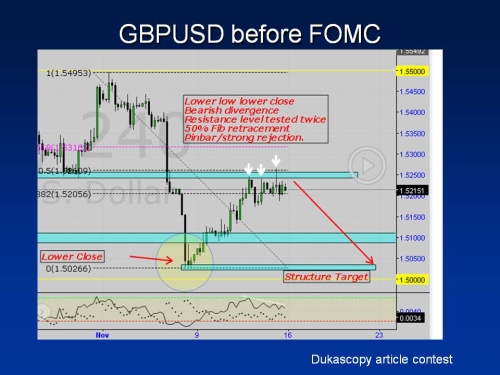 Major resistance is 1.59 and Psychological level of 1.5 is important price level for traders as we can see on slide below.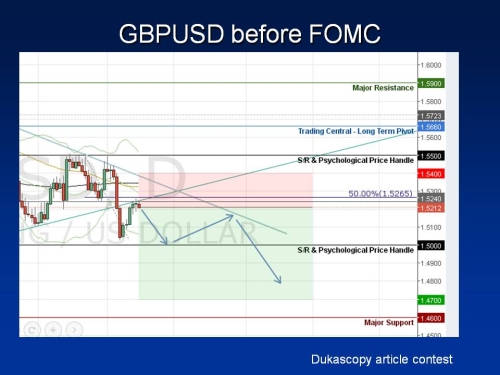 Today price started to go down to 1.506.Bearish divergence is clear on red slide.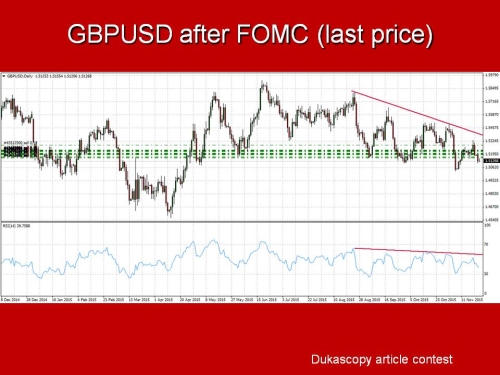 Trading idea for GBPUSD: I am waiting to see price 1.515 till 1.52 for sell position. My target is 1.486. If we see GBP interest rate increase decision than this setup will not be active.
USDJPY


Few weeks ago USDJPY has broken important triangle pattern and bullish bias is clear. I expected to see after pullback another strong bullish leg.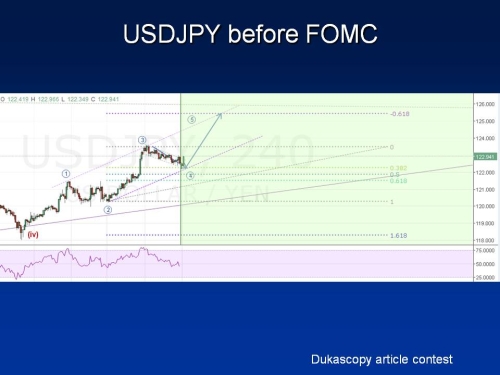 Today USDJPY is still below 122.5. There are chance that today USDJPY close day below 122.5 which can be problem for future USDJPY gains in this week.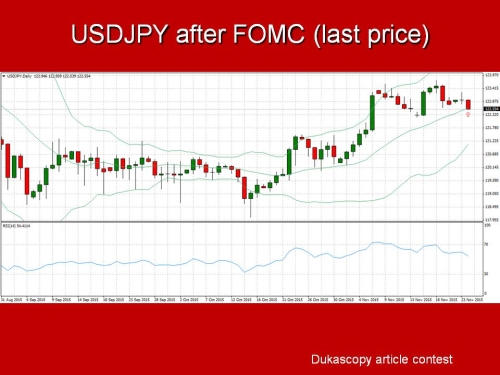 Trading idea for USDJPY: I will monitor H4 chart time frame. IF I see that price breaks RSI trendline on H4 timeframe I will enter long. My target is 126 but I want to see some pullback before I enter into trade. I want to see strong support and bullish daily close. Please avoid trading during holiday.


 AUDUSD


AUD is in bullish pattern. We can see a lot of room for gains in slide below.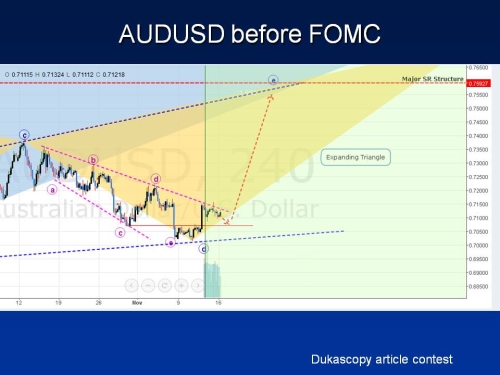 Today AUDUSD keeps bullish trend and we can see more gains.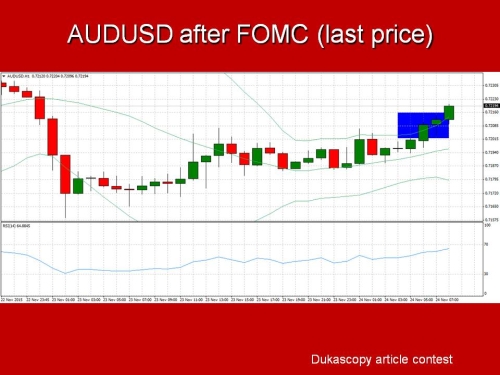 Trading idea for AUDUSD: If price goes below 0.72, around 1.714, I will try to buy in this area.
NZDUSD


NZDUSD is around strong support 0.65. Before FOMC this was very strong support.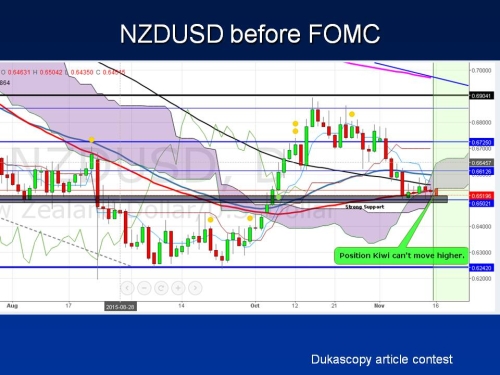 Today, we see possible bullish pattern and more gains for NZDUSD.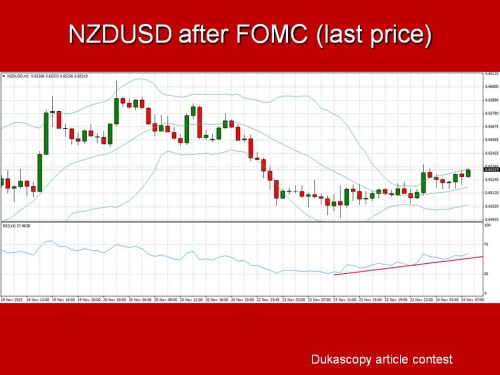 Trading idea for NZDUSD: Buy at 0.6475, stop loss 0.64, target 0.674.


GBPAUD


GBPAUD made rising leg after FOMC around 2.15.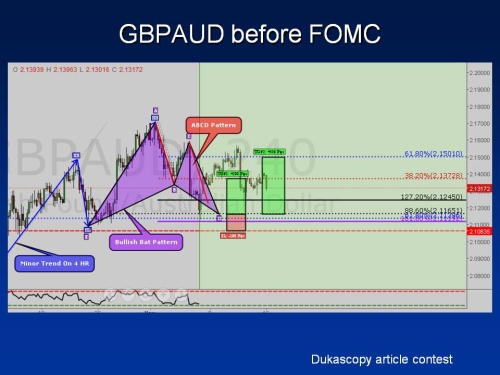 After that GBPAUD went down few hundred pips. Today price started to go below 1.09.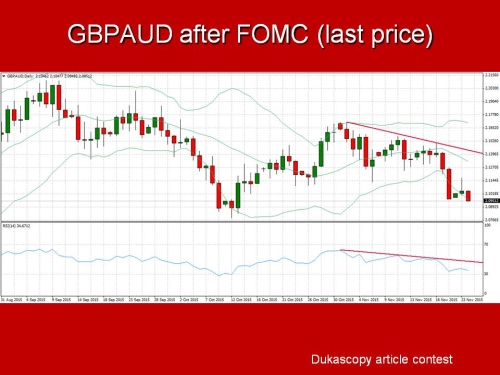 Trading idea for GBPAUD: I am already in profit. I sold GBPAUD at 2.143.I plan to close trade tomorrow before holiday. Next week I will wait for new setup and levels for selling.


GBPNZD


Last two months GBPNZD is in bearish mode. We can see new down leg.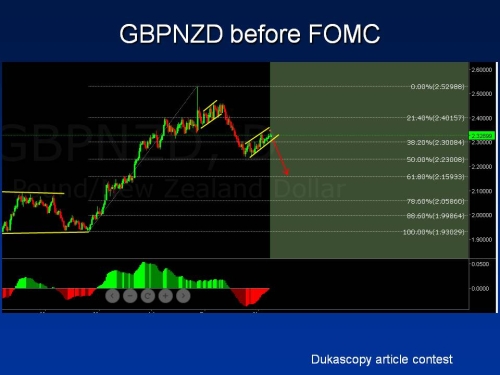 Today we can see stronger bearish move for GBPNZD. This trade can be interesting next week for trading, for new sell orders.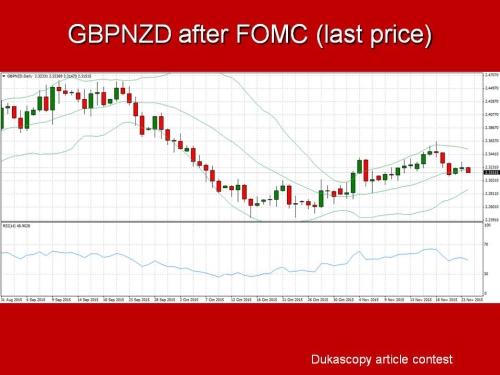 GBPCAD


GBPCAd is in bearish mode last weeks. The first down leg is around 1.95.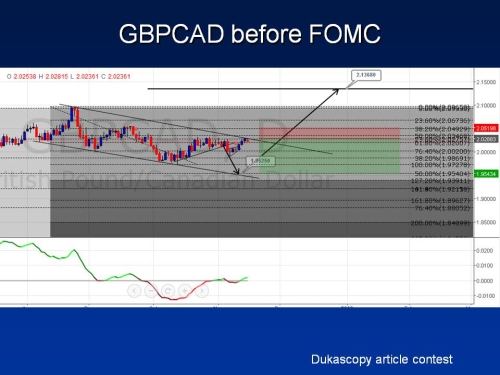 Today price started to go down till 2.03.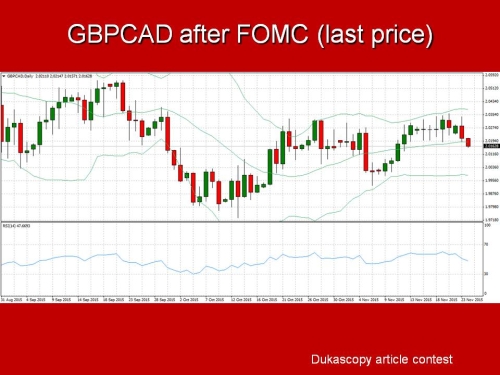 Trading idea : I am already bearish from 2.02. My target is 1.95. Wait for next bull leg to sell on top. I am watching 2.01 area for next sell order.

USDCAD


Last week my target was 1.346. In Monday I was 30 pips far from target. But price went down after this Monday news about US Oil.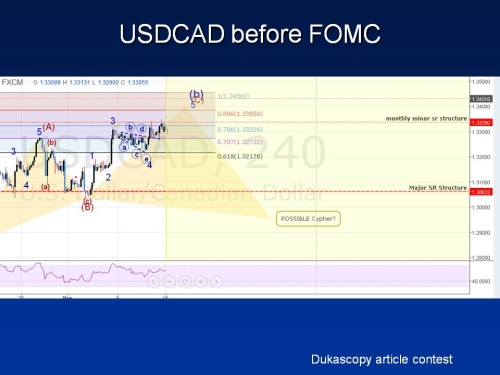 Today, price went down. We could see correction and this pair is not good for buying. I will be flat and wait some interesting level to buy or sell.
I want to sell above 1.34, and to buy below 1.329.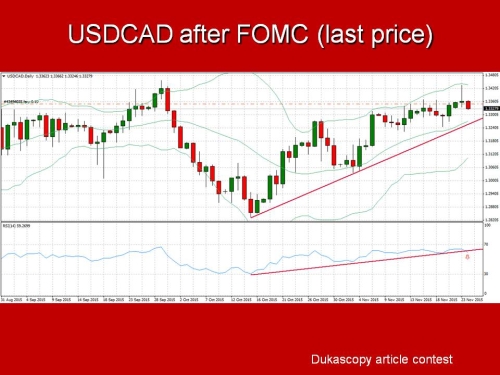 Conclusion
This blue and red slides talk about past and future of last week trading in month November. My ideas is not suggestion for trading, only my analysis and my trading plan. My suggestion is not to trade during holiday because price can be volatile and traders can see loss.