Preface :

In my last 3 articles, I finished last one talking about central banks decisions especially about interest rate decisions which is the most important and influential data affecting currencies, most interest rate decisions are in specific time which is known from long time, so you can take your care before making any trade from time near to time of release, in this article, talking will be about direct intervention from central banks which often surprises the markets and traders and may be brokers also.
Introduction:
Talking about Central Banks intervention always make us remember Swiss intervention last January, especially at 15/01/2015 when Central Swiss bank removed the 1.2000 cap of EUR/CHF, such data made one of the strongest historical movement, as example USD/CHF fell sharply towards 0.7500 from 1.0200, which means 2700 pips down, it means that the pair lost more than 25% of its values in one day, it was horrible day not only for traders, investors but also for banks, brokers and market makers.
What happened in 15/01/2015:

Swiss bank removed 1.2000 cap, data release was so surprise and hit the markets strongly, USD/CHF down 2700 pip, GBP/CHF down 4200 pips, EUR/CHF 3400 pips down, imagine what happened for margin traders, they not only lost all their money, but their accounts were in negative balances and as effect of high margins a lot of famous and popular brokers got bankrupted as effect of bad risk management and as effect of the negative balances of their traders accounts.
What happened with Dukascopy in 15/01/2015 :

According to Dukascopy website in 16/01/2015 "Dukascopy Group announces that it has safely passed through the CHF dramatic price shift. It was achieved thanks to advanced execution technology, careful risk management policy and reduced leverage on EURCHF till level of 1:10".
Dukascopy website added "The scenario of such shock had been anticipated four months in advance as shown in Dukascopy news published on 3rd of October 2014: "Due to the possibility of a break of the 1.2000 floor in EUR/CHF which may see significant price gaps and cause negative equity on client accounts, Dukascopy Bank is forced to implement a maximum leverage for EURCHF exposures of 1:10 as of 12 October 2014".
What is story of 1.2000 EUR/CHF cap:

In 06/09/2011 Swiss bank decided to put cap for EUR/CHF at 1.2000 as effect of strong gains of CHF against other crosses due to safe haven of CHF, Swiss bank decided to put cap to stop the deterioration of economy due to strong CHF, cap of EUR/CHF Also was strong surprise for markets, EUR/CHF rose to 1.2000 from 1.000 (2000 pips up).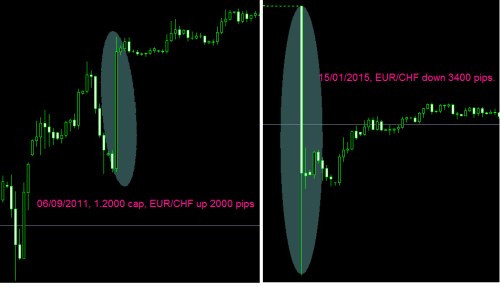 Lesson learned from Swiss banks:

The lesson was risk management, as you have strict risk management rules as you can overcome Forex troubles, this lesson not only for traders but was for banks and market makers which suffer severely from bank release and as a result they got bankrupted.
Other banks interventions:
Really not only Swiss bank intervened in Forex market,as example:
Japanese central bank intervened more than once in lat 2014 till now by announcing more liquidity to weaken JPY in order to boost inflation to reach 2% as target for bank.

New Zealand bank chief announced more than once in last year that kiwi is so high and hurt economy, and in most of his speeches, kiwi was hit down.

US federal reserve bank intervened more than once during 2007, 2008 crisis, lowering inter rates in surprise time, also announcing different liquidity tools.

So, what to use, Forex using margins or Binary options:

After my last articles talking about news and how strong news affect markets and currencies, after talking about central banks decisions including interest rate or any other intervention tools, we want to reach to a result, what to use, in my opinion margin trading is full of risk and the thing which should save your account which is stop loss is not working in all times, it is true that you can make more profits but trading margins but not forget that you can wipe your account also by using margins, for me, during strong news binary options can save your account more than trading margins.
In next week,

We will continue check other cases to see what is the most advantageous to use, the other situations including scalping and trading in specific times.