February began in the financial markets very wild. Important assets are showing unprecedented or even historically record moves. We observe the sharp drops of brutally growing cryptocurrencies, strong declines in stock indices, bonds and oil, or a swing US dollar strengthening.
For
stock indices
, it is not yet possible to talk about the final expected turnover, but the drops in the past 6 days are really significant and fast. Daily candles on the US Dow Jones index of over 500 but more than 1000 points are stunning.
The definitive turnover of equity indices does not confirm the intraday development, where the continuing efforts of important Market Movers are still to reverse or at least significantly correct the intraday downturns.
On the other hand, the market's reaction to news in the last days suggests a possible turn of the mines or their proximity. The data is very recent in the US, the results of the companies also, the revolutionary tax reform actually realized, yet the indices started a significant weakening.
The first and one of the major drops in the decline was the 2.70% surplus for US 10-year bond yields in the first week of February. Instead, the analysts now add the reasons for the further increase in interest rates, low inflation, etc., which are already known for many quarters. There is no mention of extreme fundamental and technical overvaluation and the unhealthy low-volatility of stock markets in the previous period.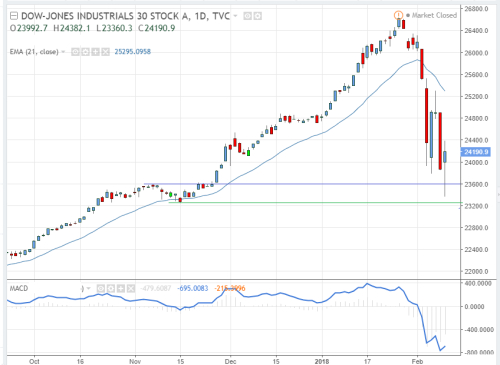 We also saw a fall in
EUR / USD
currency pair in the week. The oversold dollar, together with high volatility and capital market slump, is strengthening for most currencies. One of the exceptions is the Japanese yen, which is considered a safe haven for similar situations that currently exist in the markets.
EUR / USD in the week weakened by 250 pips and was thus in the first area for possible swing and positional purchases of EUR optimists. Therefore, the first position is bought according to plan.
The dollar index still has a small space (less than 1%) to strengthen the first important technical resistance, which corresponds to the 1,2100 +/- eurodollar. There is another appropriate level for buying another part of the long position on this pair.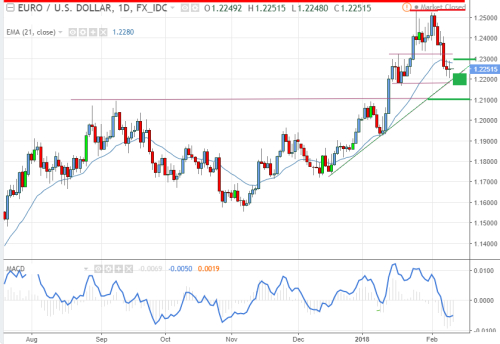 In addition to indexes or eurodollars,
oil
is also downward in the last days. There were a few things sent down the oil. Again, a traditionally perfectly timed increase in the target price ($ 82 for Brent) from Goldman Sachs, a dollar appreciation, reports of record US slate production, stock index slump.
The most important oil fundamentals for the next quarters remain unchanged, while geopolitical tensions (Syria, Iran vs. Israel, Turkey vs. Syria) and oil prices may positively influence problems or potential sanctions for major producers (Venezuela, Iran).
The WTI Crude Oil is gradually buying into positional portfolios and I expect a minimum test of over $ 66 over the next few months.