Dukascopy has launched new Touch Binaries contest this month and I have found it as interesting as other contest at Dukascopy.
Here I will write what is touch binary and how it is different from other binary contest and how we can implement one's own old strategy to win it. Touch binary contest is more related to trading as here you can adjust strike price as per your own preference like you adjust target and stop loss in trading just here one limitation that target and loss strike price will be same..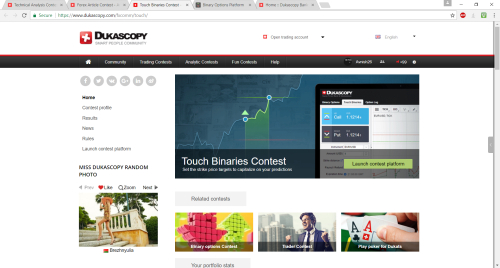 Benefit of touch binaries contest are many as it is directly related to trading. You can open same trade in touch binary which you have opened in trader contest. So at one time you can do two contest. To participate in touch binaries contest you have to simply select Touch Binaries Contest from the drag down menu of trading contests. Click on launch contest platform. Then new window gets opened where you will see screen like the image given below.
Touch binary contest is different from binary contest in following way.
1. In touch binaries you can set strike price instead of time limit and it is intra-day.
2. Target strike price and loss strike price is same which you can set as per your convenience.
3. If none of strike price gets hit then your initial capital remains the same.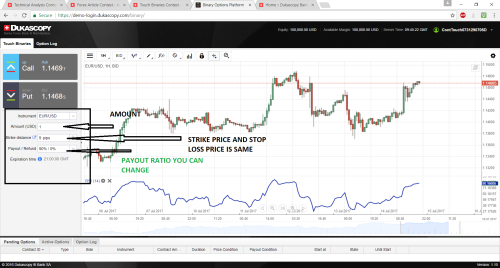 In touch binary contest you have to select instrument upon which you want to open trade, next decide what you want to buy call or put after that you can choose amount of trade. Then you have to choose strike price distance from current price which is in pips. And after there is payout ratio, which is allowed upto 90%. I have shown live image of touch binary contest platform above. There are total 18 instrument available for trading. All are major and active pairs. Continuous look on these pairs can help us improve our trading also.
Now I will tell how we can use ones own method of trading in touch binaries. In my last article I have written RSI indicator method.I will describe how we can use it in touch binary contest. RSI is a leading indicator which gives us idea about future movement of instrument upon which it is applied.
RSI: Developed by J. Welles Wilder, the Relative Strength Index (RSI) is a momentum oscillator that measures the speed and change of price movements. RSI oscillates between zero and 100. Traditionally, and according to Wilder, RSI is considered overbought when above 70 and oversold when below 30.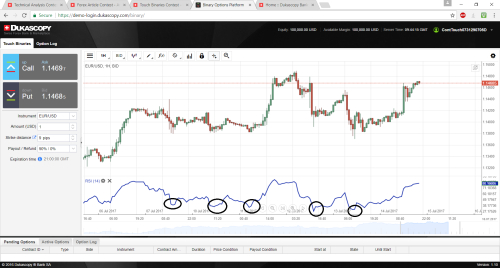 Now in above image I have shown that RSI has reached several times to oversold territory and from there it has started rising.
In touch binary we need to combine RSI with Price action. When price is rejected by several times from same low level we can buy call. Below is the image with example.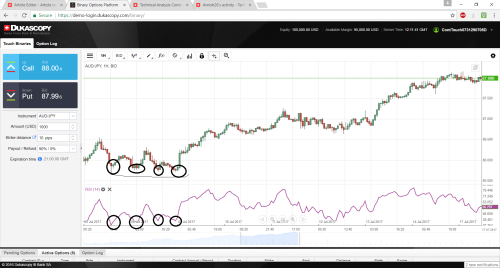 Now we will find example to buy put option. When RSI reaches overbought territory and Price action also rejects price several times from upper level we can buy put option. Below is the example with image. Another thing we can do trade at the level of support and resistance.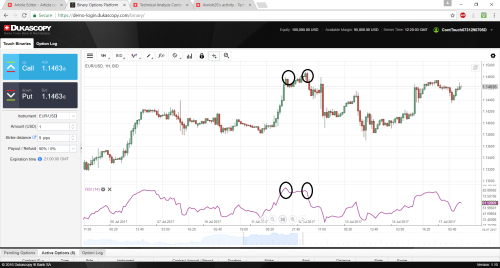 RSI PLUS TREND-LINE RESISTANCE METHOD FOR PUT OPTION

Now lets see simple trend-line and RSI combination can give us a wonderful trade opportunity..
1. Draw the trend-line connecting two points it will give the third next point.
2.Observe the RSI level, whether it is also at overbought territory.
2. If instrument reaches the level of trend-line but closes below it, then buy the put option.
I have shown below in image.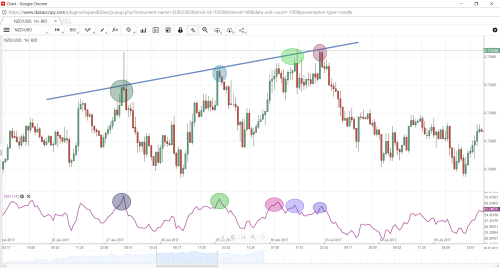 Similar opposite observation for call option.
1. Draw trend-line from lower ends connecting two points, it will give the third fourth-coming support.
2. Check for RSI whether it is in oversold zone.
3. If the instrument reaches that point and closes above it, then buy call option. You keep strike price where it can reach in quick time.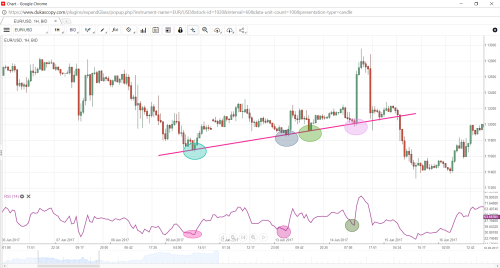 Everyone knows and very well understands that trading is all about psychology, no matter how many times you go wrong, it doesn't mean you cannot be a successful in future, Life changes drastically sometimes and also a trading changes similar way. One profitable trade can boost confidence and start a winning streak.
One famous trader Marcus has said that, make best judgement, if it goes wrong make another best judgement,again if it goes wrong make another best judgement and then Double your money. There is no perfect way to become a best trader. Be fearless to make mistakes because experience is the best teacher. Here at Dukascopy we have advantage to try first on contest before we bet our real money. So even if we go wrong several times doesn't matter. So my friends keep trying till you achieve your set goals.
HAPPY TRADING TO ALL MY FRIENDS.