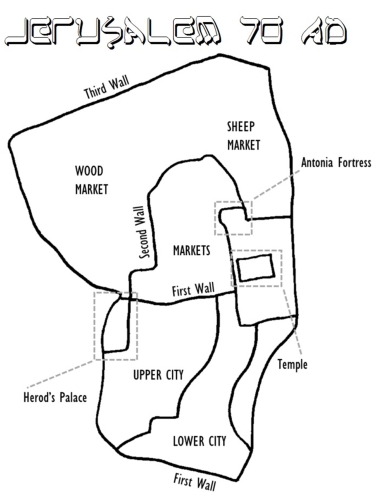 In the year 70 AD the city of Jerusalem was Sieged by Roman legions commanded by
Titus Flavius
Caesar Vespasianus Augustus.
Jerusalem was guarded by three walls: on the 25
th
of May 70 AD the Roman legions breached the city's third wall, Jerusalem's external wall; and five days later they've breached successfully the city's second wall.
Titus next move detached the legions. Half we're committed with earthworks in order to attack the Temple and Antonia Fortress, while the other half was focused on assaulting the Upper City.
Titus knew that their enemies commanded by Simon bar Giora and John of Gischala would fight for every inch of their city and understood that the Siege of Jerusalem would take a long time.
The Jews under the leadership of John of Gischala endorsed a strategy to settle fire on Roman's earthworks structures. In order to accomplish that task they've built an underground passage to reach the Roman's occupied territory.
However, building windows at such a low level undermines the ground's load capacity. And one night, the wall of Antonia Fortress collapsed and opened the way for the conquest of Jerusalem by the Romans.
As Jerusalem's Siege, the European Union is now Sieged by several stresses remarked by European Banks holding around 1.2 trillion-euro in bad loans.
Germany's biggest bank, Deutsche Bank is also faltering as unveiled by its share price, which has been falling sharply since August 2015, as shown in the following chart (yy' – share price; upper xx' – Deutsche Bank's time quote; lower xx' – Lehman Brothers' time quote).
Nearly since February 2016 Deutsche's shares seems to be tracking the same path as Lehman Brothers' shares in 2008.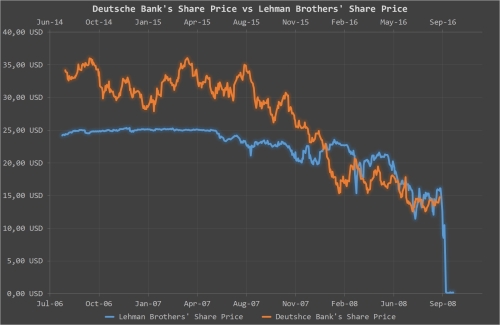 Deutsche Bank's (also shortly written as DB) portfolio of swaps had a gross notional value of about 1 trillion euros when it began sales last year.
According to Bloomberg [1] Deutsche Bank:
has sold about two-thirds of the portfolio of uncleared, mostly single-name credit default swaps since
last year.

(...)

Credit-default swaps are insurance contracts that pay out if a borrower defaults on a debt. Investors use them
to speculate on the borrower's ability to repay debt or to guard against losses on the debt.

(...)

DB's swaps are uncleared, meaning that investors trade them directly with each other rather than through one
of the clearinghouses.
The new regulations after 2008's financial crisis (such as Basel III and Dodd-Frank Act) are globally agreed in theory but still being placed in practice. The margin requirements for uncleared swaps under these new rules are more demanding, which prompted DB to quit from trading these instruments in late 2014.
DB's 2015 Annual Report [2] states on Net Investment Hedge Accounting section (page 372):

Deutsche's Group revenues in the second quarter 2016 were 7.4 billion euros, down 20% versus the second quarter 2015, reflecting a challenging market environment, remarking the uncertainties over UK leaving the EU, and a continued low interest rate environment in Europe which impacted significantly the revenues in the most market-sensitive businesses such as Global Markets, Corporate Finance and Deustsche Asset Management.
According to Augustin et al. [3]:
These developments occurred against the backdrop of unprecedented monetary easing by all the major central
banks including the Federal Reserve System (the Fed) in the U.S., the European Central Bank (ECB) in the
Euro-zone, and the Bank of Japan (BoJ), among others, leading to historically low interest rates. Bolstered by
these low rates, a large quantity of corporate bonds was issued in the years after these interventions. The size
of the U.S. corporate debt market has jumped from $5.4 trillion in late 2008 to $7.8 trillion in early 2015, in
outstanding amounts, according to the Securities Industry and Financial Markets Association (SIFMA). Banks
have not felt much pressure to buy single-name CDS protection to hedge their credit exposures, given the low
default rates of the past few years.

(...)

However, as the business cycle turns, the current low-interest-low-default environment is likely to be followed by
high default rates in the years to come, if history is any guide.
DB reported a full-year net loss of 6.8 billion euros in 2015. Under John Cryan's leadership DB is withdrawing from countries, dumping unprofitable clients and pulling out of businesses attempting to boost profit and meet tougher capital rules.
John Cryan recently interviewed by Susane Amann and Martin Hesse, published on Der Spiegel Magazine [4] in an edition entitled "Each one by its own – A small Europe: The return to the Past":
Spiegel: The speculator George Soros has bet on the occasion of the vote in a continuous fall of the Deutsche Bank.
Apparently he sees your company as loser of the Brexit decision. Is he right?

Cryan: No, he is not. As you may have seen, the development of the stock market during the last days, the financial
sector as hole is under attention. This is due to the uncertainty about the future of London as a financial centre. I
have also received one or two calls from colleagues abroad who were worried ...

Speigel: And what did you told them?

Cryan: That I see the Deutsche Bank in a better position than many of our competitors. We use a european passport
based on Frankfurt for financial services in order to have access to London. On the other hand, our american
competitors use a passport/credential from their branch office based in London, in order to access the european
market. If a Brexit occurs, they will need to open new branches in the continent, before they can provide any financial
services further to their clients. On the other side, for the Deutsche Bank there is little change.
On the 25
th
of September 70 AD the Romans took the Upper City and a day after they were in control over the whole city and settled fire in Jerusalem.
Titus gave orders to demolish the city and the Temple, leaving only the highest towers and part of the wall on the west. Then the legions moved to Alexandria.
European Union's panorama reminds me Jerusalem's Siege:
The third wall has already cracked with UK's vote to leave;

Deutsche Bank's swaps and Italian Bank's non-performing loans appears to be the second wall, lining-up to be cracked.

Opportunities to smooth out crises have almost vanished due to continuous loosening policies from central banks. For now, it is unclear if the ECB or the EU have the necessary tools to meet the challenges ahead.
Resolution of insolvent banks under EU procedures requires progressively writing down equity and subordinated debt, as senior debt protects only insured deposits. However, "bailing in" creditors would result in writing down billions of securities held by retail investors, which would be difficult in a political perspective.
John Cryan stated on Der Spiegel [4]: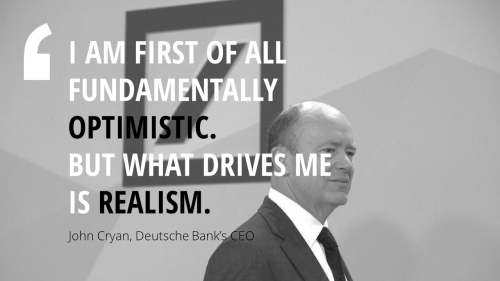 [1]
http://www.bloomberg.com/news/articles/2016-03-10/jpmorgan-goldman-said-to-discuss-buying-deutsche-bank-swaps

[2]
https://www.db.com/ir/en/annual-reports.htm

[3]
http://people.stern.nyu.edu/msubrahm/papers/ARFE.pdf

[4] Der Spiegel Nr. 27 "Jeder für sich - Klein-Europa: Die Rückkehr der Vergangenheit", 02/07/2016 pp.66 to 69