INTRODUCTION
In my (small) experience I surely understood one thing: patience is your only real friend in trading. No patience? No money.
With this article I will show one or two ideas to understand a possible range area in a major currency pair or commodity and so to increase the degree of confidence when deciding a position.
OPTIONS
Option trading is very different from forex trading and I will certainly not try to explain it here now, because to do it properly, would require me to write at least one book, and be completely out of main topic of the contest.
As many (should) know, options in markets can be used for hedging purposes and/or as an addiction on a trading plan. In March 2012, you find an article published by AdrianWS1 where are well explained some of these strategies.
An option is composed by a strike price and an expiry date. To simplify, here is an extremely quick example:
If today I buy a call option in GOLD with a strike @1520,00 and expiry on 16th June 2012, means that if the 16th of June, price will be higher than my strike, I will have a profit; while in case the price will be lower, I will have a loss. Opposite scenario if I buy a put option: I will need price to be below my strike price otherwise I will get a loss.
Talking about forex market, it happens that large participants (also called 'non-commercial' or 'big boys' etc.. ) are heavily exposed in their portfolio, and one way to hedge their position and/or protect margins is through buy and selling large quantities of options.
And here we come to the point: when there is something big in the market, for some mysterious reasons, price is attracted like iron to magnet at that level. One day, some-very-well-unknown-one, called this as "stop hunt". We could make a carnival about the meaning of this term: I hope that in the end of this page, you will have a new perception about what happens in markets.
To make things easy, we have now to understand some steps.
This tool is free on the web, and its purpose is to find main options loaded in markets. I use it since 1 year.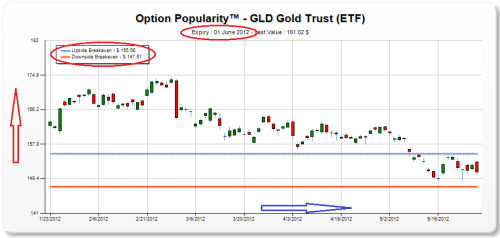 courtesy of OptionPopularity.com

This is GLD Trust chart. Red arrow indicates price axis, blue is time (just like forex charts) and in the top left corner, we have the upside and downside breakeven.
To understand how these levels are calculated, we have to read the next chart. Things here become complex…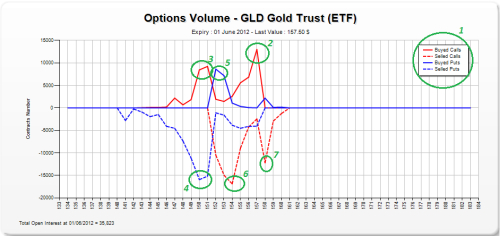 courtesy of OptionPopularity.com

In the legend (1) we have 4 different options types: this table is a summary of the main differences between each of them.
We clearly see two major loads in 'buy-call' (2-3) with a strike price in 1570 (2) and 1500-1510 (3). Then we have more loads in 'sell-put' strike 1500 (4). Overall the bullish side has strikes between 1500 and 1570 levels. The software indicates in chart the 1470 but the picture was taken few days ahead of the expiry so is not up-to-date with the major load (2).
In the other side of market (bearish) we have a good 'buy-put' (5) strike 1520, then more 'sell-call' strikes 1540 (6) and 1580 (7).
A lot of data! In this case, range is (was) very tight and slightly in favor of bullish side, due to the higher load in 'buy-call'. Options loaded in points 6-7 pays if at the expiry date, price is tight near the strike or lower, while if goes wrong, the loss is limited similarly to a stop loss.
Let's give then an eye on XAU-USD H1 chart to understand what happened in price.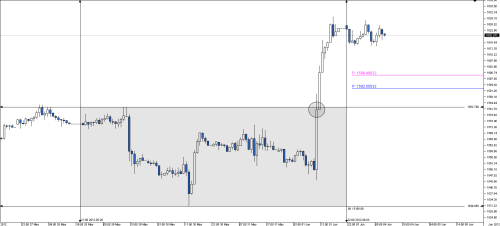 Gray area is 28 May - 01 June 2012 range: only during NFP (1st June) price found the power to go more up.
We clearly see rejections near 1580 and near 1520. We don't need to be aeronautical engineers to understand that these levels are also well recognizable with PA rules, but everyone might agree that the above study can give more confidence in those level, knowing that there is such a strong presence in market, "protecting" his position if price eventually approaches strike area.
Usually, price finds strong reject when going near main strikes levels or else, when approaching breakeven area, before the expiry date. The higher the amount of contracts loaded in one side, the stronger the rejection. Simple like this.
PRE-FACTS
I will now show how I use all this in my trading. First thing is, at the beginning of the week, to check nearest expiry levels and contracts loaded.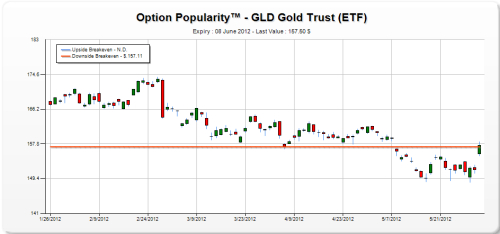 courtesy of OptionPopularity.com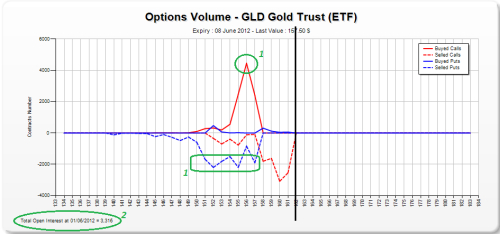 courtesy of OptionPopularity.com
The 8th June expiry is loaded extremely bullish (1) and even if total open interest (2) is not important, it's well enough to let me be confident in the 1580-1600 price area as good support (it is also previous top range level before the NFP). Actually there is no upside level: software will update later when volumes will be enough. So let's give an eye to the following expiry.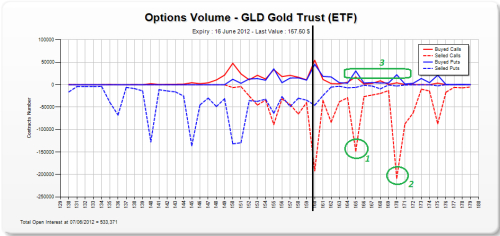 courtesy of OptionPopularity.com
Black line is actual price and possible support area. I drawn it to give a visual idea on how I read the chart. In points 1-2 there are massive loads in 'sell-put' and in point 3, there are 2 peaks in 'buy-put'. This will surely give good problems in the upside area. First problem is (1) near 1650, then serious problems in (2) near 1700. Double underline in "near" because I consider these levels as areas: to explain reasons for this, would require me another half a book (lol).
The main expiry date usually, is the second-last Friday of the month (29th June), where we have an upside b/e near 1660 and downside near 1430. Must not forget the Greek elections in 17th June, so also this end-of-the-week expiry will be of extreme importance.
While market will do his homework, I'm doing mine. So my XAU/USD chart now in daily is as seen below.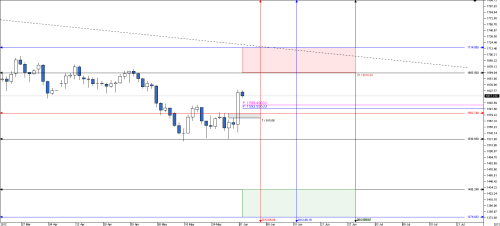 Gray area is lower support given from the 8th June expiry while higher red area is where I could find serious problems. Not drawn the 1650 main bearish load, but PA already suggest 1640-1650 as possible supply. Further data comes from daily and weekly pivots appearing around 1600.
Do we need something more to look for a long position?
AFTER THE FACTS
Today is 06 June 2012 and there are some changes in 8th June expiry: there is an increased load in 'sell-call' (bearish) with strike near 1600. This is not good for longs unless a change in fundamentals.
I opened my long position near 1620 but, due to the tight ping-pong between 1615 and 1640, and bad price pattern (see picture below) I closed it ahead of Beige Book on 6th June (few hours ago) collecting something. My bad, I did not open a short position! Very bad mistake that shows my lack when time comes to close a position, and open a new one in the opposite direction.

But, since I'm not stubborn in only 1 instrument and always ready to find other opportunities, I gave an eye in SILVER since directly correlated with GOLD.
Price was somehow 'late' if we consider that GOLD did a strong up-move to breake the range area during NFP, while I found SILVER still into range area and near 28 price level, just few pips above weekly pivot3, and above its kama4 in m15. Everything was perfect and the buy button went easy. Got a massive profit! What I expected in GOLD, came in Silver. Funny, isn't it?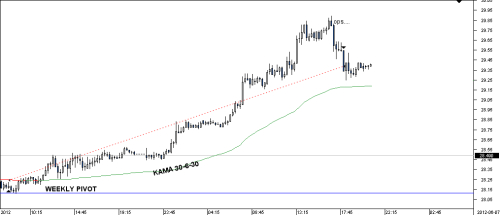 CONCLUSIONS
If we are able to be patient and wait things to line up with our study, profits will come.
A study can be proved wrong, happens. In that case would be a wrong study, not a wrong trade made by impulsive 'click-click-click'.
This article is not the holy grail. It gives an idea for a better market perception to exponentially increase the confidence in a trade. This kind of study requires to understand how to recognize correlations with price levels, fundamental changes, market sentiment etc… A strong bullish load in a option, or an upside breakeven, are levels where look for opportunities, not un-breakable lines!!
So please, take it for what it is: an idea to improve a trade plan, by analyzing market positioning with a great tool2 and reading price levels from…. another point of view!
Good luck in your trading.
SOURCES
1. AdrianWS - Fx options Hedging Strategy;
2. OptionPopularity Software - Copyright www.OptionPopularity.com;
3. Scramble – Setup your trading;
4. Scramble – The golden study 1/4.