INTRODUCTION
During the month i shown all steps to build a
trade plan. Starting from a simple indicator, through the study about main
options expiry dates, and till the analyze in COT reports together with a quick
look at possible fundamentals changes.
Here I will show the complete application of
previous 3 articles and what I have already anticipated during the webinar on
25th June 2012.
CHARTS
Chart 1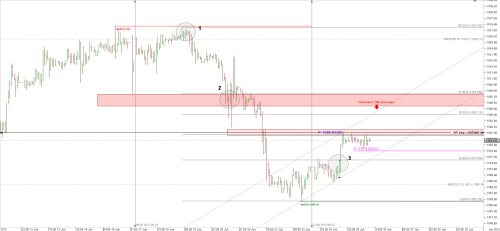 This is actual (26th June 2012)
XAU/USD hourly chart. I'm using OHLC because candlesticks are confusing my
decisions. As seen I drawn 3 main steps:
Options.

Fundamental bet.

Cot reports and Price Action.
OPTIONS
Last two weeks, options helped a lot my trading
in Gold. When price was around 1620 (Chart 1-1), I noticed these two main
expiry dates coming up:
Chart 2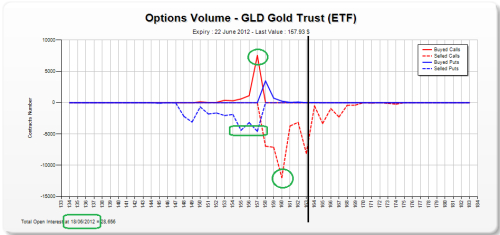 Courtesy of OptionPopularity.com
Chart 3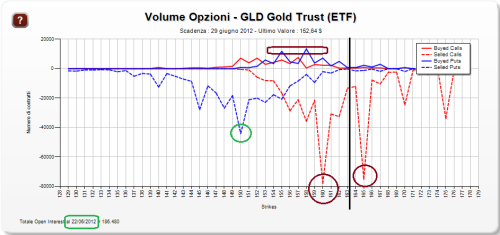 Courtesy of OptionPopularity.com
Seen in chart
2, there were good amounts loaded with strike price between 1600 and 1580;
the black vertical line is where I found spot price at the beginning of the
week (1620-30).
Seen in chart
3, is the main expiry on 29th June 2012, where we see the strong
bearish loads strike price 1700-1650-1600. Again vertical black line to show
where was spot price (I took this image later, but levels were the same)
This is one of best opportunities I ever seen:
I loaded three 'sell-call' options, strike price 1650 and 1700, expiry date 29th
June 2012.
FUNDAMENTAL BET
As I explained in previous article, was rumored
a possible decision by FED to start the 'QE3'. Personally I don't believe in
market rumors, and/or try to anticipate any big event: is always a risk. In
this case, I "knew" that around 1580 and 1600 was possible to find a rejection
in price (chart 2 – the 'buy call' peak),
so I decided to open a spot position long @1605 and @1595 with a stop loss just
below 1585.
On Wednesday 20th June, during FOMC
statement, we saw price coming down just to those levels and, apparently, I was
not the only one who loaded long positions in the hope of a confirmation of a
QE3 (or something similar) by Ben Bernanke. Price found a strong move upward
till 1620. My bad, I didn't close spot position, which went to stop loss the
following day. This happened because I did not understand that Gold speculators
were only waiting for a confirmation of QE3, and they closed their positions
after Fed Chairman speaks.
This is very important to understand what
happens in markets: most part of participants, decide their positions based in
main levels ahead of events, no matter what! Then, if confirmed, they hold positions and
eventually add, if not confirmed they
close. This is what causes main spikes ahead and after main news releases
and events: it is not your broker moving price up-down to cut your positions or
something like that!! (I read so many
things around forums that sometimes I spend hours in laughing on screen).
The following day, I noticed an interesting
change in 22nd June expiry:
Chart 4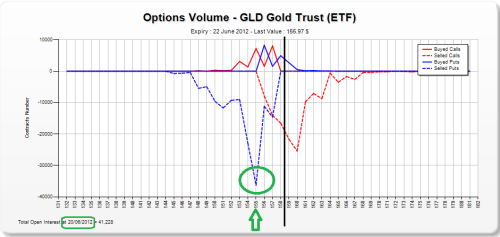 Courtesy of OptionPopularity.com
Appeared a stronger bullish load, strike price
1550-60 levels. This triggered my decision to hold 'my' options till end of the
week, because of te strong possibility to see price being attracted down at
that level.
Price indeed went down whole week (chart 1)
exactly to 1550-60 which was also a previous strong swing low. At the end of
the week, I liquidated one of my options and left the other two to run till the
expiry date.
COT REPORTS AND PRICE
ACTION
Cot reports are released on Fridays, and so I
waited the week to close, to understand if there were some strong changes.
Here's the charts:
Chart 5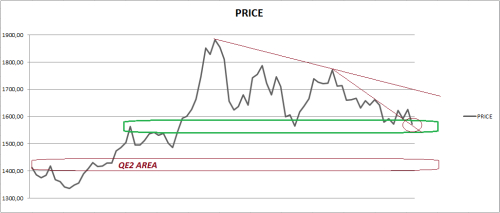 Chart
6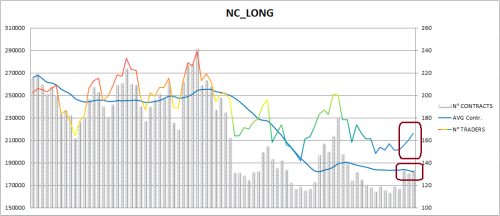 I decided to show only these two images since
they are more representative of what can be happening.
Both show last 18 months
action, starting from December 2010. As we see, when price was climbing, there
were a lot of contracts and a lot of traders positioned long. Contracts never
went below 210.000, even when price was around 1350-1400 levels (pre-QE2 area). Actually we have a
strong decrease in contracts but I find price still near 1550. In my opinion,
this is a bullish divergence.

Last week's report, shows that 6 new traders are
now positioned long, for a total of 166. Overall they are holding a (relatively) small quantity of
contracts, but still more than most recent weeks. Apparently, at every approach
into 1500 area, price attracts buyers. The only problem is that, since
fundamentals are not supporting further strength (no QE3 from the FED, EZ
tensions, etc..), buyers are not adding positions, so price is still closed
into this tight range-area.
Looking XAU/USD charts, we see that price opened
the week below 1600, but unable to find new lows and showing strength in
that LH seen in the picture. This is also called "reversed H&S pattern" (one of my favorite bullish setups):
Chart 7
Actually my position in Gold is very well locked, since I
have the options loaded near top area in great profits, and the stop loss of the spot long is just
a small % of account.
If price goes up to close the week between 1630
and 1700, I get good profits in the spot position, and also good profits from
options. If price now begins to move down again to close another bearish week,
I lose the small % of account due to the spot position, but I get heavy (subjective point) profits from the
options. Could I ask more?
In this last chart, we see the behavior of the
KAMA in its m15 chart during FOMC statement releases and Bernanke's speaking.
Chart 8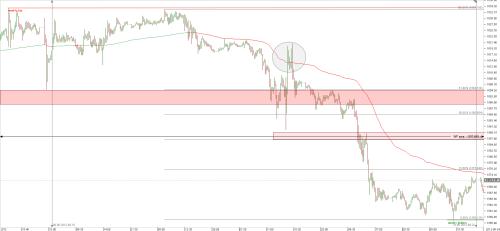 I should have respected it, since it was clearly
saying to close longs and start with shorts. Next time will be better! (...)
CONCLUSION
I shown the complete application of what I call
the "Golden Study", to give a clear and complete representation of what I think
is a trade plan. "Plan-your-trade-and-trade-your-plan"
are words written for clear reasons. This article shows few of them but now I will
print this sentence in the wall just in front of my eyes, since sometimes I
tend to forget the importance involved in respecting my own plans.
I hope that people will find my work helpful in
their trading.
Thank you for reading and good luck.