1.0 Introduction

This article will help you become a better Forex trader in the year we have already stepped in. the new technologies and the new atmosphere is going to bring certain changes in every aspect of our life, so is going to happen with the forex.
People often get tired before reaching their goal in most of the things they do, and often it they are unaware how close they were. With traders, it is the same thing; many times you have been so close to getting a score, but maybe you missed something – even a minor step – simple that could lead you to a door of success. Knowing how to avoid such mistakes, well, not only small ones, but major ones too, are going to give you huge advantage towards your goal. And your goal is everybody's – success. Learning is – some say – best from mistakes, preferably from other people's mistakes, not your own. Some traders will dig and dig until they have something worthy, but some will give up after a series of unsuccessful attempts. The sad part is that you never know if you needed just another trade before turning your wheel of fortune towards your success. This article might help you overcome moments of impatience and help you recognize your own mistakes in your strategies. It might as well mention a couple of mistakes that you were or are about to make, so don't.
When I want to avoid bad emotions, stress I have simple rule. I am trying to create a lot of different triggers for my entry order. This can help me to avoid too many trades, rush, getting into bad positions. My triggers are:
Strong weak currency analysis

Daily chart analysis (long timeframe)

Elliott wave analysis as main weekly analysis
RSI indicator on H4 chart - oscillator indicator
2.0 The Elliott Waves theory
Ralph Nelson Elliott discussed about the 3 essential factors that affects the changes of prices in his theory, they are the scheme, raid and time. The scheme mainly applies to the wavy shapes of the formations, while the ratio is about the relationship between numbers, especially the Fibonacci series, which is very beneficial for measuring the waves. To be able to make this theory useful in the everyday trading activity of the people, the trader need to know the main wave, the superwave and holding a long position and then sold positions, because the method is somehow losing its drive and that the setback is unavoidable.

2.1 The five waves scheme
According to the most simple form of Elliott theory, the wave of the market progresses and follow a monotonous rhythm of 5 waves direction of the main trend, which is followed by 3 corrective waves moving 5-3. The developing waves are signified by 12345 and then receding waves with abc. In the advance part of the waves, waves 1, 3 & 5 are called impulse waves and then they move in the direction of the trend, while the waves 2 & 4 are known as corrective waves.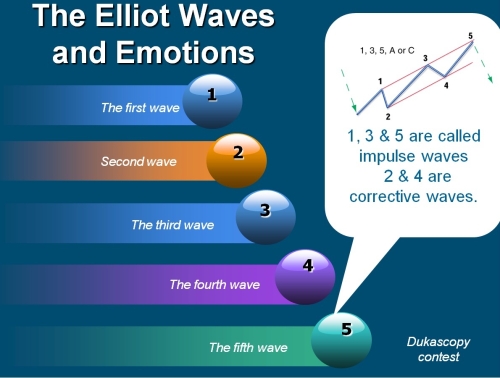 Figure 1: The five waves scheme
3.0 Strong weak currency
This is the most important part in my trading strategy. If you are trend trader, you want to trade currency pairs which are not in consolidation. Trend traders like strong movement, volume, clear bullish/bearish bias. So we can use excellent Dukascopy
Movers & Shakers
section where you can watch video or see
daily strong/weak currencies widget
(Figure 2)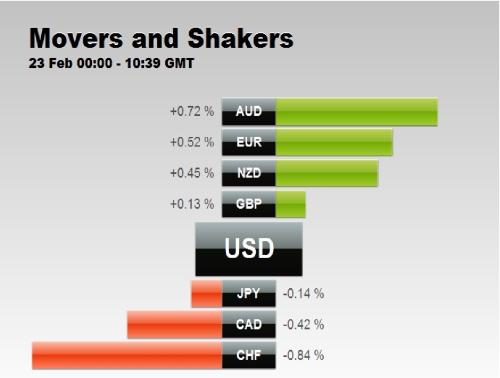 Figure 2: Dukascopy Movers & Shakers widget


I like to see chart on hourly and daily basis where I can see how strong/weak currencies move during the time. I use my manually created indicator on MT4 platform and it looks like in Figure 3.

Figure 3: Strong/weak currency mt4 indicator


Figure 3 shows very interesting setup for currency pair AUDUSD (AUD the weakest and USD the strongest currency during Euro session ).
4.0 AUDUSD analysis example

We can see that AUDUSD forex pair is in bearish daily trend in very well directed channel. As trader I feel strong self-confidence when I trade sell order in strong bearish channel. I feel tremendous mental strength when several different triggers show me the same conclusion. For example, on Figure 4 I see daily trend on my side.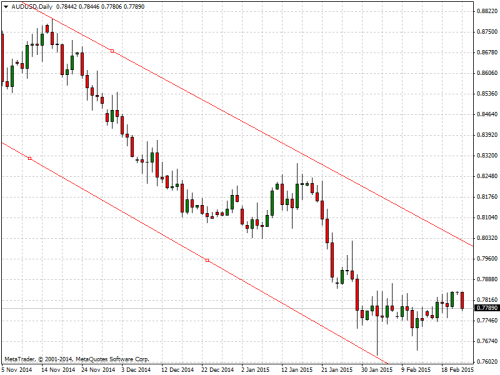 Figure 4: AUDUSD bearish channel on daily chart
After my Elliott wave analysis, I see 5th wave as bearish signal. H4 chart shows me RSI trend line breakout (Figure 5).So monthly trend, daily trend,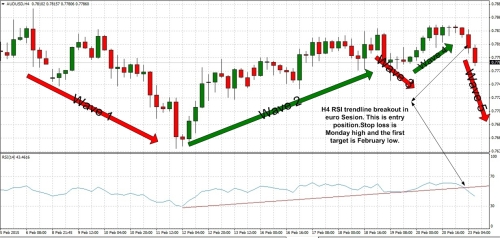 Figure 5: Elliott Waves for AUDUSD chart - today trade
5.0 My strategy mistakes
If you see Figure 5, you may say this is wrong. Maybe you see different waves. Elliott waves are not easy to figure out and draw. Sometimes I see some patterns and waves and I make wrong projections. On the other side, daily news can switch trend very easy. If you use several oscillators as indicators - all of them will show you the same trend, the same thing. I am trying to use one oscillator, one price action indicator, to use several time frame analysis. But sometimes this is not enough. I use tight stop loss and very often I am "wash out". This is a term that means that I have a few pips lost position. Very often price breaks important support or resistance and than back in right direction.
A lot of analysis can sometimes be counterproductive. A trader may be afraid to trade in that case. Moderation in trading is always the best solution.
My trading results are not excellent every month. Most of the time my winning ratio is around 50%. You can see my trading journal for month January in Figure 6.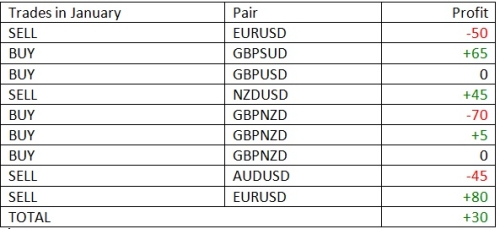 Figure 6: My trading journal for month January
6.0 Thinking about your goals
When I make Elliott wave analysis, make trend trade, set tight stop loss (last several hours or last day low/high price) with 2 % risk I feel fine. I love my trades.
It is essential to think your plan through. When you set your goal, be it a several months period, or a year or a couple of years, you really have to think it through. Analyze and estimate how much money you want to involve in investing, and how much you could return from investments. This is actually important because this business cannot be predicted far ahead anyway, but things circle around, and you have to know how many downs and ups there are in your period of time. For example, if you see that the Elliott wave strategy you want to follow pays of each three months, be prepared to have seemingly crazy downs in that time, so that you know it has already been planned to have a period like this and you won't be taken back because of your loss.