In this article I am going to discuss the following areas of importance with the EURUSD and how you should prepare for these levels.
The EURUSD is by far the most popular pair that is traded, it links the two largest economies - UNITED STATES OF AMERICA and EUROPE.
Recent Events in Europe down to the growing sovereign debt crisis has led to a leap in Safe havens such as USD pushing EURUSD down.I believe that this trend will continue onwards and as such, in a long term outlook I am BEARISH EURUSD.
Fundamentally A weaker EUR increases Exports as there goods and services are cheaper to buy from abroad and this is a good boost to all eurozone economies as they will get increased sales.
In the very long term it is possible to believe that if the PIIGS (Portugal, Italy, Ireland, Greece and Spain) were to leave the EURO MONETARY UNION that it would be slicing the weaker nations leaving the "good" ones left and this could result in a large rise.
ALL of the areas I will be referring to will have a HIGH R:R for any trader you could gain 5pips for every 1 quite easily with these high probability trades.
Technically speaking though It is very OVERSOLD meaning any good news would mean a VERY fast whipsaw upwards resulting in traders short covering increasing the buying momentum,
Critically in my opinion though the next level of MAJOR support is 1.2870 the last swing low.
also AUD and SP500, both highly correlated with EUR are holding up very well and this could show underlying strength in the market and that this EUR fall is just short term.
Upwards we have a descending trendline that while relatively steep has been respected multiple time. If we were to break that there is strong supply and therefore real money sellers would come in at 1.35 -> 1.3550.
On a nearer time frame, H4 bar is looking like it could form a hammer or morning star and combined with the smoothed stochastic crossover is a strong BUY signal.
Nearby at 1.3045 there is a MAJOR Fibonacci level from a long time period which will be respected and we may have already bounced from it today, as Fibs aren't accurate to the pip just roughly the right area for a reversal.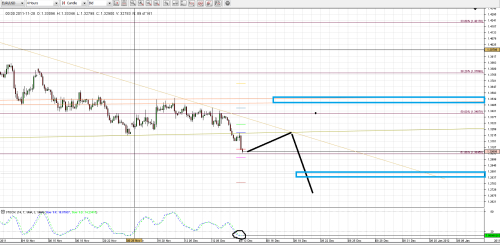 To conclude
Resistance 3 - 1.3525 (Supply level)
Resistance 2 - 1.3240 (confluence of trendlines)
Resistance 1 - 1.3140 (prior lows, now resistance)
PIVOT - BULL/BEAR line - technically it is 1.32354 but i think the crucial level BULLS MUST HOLD is 1.3150.
Support 1 - 1.3045 (61.8% fib)
Support 2 - 1.3000 ( major psychological level)
Support 3 - 1.2870 (last swing low.)
Hope you enjoy this and use it in your trading.
Looking forward to the FOMC minutes later on any Hint of QE3 will be RISK ON and EUR will rise 200+ pips.