What is Risk Management ?
Risk Management is The Analysis and identification For Make Decision of uncertain Investment at Forex Market ,By Using Risk Management We can Control Our Investment Risk and Control Our Profit ,So Risk Management not only Important But also Require For our every Entry.By using Risk Management We can Control Our Live Trading Risk At Forex Market For Safety of Our Trading Fund But Without Risk Management We Are Here Like Gambler ,Our Trading Behave to Market Unjustified,So We Face Lose,Always Remember ,Risk Management reduce Our Trading risk .
Why Risk management?
The main objective Of Risk Management are Below :
Minimize Trading Risk.
For Protect Our Trading Account and Make Money Long Time.
Identify Future Trading risk .
Identify Future Trading Problem.
For Long Term Trading plan.
To Ensure That Risks are identified .
Improved Our Trading Portfolio .
For Stable Trading Career At Forex Market .
Risk Management Process Method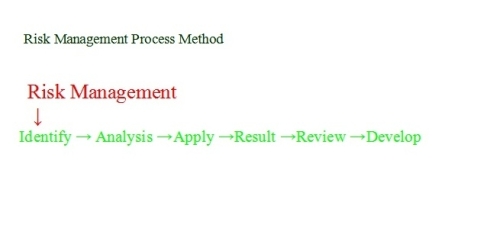 Risk Management Apply For Minimize Trading risk ,Risk Management identify Trading risk and Predict Future impact of all of our Trading.
First
_We Should Be Review Our Previous Trading record And Analysis What Type Problem was found and What Problem Will be Create After Successful Entry Next time.
Second
_In this Stage We Apply Our Risk Plan At Our Every Trading Entry.
Third_
We Can Cheek Our Result here ,How Our Risk Management Plan Create Impact For Our every Trading Position.
Fourth
_Now We Are Ready For Review Our Overall Risk Management Plan And Then We Should Be Make Decision It will be Running Or It will be Change .
Fifth
_Here We Are Develop Or Change Our Trading risk Management Plan,If Our Current Risk management Plan Not Work Properly ,We Can Develop or Change By STOP LOSE and Minimize Our Trading Volume Or We Can Develop or Change It By Fundamental and Technical Analysis.
Risk Not More Than 2% For Every Entry?
Build up Your Trading Plan For Minimize Your Trading risk for per Trade No More than 2% .
Here Example Of 2% Trading Risk and 20% Trading Risk Per Trade.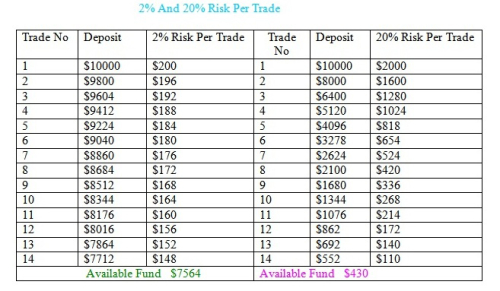 After 14 Unsuccessful entry By Using 2% risk We Lost 25% Of Our Overall Capital But We Lost 95% Of Our overall capital By Using 20% Risk Per entry.
Are You Thinking For recover?It is very hard For Any One At Forex market ,First For High Risk Trading You Not only Lost Your own Capital But also Lost Your Regular Profit and You Need More Time For back Your own Capital and it is Totally Uncertain You can Recover Your Lost Capital!,So If You Choose High risk, Here Your lose Chance is More against Win Chance As a Result It will be More Hard For Back Your Own Capital,So
No More Than 2% Risk For Per Entry.

Risk Bring Reward?
Money Make Money ,Without Accepting Risk No body can Earn Anything ,Every work has a Risk .Online Forex Trading has Also risk ,If You are not afford For lose Your Own Money ,You can not Start Trading ,we should Be accept Trading risk First For caught Profit as a reward.
Final Statement About Risk Management
Are You not Happy For 2% Return For Every Entry? If You neglect 2% risk And Choose High Risk As a result You can Win Few Entry But Most Of The entry Will be Loser Side,If You Face More Lose ,It will be More Hard and Tough For Recover Fund.So For Our long Term Present At Forex Market We Should be Follow Risk Management Rules and Regulation Properly.