What is a TREND
When market trends, a geometric patterns form a series of trends that have higher highs and higher lows in an uptrend and lower highs and lower lows in a downtrend.
In uptrend Market tend always to push the rates above the previous high to trigger stoploss orders and buy stop orders wich make a breakout and a new high will be established.
In a downtrend it is the reversal of the uptrend but the breakout tend to be sharper specialy in uncharted area or new all time low.
trends are always valid till it stops making new highs or new lows, they may become balanced between sellers and buyers and range for some time and then resume its trend or it may reverse.
A reversal trend is a change in the rate direction and occure when support line is broken and become resistance line or resistance line become support line and new series of pattern are formed ( higher highs and higher lows become higher lows and lower lows and vis versa)
Riding a trend is one of the safest and easiest way for green pips.
- Easy entry
- Less stress
- Low drawdown
- Higher propabilty of success
- Purely technical
Defining a Trend (Bull-Bear)
- Open a weekly chart and visualize the shape trending up (bull trend), trending down (bear trend).
- Open the daily chart with at least six month data and plot 200 day moving average, if the market is trading below the 200DMA, it's a bear trend and if above it's a bull trend.
Choosing the best trending currency pair to trade
1- Detecting the strongest to the weakest currency
- CHF,NZD,AUD,JPY.........,GBP,EUR and USD
- Combine those currencies
EUR/CHF - Bear
USD/CHF - Bear
GBP/CHF - Bear
CAD/CHF - Bear
CHF/JPY - Bull
EUR/NZD - Bear
EUR/AUD - Bear
NZD/USD - Bull
AUD/USD - Bull
GBP/NZD - Bear
GBP/AUD - Bear
........
2- Selling below the 200 DMA and Buying above
3- Don't buy in a bear trend and dont sell in a bull trend, just go with the wave
TRADE SETUP
Their is two ways to enter a trade
1- Wait for correction/retracement, use fibonacci indicator, sell in bear trend and buy in a bull trend at 50% fib. better at 61.8%.
2- Sell or buy the breakout
Why CHF is strongest
CHF had been bought since several month against all currencies without exception and it will remain buyout for some time due to its saffe heaven status, SNB tried to inervene in the market to stop its appreciation but they only delay the processus and it cost them 20 billion.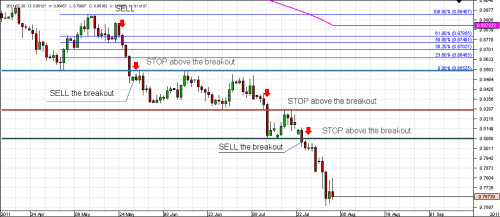 [img2][/img1]