FOMC Introduction

Next week is going to be a big week for all the International investors and all the Forex traders around the world, as FED is considering for an Interest rate hike from 0.25% to 0.50%. It's along the wire for so many months since the start of 2015 but got delayed unexpectedly mainly because of the global economic breakdown caused by Chinese around mid of the year.
Amid economic slowdown all round the world, things started to recover from more fast for US and US economy shows better improvement from the global economic breakdown than all other currencies. Because of this, FED again started showing some hope of rate hike before 2015 end. Once the hope rises, US more important NFP reports started beating the forecast twice (271K, 211K) which poses more strong contention to increase the Interest rate. As US data are more supportive for a rate hike, 99% we will be witnessing a rate hike next week.
Now, the important question for all the traders would be when to go long on USD and which pairs to consider. My personal advice would be not to trade during such news event to avoid big heartbeats and tension. But at the same time, we can use this by being in the market well before the news event using strong indication. Please find below my analysis and recommendations,
Best pair to trade for US long till FOMC


When we decide to consider for US long well before the news event, it is important to choose the less volatile pair. It is not something to look out for historical facts to know which is less volatile but to overlook the News event which will be releasing for various currency before the FOMC meeting. Depending on all these factors, I have chosen
NZDUSD
. Please find my analysis and the reason for the choice,
1. NZD had unexpected spike against all its pair when the Interest rate has been cut from 2.75% to 2.50%. Since then it is maintaining the bullish ground against US, even thought there are no other supporting fundamentals supported. Hence a fall is highly expected.
2. Till Wednesday FOMC, NZD doesn't have any big impact events. It has low impact events and that too showing little weakness as below,

3. Adding to that, please find my technical analysis,
Daily chart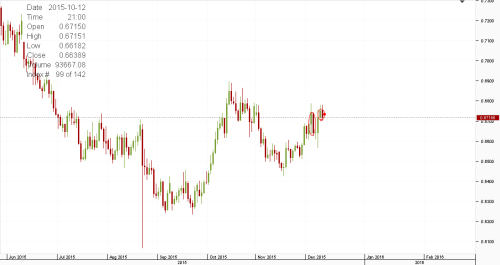 Just when the pair is peaking up in bullish channel, two bearish engulfing candle has formed around the same resistance area which shows the weakness in this pair.
4 Hour chart: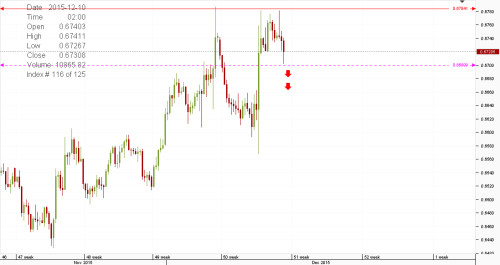 4 hour chart also showing lot of pin bars on the upside and more strength towards downside.Hence considering all the analysis, I believe NZDUSD is one of the best pair to trade long on USD.
Long term bulls on USD post FOMC

If you are a trader who look to use this FOMC to take a long position on USD and stay in for more time, then you have to consider the daily swap rate and weekly swap rate as well. In that aspect,
USDCHF
will be one of a better choice. Please find my analysis and reason for the choice,
1. Swiss franc showed lot of weakness for last 1 month or so until the ECB meeting. ECB meeting has given a new life and it's showing promising run so far. But again the weakness is expected to grow, as growing USD will diminish the Euro as well which in-turn affects the Swiss as well.
2. Please find my supporting Technical analysis as well,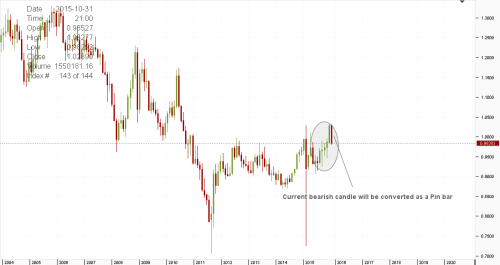 Swiss franc has almost given up last month which lead USD to run over it and it was in clear bullish channel before as well. This month, because of engulfing bearish candle is forming but it will end up as a pin bar once the FOMC rally starts by next week. Hence franc weakness is expected to grow further and USD is expected to be more strong towards 1.15
3. Another important point is, good positive swap rate because of high difference in Interest rate between USD (0.25% --> 0.50%) and Swiss (-0.75%)
Lets hope for an Interest rate hike from FOMC and good profit in long USD. Wish you a good luck and Happy FOMC trading to all!