1.0 Introduction
Bolling Bands are technical trading tool that was invented by John Bollinger in the early 1980s. The main usage of Bollinger Bands is precisely explaining the meaning of the high and low. Defining the prices during the upper bands at a higher rate and low bands at the low ban might help in reaching the methodical interchange choices.His bands explain higher and lower band of the market in relation with values. When trying to interpret the cost of actions, this is very useful. Degree of the alliance, deciding about the objectives for a certain trade, getting into a position to buy and sell the sighs for the currency pair and ability to get a trend streak are some of the key elements of Bollinger Bands.
The Moving Averages that are being used in analyzing the equity trade have the same purpose as the Bollinger Bands. Three lines of moving averages are existent; higher band, lower and the middle. The middle one serves as the starting point of high and low bands. The line that determines volatility is actually the difference of the upper and the lower band with the inner line.
Dukascopy published few articles about Boolinger Bands strategies in the past. I suggest to read:
5 Profitable Setups through Bollinger Bands
.
2.0 Candlesticks and Bollinger Bands
Bollinger Bands are a really potential instrument for exploring the market. Bollinger Bands are not to be used alone without other techniques for trading overall. But to use Bollinger Bands properly, the trader must really be accurate in measuring the Forex volatility, the cost action, the reversals and the trends.
When using candlesticks, one of the essential things to use is Bollinger Bands. Combination of the candlesticks and the Bollinger Bands gives a really sturdy trade set up to try out. Not to try out, to use. This trading system really works the best. The features that John Bollinger discovered are really something that cannot be established in some other indicators.Combining candlestick patterns and Bollinger Bands helps in making a good scheme for trading that shows trade setups. When the Bollinger Bands is set to be default setting around the periods of twenty and two deviations, they are really simple to use.
If the candlesticks are near the Bollinger upper band and it is not broken, than that means the lower band is not broken as well. One of the ways to use the Bollinger Bands in trading is finding the variety as you wait for the breakout.The best way to have signs of reversal shown is to use Bollinger Bands. When the candlesticks break out, it is possible to formulate the signs of reverse. When the upper and lower Bollinger bands appear to have candlesticks broken out it should be followed by an additional candle with another color.
3.0 Bollinger Bands strategy rules
Pick forex pair in strong bullish or strong bearish trend on daily chart.

Open hourly chart and watch candlesticks and Bollinger Bands.
If daily chart is bullish/bearish and price above/below middle line we want to see that price goes in opposite direction on hourly chart. We want to buy or sell afther pullback.
If we see that strong bullish/bearish pair on hourly chart touches lower/upper Bolling Band we do not create trade.We need conformation.We want to see bullish/bearish candle to be closed. For example, we will buy pair if we see bullish daily trend above middle Bollinger Band line, bullish candle close on H1 chart and recently touched lower band on H1 chart.

When we see conformation we will create order. Stop loss will be last couple hours low and target is upper/lower Bolling Band level on daily chart.


4.0 Bollinger Bands strategy example
In the first step, we need to pick currency pair in the strong bullish or bearish trend. In this example, I will use JForex pattern recognition widget. Usually I pick strong pairs manually but in this case I want to show you excellent Jforex tool.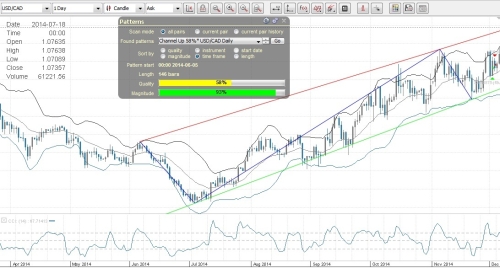 Figure 4.1. Jforex pattern recognition tool. Trend indentification on daily chart
This tool can suggest you interesting forex pairs patterns.We can see that USDCAD pair is in strong bullish trend in upper channel on daily chart. Bollinger Bands indicator shows that price is above middle line. Now we can open USDCAD hourly chart .

Figure 4.2. Multi time frames analysis.Hourly and daily chart on USDCAD currency pair
Price on hourly chart touches lower band.Than in next hour is bullish trend.We have conformation that bearish short time trend is finished and we can enter in long position. Pullback is finished. Entry point is 1.1420, stop loss is last 2 hours low 1.1390.My target is price level where upper Band touches price level and it will be 1.1547.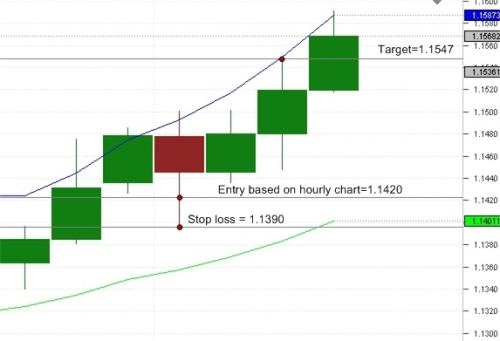 Figure 4.3: Entry, stop loss and target on daily USDCAD chart example
This is just basic framework.Stop loss and target can be calculated using Pivot points or some previous lows and highs.
5.0 Conclusion
Bollinger Bands have become a very dependable tool for evaluating the actions during the past two decades. In the forex market, Bollinger Bands have been used for only a couple of years, but there is still not much literature about it regarding forex market. One of the best tools to measure the volatility in trading at the forex market is Bollinger Bands. A lot of traders buy or sell forex pairs afther pullback during strong trends. Daily chart shows longer time bullish trend and H1 chart I use to figure out short time pullback. In this article we saw one strategy based on Bollinger Bands, candlesticks, H1 chart time frame and D1 chart time frame.
This strategy will not give a lot of trades but in trading business there is always a chance to trade. If you miss one opportunity, there is another one for different currency pair, because trading chances are limitless. That is, of course, not the case with the trading capital. If you lose some capital, tomorrow's chance is still existent, but you must pay attention now on what to trade. In order to trade successfully, techniques for events of losing should be formulated.