Overview:
The past few weeks have seen a total and utter capitulation across the financial markets, the recent elections from France and Greece has lead to the "risk-off" environment that is evidentially being seen. The USD and JPY have been well bid over the past few weeks as investors seek safe haven's where their money will be relatively safe.

For example US 10 Yr Government Bonds have risen in price dramatically, and a cause of this has seen the yield fall from well over 2% to 1.72% (at time of composition).

Alongside this the VIX - The measure of volatility and predicted Rate of Change of the S&P500 on an annualized basis has risen dramatically.


Overall the past few weeks have been very interesting and have provided much opportunity to trade effectively across the asset classes.

EUR:
Seen worldwide as one of the most liquid, highest volume securities, the EUR has come under tremendous pressure against the USD and JPY. The fall started with a "gap" down after Hollande was elected as president of France sparking fears of political discord between Merkel and Hollande. This fall was exacerbated by increasing fears from Greece.
On a technical basis, It seems that a short cover rally is needed, a severe 600 pip drop and little more than 50 pips up at a time.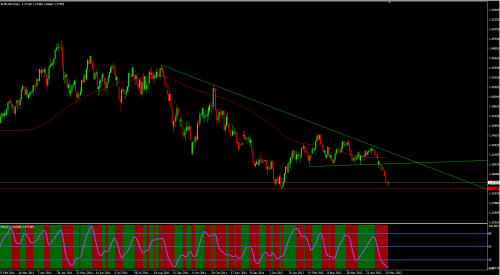 As shown on this chart, EURUSD is showing an "evening star" candlestick forming - One that hints at a reversal - Combined with the Oversold RSX (smoothed RSI) it hints to a potential 150-200 pip rally from current prices
Currently, we stand just above the last swing low and that would act as a primary level of support, below which 1.25 is the next major level.
Personally, I am bearish EURUSD and believe we have the potential of reaching 1.18, However a 150-200 pip move back up is healthy and only adds to bearishness.
On top of all this the ECB has hinted at even more rate cuts - which in turn decrease yield differential - therefore making it less attractive to carry traders.
GOLD:
Gold has shown its true colours in recent weeks as it has acted as a risk asset that acts sensitively to USD moves.
Traditionally Gold has served as a hedge to an increase in money supply but as the Central banks have "temporarily" stopped the free credit lines then gold has fallen.
However, today (May 17th) the pair has shown an impressive rally from support up some 3%.
Unfortunately for the bulls, it has fallen below a key weekly trendline and that has put pressure on those long.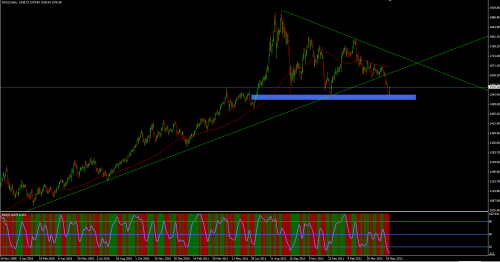 Today's move was entirely down to rumours of more QE after poorer than expected Philly Fed numbers. Ultimately this pair is going to be under the control of the USD in the coming weeks.
AUD:
Down by 1000 pips form its recent highs and 350 from the recent elections. This pair has been susceptible to the risk off environment as its a relatively high yielding currency.
A fall below its key psych level at parity has acted as a pivot and suggest that a bearish market is ensuing.
However, bears should hold off from shorting at these lows as like the EUR and GOLD, the Aussie has a good chance of testing parity again soon.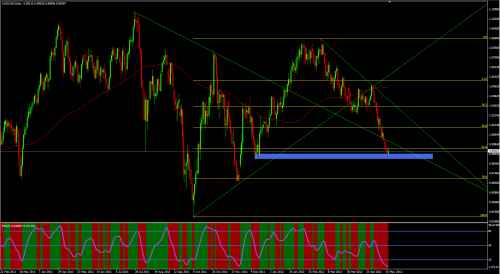 As you can see the RSX is turning round and we've hit a demand level, A move here is likely, AUD is highly correlated to the S&P500 which is now over 8% of the recent highs, adding to possibilities of a move back up
JPY:
With two sides to this currency; the constant risk of BoJ intervention and the highly risk off environment which leads the JPY to appreciate.
The USDJPY has been trading in a tight Bull flag formation which is inherently bullish but has yet to find enough momentum to fully breakout and push higher.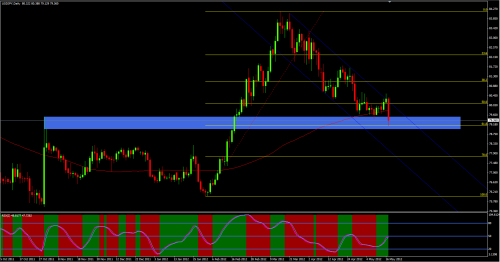 A bounce of the 61.8% retracement and demand zone is currently under way and has already bounced once before. This pair is basically the same as US 10 yr yield as that is primary driver od CCY/JPY's as JPY is zero interest.
"IF" risk returns to the markets that has been suggested by the other pairs then USDJPY will be a prime candidate to long. Along with the constant BoJ easing at lower prices you are fairly well protected.
Conclusion:
At the end of the day, this month has been Dollar and Yen orientated with them rising considerably against most pairs.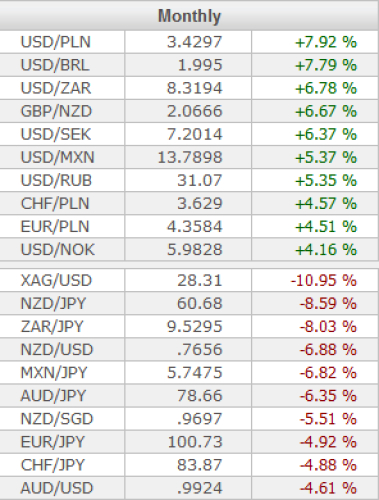 Next up in the financial markets is the ever growing concern of Greece, Italy and Spain. Some calling for a Grexit - Greek Exit - within the next month, My best advice to you is to stay with the most liquid asset possible - Cash - and stay on the sidelines until the dust settles.
Many thanks for reading,
Adrian.