THE HOLY GRAIL OF ARTIFICIAL INTELLIGENCE
INTRODUCTION
creating software that comes close to mimicking human intelligence remains far off. But strides have being made in machine learning software that can gain abilities from experience. Companies in sectors from biotech to computing turned to these new techniques to solve tough problems or develop new products.The most striking research results in AI came from the field of deep learning, which involves using crude simulated neurons to process data.
Work in deep learning often focuses on images, which are easy for humans to understand but very difficult for software to decipher.However, the most advanced machine learning software must be trained with large data sets, something that is very energy intensive, even for companies with sophisticated infrastructure.
That's motivating work on a new type of "neuromorphic" chips modeled loosely on ideas from neuroscience. Those chips can run machine learning algorithms more efficiently.That is the hope of an increasing number of investors who are turning to the science of artificial intelligence to make investment decisions.With artificial intelligence, programmers don't just set up computers to make decisions in response to certain inputs. They attempt to enable the systems to learn from decisions, and adapt.
"It's pretty clear that human beings aren't improving," But computers and algorithms are only getting faster and more robust."The programs are effective , because they can crunch huge amounts of data in short periods, "learn" what works, and adjust their strategies on the fly. In contrast, the typical quantitative approach may employ a single strategy or even a combination of strategies at once, but may not move between them or modify them based on what the program determines works best.
Trading is a zero sum game. Even if the computers are trading against computers money will still be made because everyone's model is different.
SIMPLE AMPLIFIED TREND STRATEGY (PART 3)
APPLYING THE BUZZ WORDS TO TRADING
When I make an investment decision I go through 3 steps.
1. Idea: Our intuition tells us there is some relationship, or predictive power, between a few indicators and the price of a currency pair.
2. Analysis: We analyze the relevant data in a chart
3. Decision: We trade.
We make trade decision, an educated bet, based on our analysis.If we could improve any one of these three steps, we could improve our investment decision.
Step 1
is really up to you; there is no substitute for your intuition. Improving your order execution,
in step 3
, unless you are in the HF space or you need to break your orders down to minimize the impact in the market, is not going to improve the performance of your trade.
Step 2
, the analysis step, is where we can make the biggest impact. How can we make our analysis as good as possible?
This is where the buzzwords come in.
In short, a machine-learning algorithm is better than you or me in analyzing data and discovering valuable information. Instead of scrolling through charts and creating pivot tables in Excel, we can use a machine-learning algorithm to do the work for us.
This week i will be exploring a trend tool called FIBPIVOT.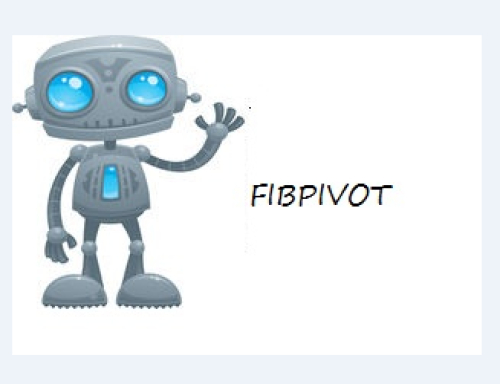 Fibonacci Pivot
Points start just the same as Standard Pivot Points. From the base Pivot Point, Fibonacci multiples of the high-low differential are added to form resistance levels and subtracted to form support levels.
The calculation of Fibonacci pivot points is different than the standard pivot points. The formula for Fibonacci pivot and its associated resistance and support levels takes into account the ratios from the Fibonacci sequence of numbers.
The formulas are as follows:
Fibonacci Pivot Point = ( H + L + C ) / 3SupportsS1 = Pivot - 0.382 * (H - L)S2 = Pivot - 0.618 * (H - L)S3 = Pivot - 1.000 * (H - L)ResistancesR1 = Pivot + 0.382 * (H - L)R2 = Pivot + 0.618 * (H - L)R3 = Pivot + 1.000 * (H - L)
TRADE IDEA
:
Trading or creating strategy with Fibonacci Pivot Points involves a complex process.
I will simplify and create a profitable trend strategy with Fibonacci Pivot Points
1) fibpivot indicator ( buy area and sell area ) buy above the central pivot point and sell below the central pivot point
2) candle period ( buy and sell on candle green and red candle respectively)
3) T.P 40PIPS
4) S.L 50PIPS
5) GBP/USD
6) hourly time frame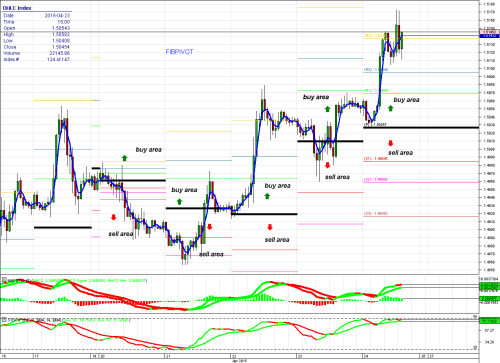 Think of all those martial arts movies you watched growing up. Aside from The Rock and the People's Elbow, no one relied on just one move to beat all the bad guys. Each of them used a combination of moves to get the job done. Forex trading is similar. It is an art and as traders, we need to learn how to use and combine the tools at hand in order to come up with a system that works for us
;
CREATING A STRATEGY
DUKSCOPY VISUAL JFOREX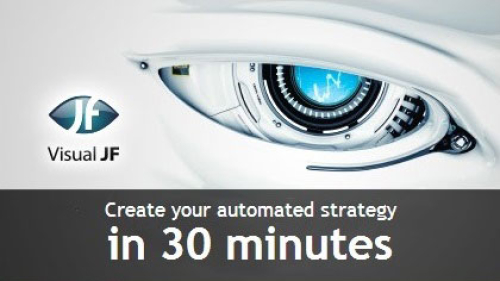 SETTINGS
TIME FRAME 1HOUR
FIBPIVOT
CANDLE PERIOD ( high and low)
SMA PERIOD 3
T.P 40
S.L 35
GBP/USD
STEP 1
CREATING A START POINT
1) Right click and drag IF BLOCK into the work space
2) Click and drag (LAST ASK CANDLE PERIOD) into the first column
3) click and drag DEFAULT PERIOD into the second column
3) CONNECT IF BLOCK TO START POINT ( ON CANDLE )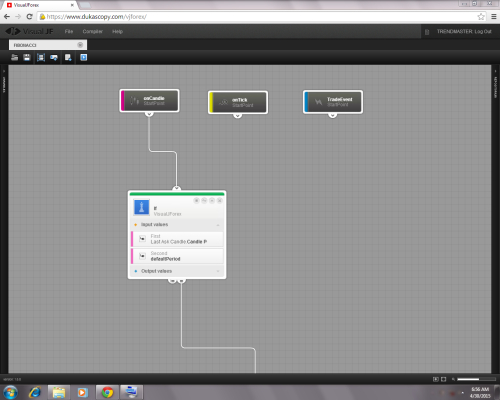 STEP 2
CONNECTING FIBPIVOT AND SMA BLOCKS
1) Right click and drag FIBPIVOT and SMA BLOCKS into the workspace
2) FIBPIVOT ( DAILY PERIOD) OUTPUT ( buyandsell_area)
3) CONNECT ALL BLOCK TO IF BLOCK ON START POINT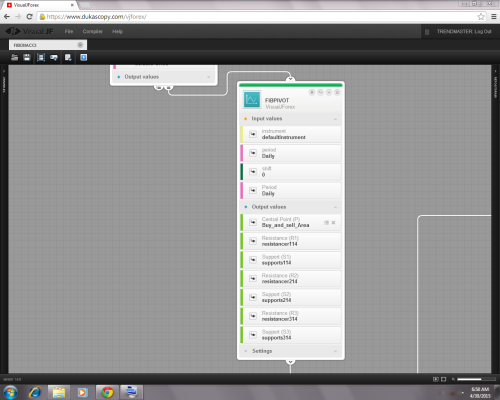 STEP 3
CREATE BUY AND SELL CONDITION
1) Right click and drag MULTIPLE ACTION and 4 IF BLOCKS into the workspace
2) FIRST IF BLOCK : Click and drag FIBPIVOT OUTPUT ( buy and sell area) into the first column and click and drag FIBPIVOT OUTPUT ( SUPPORT 114) ito the second column
3) SECOND IF BLOCK : Click and drag FIBPIVOT OUTPUT ( buy and sell area) into the first column and click and drag FIBPIVOT OUTPUT ( RESISTANCE 114) ito the second column
4) THIRD IF BLOCK : Click and drag FIBPIVOT OUTPUT ( resistance 114) on the first column and Click and drag (last ask candle close ) second column.
5) FOURTH IF BLOCK : Click and drag FIBPIVOT OUTPUT ( support 114) on the first column and Click and drag (last ask candle close ) second column.
6)CONNECT ALL BLOCKS together.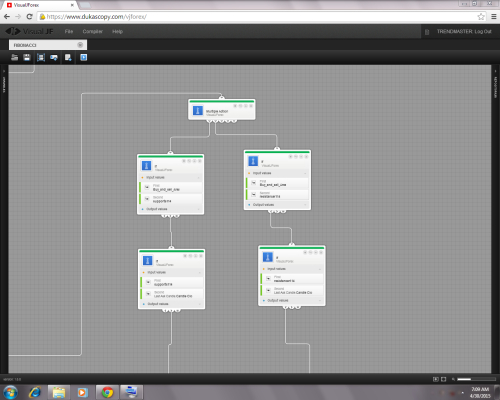 STEP 4
OPEN BUY AND SELL POSITION AT MARKET
1) Right click and drag 2 IF BLOCKS and open at market BLOCKS
2) On the IF BLOCKS ( IF ALL POSITION IS LESS THAN 1 BUY OR SELL )
2) create buy and sell order.
STEP 5


BUILD , COMPILE , TEST AND SEND STRATEGY TO CONTEST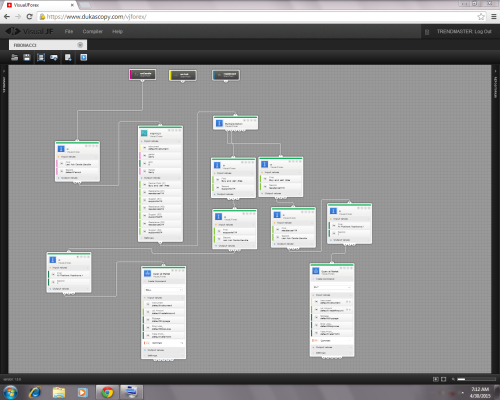 It will be interesting to know that there are no perfect strategy to make money on every trades 100% in the market. But there are strategies to make money in Forex mkt every week , month and yearly depending your trading style.
I did a brief observation in strategy contest to get the most consistent and profitable strategy used in the contest from 1st position to 3rd position.
I Back_test 6 strategies from Jan 2014 – Dec 2014 , All 6 strategies made a very low negative balances at the end of 1 year testing.
Assuming am well capitalized with 100k and trading with 5mio
Result : 25,725usd , 13,725usd , 10,050 , 7018usd , 5020usd and 216usd.
But could this mean that this strategies aren't working ?
Again using the same 6 strategies i did back-test from Jan 2014 – Dec 2015
Assuming am well capitalized with 100k Applying a simple money /trade management rules ( 1mio on each trades ).
Trading 100k acct with 1mio
The 6 strategies made a good positive return at the end of the 1year.
Result : 310,450 usd , 259,050 usd , 278,660 usd , 198,000USD, 180,600 usd , 175,800 usd .
This means trading can can be done with automated strategies and make reasonable profits weekly , monthly and yearly depending on your trading style if we apply good trade management rules with automated strategies.
It i very important we get this important aspect of trading into our trading psych why trading with automated strategy on LIVE ACCOUNT.
Some school of thought advice combining human intelligence with artificial intelligence to make perfect trades.
written by Peter Ahaotu