Hi pip makers/friends, I am new-bee to the Dukascopy's community and always very curious to find out the new-thing or updates. I was really shocked when i saw the fun contests in the trading platform, felt very happy.
Dukascopy have different contest like miss Dukascopy contest, poker contest, extreme contest, valentines contest, ho ho contest, which are not correlated to each other. It's look like a complete food with variety of dishes.
I had a little disappointment because except poker I didn't feel fun in any other contest and thinking why Dukascopy kept the fun contest? These are not funny enough. I don't know may be Dukascopy heard my wish and saw one announcement in the community about the new contest called
911 CONTEST
.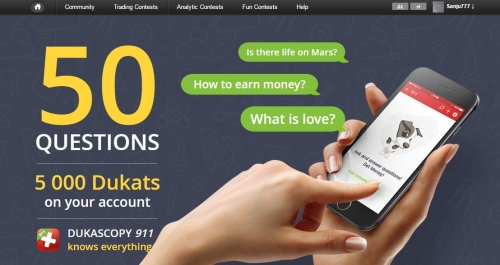 The first thought came to my mind when I saw the 911 contest name, is it
emergency helpline number
? no it's not.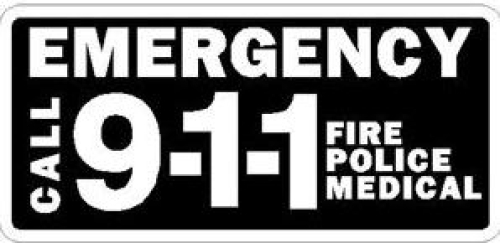 After reading the rules i was saying to myself like don't predict the entire movie story based on just watching trailer because the actual picture didn't yet start .
CONTEST AIM
: Reward the user of the community members for their active participation.
When i saw the contest aim what's special in these already they have dukats competition every quarter but here the twist and in my point of view everybody liked that twist because 911 contest gives unblocked prize.
CONTEST RULES
: 5000 Dukats will be paid to a Community user for 50 questions asked in case all the following requirements are met:
1. All 50 questions are asked and answered from March 1 until March 31;
2. Every question has an answer that satisfies the author of the question;
3. Every such answer with "Satisfied" status is paid* by Dukascopy.
* Dukascopy Bank pays up to 1 CHF to the 911 user who has answered question and has received "Satisfied" status, with comment "Thank you, I'm fully satisfied by your answer, you will receive up to 1 CHF from Dukascopy". Dukascopy is paying for the first answer from user A to user B. However, Dukascopy is not paying for every next answer from user A to user B.
I liked the way Dukascopy thinks because they put the rules for the fun contest as well. RULES and DISCIPLINE's are required for both serious and fun contest.
I am practical thinker so I thought of spending 10 minutes to answer 5 questions, if I got one satisfied answer I will get 1 CHF, in INR its almost 65 rupees. For ten minutes it's nice money so let's start.
I took this contest very serious and started participating , in the next day eveningI got 6 CHF and its continued till now and it's nice money just for 10 -20 minutes of work.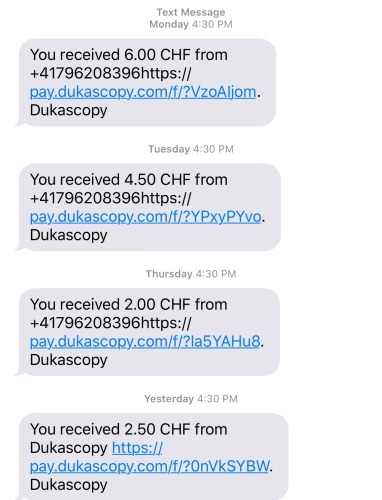 While giving the answer once I gave the funny answer for very serious question and I thought they may get angry on me instead of liking my answer but I got the satisfied text from that user so, I started giving funny answer and start asking funny questions finally fun started and then I felt yes it's the fun contest. I all most forget the rules and start playing for fun only.
When I am in working and stressed out I will play this contest which gives relief to my mind and soul.
One example:
911 funny question is
Who else Metallic brain
?
I answered
IRON MAN
it worked out for me.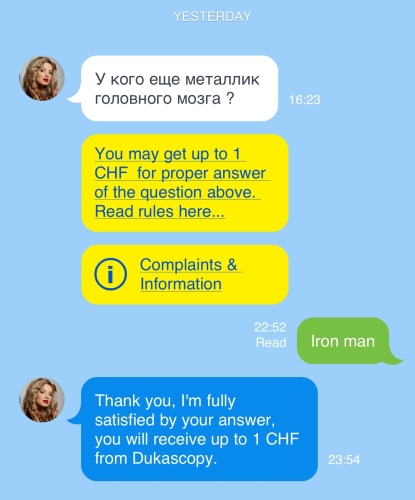 Dukascopy's community contains mixed culture/ nation people and it has fans [users]around the worldwide. Some people would like to communicate in their mother tongue. DUKASCOPY PLATFORM HAS A LANGUAGE TRANSLATOR BUT UNFORTUNATELY 911 CONTEST DOESN'T HAVE THAT CHOICE SO I always copy the text from different language and translate by using Google translator which is time consuming which make us to lose some fun, sometimes it seems difficult.
The
beauty of this difficult
sometimes Google translator also doesn't translate it correctly in those time I will give the answer by assuming the question by looking their previous activity . Most of the times i got Satisfied for those answers as well which really make me good social analyst. I think that's why Dukascopy did provide the default translator for 911 to test the patience and to make us understand the community members inner thoughts.
I am decided to write the article about 911 because only some of the users are active in the 911 contest that's my concern.
My sincere request to all traders who are active in the community for the most of time by doing trading those user should participate here to get refreshment from all the tensions or stress and also my sincere request to who all are not active not much in the community to spend 20 minutes while when you feel that your stressed out or watching some useless videos. You will be cheered up when you started getting some money .
INVEST 10 – 20 MINUTES AND GET REFRESHMENT FOR NEXT 6-8 HOURS.

I would like to inform for all the community members by writing this contest advantage because please active in this contest, trading is our life at the same time please enjoy the flavor of 911 for next one month and
lets make some "UNBLOCKED"money
.
Life is not just about work its about fun,health, friends etc. Dukascopy trying to provide us all flavors of food please taste it.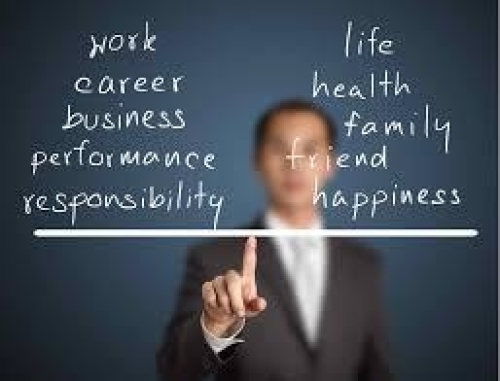 Source:
1.911 contest image- https://www.dukascopy.com/fxcomm/911/
2.RULES- https://www.dukascopy.com/fxcomm/911/?action=rules