My Thoughts and Technical Perspective for 3 Forex Pairs.
This article looks at how I see price action for 3 forex pairs: USD/JPY, CAD/JPY and USD/CAD.
Figure 1: "1 Month" charts of USD/JPY, CAD/JPY and USD/CAD.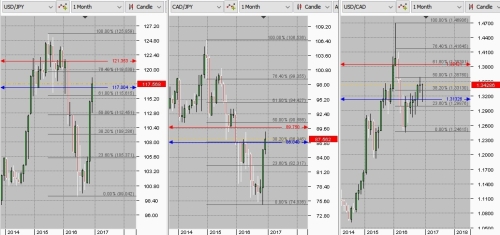 From figure 1, I've used Fibonacci retracement (or Fib.) levels to get a simplified view of possible support and resistance levels.
The other 2 horizontal price levels nearest to current price are colored in red (for likely resistance) and blue (for likely support). Those additional price levels are drawn off from the "1 week" charts. It'll be preferable that the 2 levels are also applicable on "1 Month" time-frame as seen from above.
For both USD/JPY and USD/CAD, their current candle suggest that USD is strengthening more than JPY and CAD.
For CAD/JPY, CAD is getting more buyers than JPY.
Overall, on this time-frame, the ranking based on price strength are: USD (strongest of the 3); CAD; and followed after by JPY (weakest).
Figure 2: "1 Week" charts of USD/JPY, CAD/JPY and USD/CAD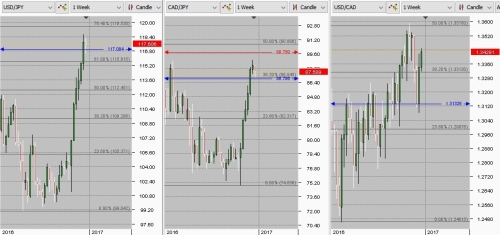 From figure 2, the price action in recent weeks for USD/JPY and CAD/JPY seems to ignore the Fib. Levels. In this case, it is a good indication to look for long trade setups more than short setups for the 2.
Of the 2, USD/JPY still looks bullish; but note that CADJPY looks reactive to its nearest resistance and Fib. Level.
As for USD/CAD, trading long is more preferable than short (based on price strength seen on "1 Month&rdquo

but do note that its price amplitude is pretty wide. I won't be trading this with tight stop or when its major (high volatility expected) news event is coming up.
Figure 3: "4 Hours" charts of USD/JPY, CAD/JPY and USD/CAD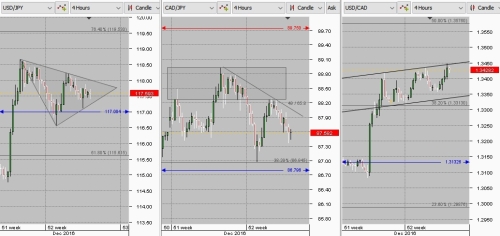 USD/JPY is consolidating within a triangle pattern.
CAD/JPY is seeing a lower low and has 2 prominent "head and right shoulder" resistance and a lower right "neck" support. This "head-and-shoulder" pattern could turn into a down-sloping channel.
USD/CAD is making a gentle up-move within a channel.
Which one looks like a better trade of the 3?
CAD will have a major news event coming up today at GMT13:30; so it'll be prudent to skip pairs related to CAD until after the release. Meanwhile, I'll focus solely on USD/JPY to see how its price action unfolds.
If you find it helpful, kindly drop some comments and likes.
I'll be happy too if you do drop me a message at chat (preferably outside UK trading hours) so I could thank you properly.
That's it !
Best Regards,
Edwin
------------------------------------------------
Towards
sustainability
, and beyond ! Always good to have a Plan A, a Plan B, and maybe a Plan C.
PS: Click "
sustainability
" for the link to my article on risk management (relating to leverage and trade sizing).