US retail sales climbed 0.5% in May surpassing 0.3% forecasted by analysts. The Commerce Department said that retail sales gauged 2.5% compared with the same period a year ago.
Dukascopy Research Products [1] revived that:
US Federal Reserve was forced to keep the target range for the Federal Funds rate flat at 0.25-0.50% after its June
14-15 meeting (...) Domestic data has been uneven recently, with mild payrolls report considered to be the key
trigger for accepting the status-quo.
On the short-term basis, several overseas risks are still weighing on Fed's decision to hold rates steady. Britain's vote to leave the EU, China's lack of demand and miscalculated debt levels, Brazil's political crisis and Japanese bond yields deepening further into negative territory.
The effect of a Fed interest rate hike could dampen the economic outlook, posing serious risks for equity markets.
Ray Dalio interviewed by Bloomberg Reporter Erik Schatzker [2] earlier this year said that the Fed's next big move: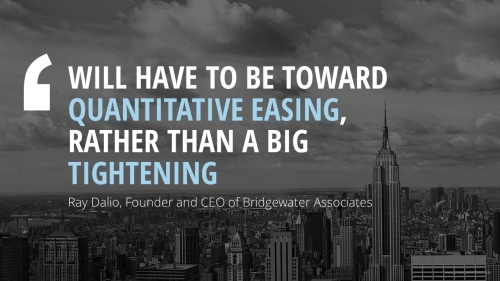 This point of view seemed me unappropriated at the time, however at the current standings, I give up my own bets on Fed's rate hikes and curb myself to Mr. Dalio's point of view.
Mr. Dalio left the door open for a 25 basis points hike, without giving clues over the season where this hike would take place.
Chronologically reporting events through 2016:
At the beginning of the year, China's stock market turmoil vanished completely Fed's rate hikes intentions for the first quarter;

On February, comments from William C. Dudley (New York Fed President) have weakened the dollar, stating that financial conditions have tightened considerably in the weeks since the Federal Reserve raised the interest rate;
In March's Federal Reserve Committee hikes intentions have been cut from 4 to 2 during the course of this year.
1
st
quarter GDP firstly soared at 0.5%, later revised to 1.1%. Actually, exports rose slightly instead of falling as initially reported according to the latest government update.
Until the end of May/beginning of June, the only and single feature that was still blowing in favor of a Fed hike was labor market strength, supported on Yellen's [3] words: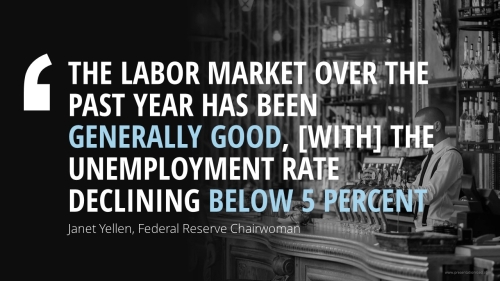 In the month of May EUR/USD breached several resistances, even breaking 1.16 level.
After reaching the highest level of the year, a pullback has been triggered by encouraging PCE data. Fueling dollar's strength, comments from Fed voters, stating that a rate hike was much closer than the market was pricing!
At the beginning of June EUR/USD was at 1.11, as shown in the next chart (EURUSD 4 hours chart with a channel down since 1.16 till 1.11).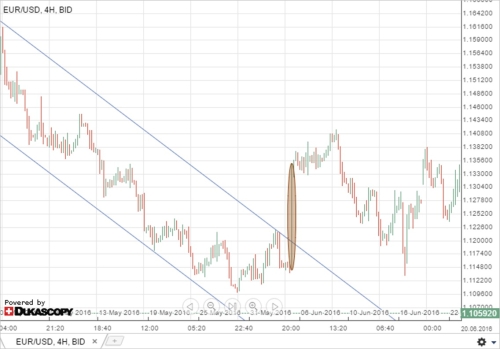 The market was holding for NFP data on Friday 3
rd
of June. And then, a nightmare for the Fed's hike believers: choppy labor market data! It enabled the strengthening course of the dollar and most of all, it has triggered a currency pullback - 1.1365 was the closing price on Friday June's 3
rd
(signaled in the previous chart with a flat ellipse).
Even after all this misses, some argue that July is still on the table. Is it for real? I think that we're gone have Ms. Yellen arguing that the economy is data-dependent, as she stated before.
Allianz Chief Economic Adviser Mohamed El-Erian [4] said on June's 16
th
that the Fed has become: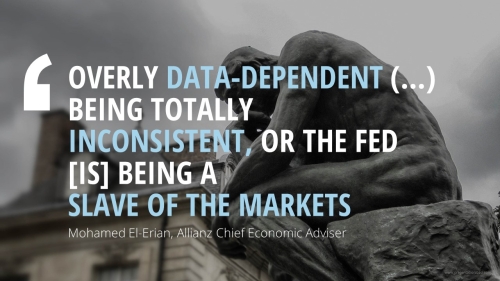 The Committee might be holding for 2
nd
quarter GDP figures, it keeps watching closely the course of job creation and wage increase, and both services and manufacturing activity. Besides UK's decision to leave the EU, a new political uncertainty feature will be added: US elections.
On December 2015 the Fed hiked for first time interest rates in almost a decade, arguing that through the course of 2016 several other hikes could arise in a gradual path.
Mr. Soros at the beginning of this year said that he would be "very surprised" if the Fed raised interest rates again. He also added that the Fed's preferred gauge of inflation hasn't hit the central bank's 2 percent target since 2012.
Mr. Soros stated that the Fed acted too late [5]: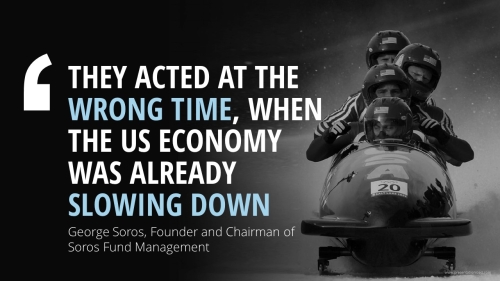 According to Dalio and Soros, there is somehow a disconnection between the Fed's interest rate hike intentions and the current state of the economy - inconsistency according to El-Erian.
Reporting Mr. Soros [5]:
Last year, when the Fed started talking [about tightening], they didn't act. (...) In December [2015] when [there was] the
benefit of lower oil prices which gave the effect of a tax cut, the householders instead of spending the extra money,
saved it to improve their own finances.

[1]
https://www.dukascopy.com/video/pdf/2016/06/20/FA.pdf

[2]
http://www.bloomberg.com/news/articles/2016-03-03/bridgewater-s-ray-dalio-says-i-m-not-bearish-on-stocks

[3]
https://www.dukascopy.com/video/pdf/2016/06/07/FA.pdf
[4]
http://www.cnbc.com/2016/06/16/fed-is-clueless-on-the-economy-and-overly-data-dependent-mohamed-el-erian.html

[5]
http://www.bloomberg.com/news/articles/2016-01-21/bond-traders-doubting-2016-fed-rate-increase-after-market-tumult