Since my core trading strategy is a
swing trading style
in this article I will attempt to outline some trading rules that help me catch the big waves. But before going further we need to define what swing trading is all about and what kind of traders usually employ swing trading strategy.
Swing trading
is a style of trading in which positions are held for longer than a single day, between 3 days and 3 weeks, and which attempts to catch the big movements in the market. There are many types of traders who uses swing trading from retail traders to institutional traders(prop traders, small-medium Hedge Funds, CTA). Above all you have to find by yourself if swing trading really suits your
personality
otherwise it may not work for you as not everyone can endure the risk and the ups and downs of a swing wave. Holding a position overnight can be an
stress factor
for many traders.
What is the right market for Swing Trading?

This is probably the most important question you would have to ask yourself before even starting to submit a trade. Swing trading is all about having the right
trading environment
and proper conditions otherwise you may end up with positions that go nowhere. So, swing trading goes hand in hand with
volatility
and more precisely with higher volatility. The swing trader, therefore, is best positioned when the volatility is high enough to produce big swing waves that move back and forth for weeks in a market that goes nowhere. On a trading market, be it bearish or bullish, it's quite challenging to employ swing trading technique unless you're already in on the premise of a swing trading opportunity and you end up with a runner in which case you trail your stop as the trend develops. Because when you have a
trading market
you don't have the up-and-downs oscillations that you see in a high volatility environment.
So, the success of swing trading is based on correctly identifying the current
trading environment.
Pros and Cons of Swing Trading.

Pros:
Offers great Risk to Reward opportunities;

Eliminates the intraday noise;

It's an extremely risk-averse strategy, which helps you to protect your capital;

Cons:
Mentally demanding, as most of the time you won't see a straight up or down move, and you'll have to endure the retracements along the way;

Time consuming as it require active risk management;

The market may be prone to a lot of false breakouts before starting developing the next wave;

It require a lot of patience as you can wait for days or even weeks until a setup shows itself.

My Swing Trading Strategy.

In this section I'll try to outline a few
trading rules
that have been helping me catching the big swing moves. My main goal would be to give you an in-depth look at
my swing trading strategy
, rules and principles that guide me in the market. By studying and incorporating them in your current trading strategy should also help you be a successful swing trader.
My Swing Trading rules and some question you should ask when swing trading:
What type of trading environment are we in? Has the volatility picked up?

Always trade in the overall market direction.

Go long weakness.

Go short strength.

For trend direction use Daily and Weekly chart.

For timing your entry use the 1h and 4h chart.

Stop Loss is always far enough below last major swing low or above swing high.

Note down only the big support/resistance levels and swing high/low levels.

Always target previous swing high/low or a break below.

In trading mode use Fib levels for entry points.

Figure 1. FX Volatility - Deutsche Bank Currency Index
To exemplify some swing trading setups I'm going to use EUR/AUD (see
Figure 3
) as although over the last months have been trading in an consistent trend it has generated enough swing trading opportunities. Also based on the overall fx
volatility chart
(see
Figure 1
) we have the right environment to swing trade as volatility has started to pick up and also EUR/AUD is among the most volatile currency pairs (see
Figure 2
). In
Figure 3
I'm labeling every swing trading opportunities and how I would have played each of them by following my swing trading rules.
Figure 2. Volatility in pips EUR/AUD per Weekdays
One of my best swing setups is when we have established an resistance level, with just 2 tests, followed by a false breakout (1st Trade; black notes from Figure 3). The key element to this setup is the
breakout price structure.
We have strong daily bullish candle which indicate that the demand below current market price is thin, that's what makes this setup so powerful, because when the market turns back it encounter little resistance. Second sign of an
reversal
is for long candles wicks.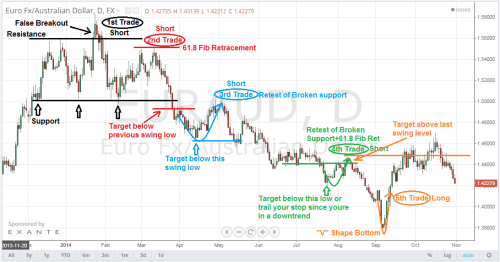 Figure 3. EUR/AUD Daily Chart with Trade setups notes.
My second best setup is when the market retest a broken support/resistance level, in our case we have 2 instances when the market is breaking a significant support level (see Trade number 3&4) and after some times the market does a round bottom and retest that level and makes old support level becomes new resistance level. Usually this trade are even more powerful when they align with either 50% or 61.8%
Fib retracement
.
Usually a reversal is made when we have a
"V" shape bottom
(see Trade number 5) which indicates the current trend must be over and the market is ready to reverse the current trend. The price structure of this setups is quite simple first we have an overextended bearish move with exhausting sellers followed by a quick reaction in the opposite direction and a close above the point from where the last sell off occurred.
As it can be seen swing trading provides the greatest amount of return as the main scope of this strategy is to catch the big waves movements, providing a good risk to reward ratio. The best 3 setups that will help you catch this big waves have been "exposed" previously and are as follow:
Swing Failure: when the market breaks above/below previous swing high/low but the momentum is fading away and we have candles with long wicks that's the time to go short above previous swing high and go long below previous swing low.
Retest of previous broken support/resistance levels. The most easiest setup(see Trade number 3&4).
The "V" shape type bottom which is a powerful trend reversal signal.
Best Regards,
Daytrader21