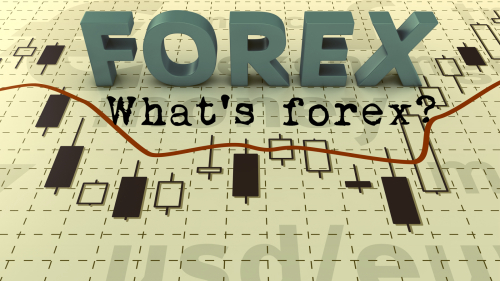 What Is Forex?
The foreign exchange market is the "place" where currencies are traded. Currencies are important to most people around the world, whether they realize it or not, because currencies need to be exchanged in order to conduct foreign trade and business. If you are living in the U.S. and want to buy cheese from France, either you or the company that you buy the cheese from has to pay the French for the cheese in
Euros
(EUR). This means that the U.S. importer would have to exchange the equivalent value of U.S. dollars (USD) into Euros. The same goes for traveling. A French tourist in Egypt can't pay in Euros to see the pyramids because it's not the locally accepted currency. As such, the tourist has to exchange the Euros for the local currency, in this case the Egyptian pound, at the current exchange rate.
What is the need of Forex?
The unique aspect of this international market is that there is no central marketplace for foreign exchange. Rather, currency trading is conducted electronically
over-the-counter
(OTC), which means that all transactions occur via computer networks between traders around the world, rather than on one centralized exchange. The market is open 24 hours a day, five and a half days a week, and currencies are traded worldwide in the major financial centers of London, New York, Tokyo, Zurich, Frankfurt, Hong Kong, Singapore, Paris and Sydney - across almost every time zone. This means that when the trading day in the U.S. ends, the forex market begins anew in Tokyo and Hong Kong. As such, the forex market can be extremely active any time of the day, with price quotes changing constantly.
Two good reasons to trade Forex:

First is simplicity. Unlike the thousands of stocks that an equity trader must research, there are only a few major currencies and at any one time you will be doing a currency pair trade of one currency for another. In fact, over 80% of FX trading is concentrated in pairs of just six currencies: U.S. Dollar, Euro, Yen, Pound Sterling, Swiss Franc and Australian Dollar.
A second benefit of Forex trading is convenience. Trading is round the clock and moves with the sun; the Asian market is followed by the European Market then the U.S. Market and back to Asia, 24 hours a day except on weekends. Somewhere in the world, someone is always trading Forex and so can you during trading hours that last from 22:00 GMT on Sunday to 22:00 GMT on Friday. This makes Forex trading ideal for U.S. investors who can only trade in the evenings when the major equity exchanges are closed.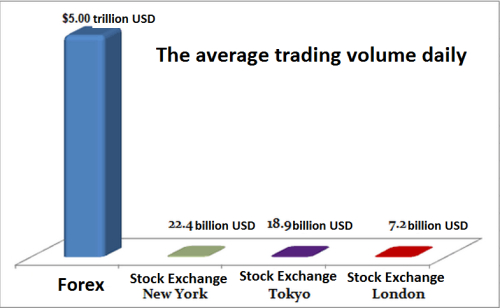 Why trade Forex?

24 HOUR MARKET The Forex market is open 24 hours a day, so that you can be right there trading whenever you hear a financial scoop.
NARROW FOCUS Unlike the stock market, a smaller market with tens of thousands of stocks to choose from, the Forex market revolves around more or less eight major currencies. A narrow choice means no room for confusion, so even though the market is huge, it's quite easy to get a clear picture of what's happening.
LIQUIDITY The enormous volume of daily trades makes it the most liquid market in the world, which means that under normal market conditions you can buy and sell currency as you please.
THE MARKET CANNOT BE CORNERED The colossal size of the Forex market also makes sure that no one can corner the market. Even banks do not have enough pull to really control the market for a long period of time, which makes it a great place for the little guy to make a move.
SIMPLICITY Use technical analysis methods from other markets like equities.

ANCIENT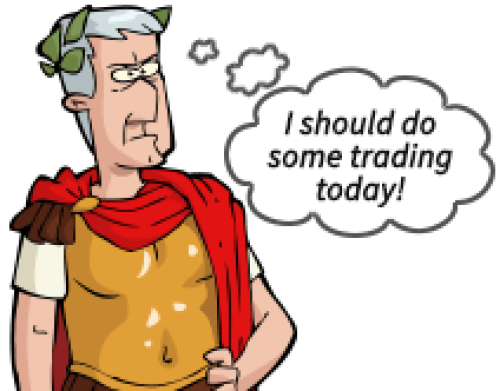 Papyri PCZ I 59021 (8 BC), shows the occurrences of exchange of coinage in
Ancient Egypt
.
Currency and exchange were important elements of trade in the ancient world, enabling people to buy and sell items like food,
pottery
and raw materials. If a Greek coin held more gold than an Egyptian coin due to its size or content, then a merchant could barter fewer Greek gold coins for more Egyptian ones, or for more material goods. This is why, at some point in their history, most world currencies in circulation today had a value fixed to a specific quantity of a recognized standard like silver and gold.
Medieval and later During the 15th century, the
Medici
family were required to open banks at foreign locations in order to exchange currencies to act on behalf of
textile
merchants. To facilitate trade, the bank created the
nostro
(from Italian translated – "ours") account book which contained two columned entries showing amounts of foreign and local currencies, information pertaining to the keeping of an account with a foreign bank. During the 17th (or 18th) century, Amsterdam maintained an active forex market. In 1704, foreign exchange took place between agents acting in the interests of the
Kingdom of England
and the
County of Holland
.
Prior to the First World War, there was a much more limited control of international trade. Motivated by the onset of war, countries abandoned the gold standard monetary system.
Modern to post-modern

From 1899 to 1913, holdings of countries' foreign exchange increased at an annual rate of 10.8%, while holdings of gold increased at an annual rate of 6.3% between 1903 and 1913.
At the end of 1913, nearly half of the world's foreign exchange was conducted using the
Pound sterling
. The number of foreign banks operating within the boundaries of
London
increased from 3 in 1860 to 71 in 1913. In 1902, there were just two London foreign exchange brokers. At the start of the 20th century, trade in currencies was most active in
Paris
,
New York City
and
Berlin
; Britain remained largely uninvolved until 1914. Between 1919 and 1922, the number of foreign exchange brokers in London increased to 17; and in 1924, there were 40 firms operating for the purposes of exchange.
After World War II
After the war, the Bretton Woods Accord was signed, allowing currencies to fluctuate within a range of ±1% from the currency's par exchange rate. In Japan, the Foreign Exchange Bank Law was introduced in 1954. As a result, the
Bank of Tokyo
became the center of foreign exchange by September 1954. Between 1954 and 1959 Japanese law was changed to allow foreign exchange dealings in many more Western currencies.
U.S. President
Richard Nixon
is credited with ending the Bretton Woods Accord and fixed rates of exchange, eventually resulting in a free-floating currency system. After the Accord ended in 1971, the
Smithsonian Agreement
allowed rates to fluctuate by up to ±2%. In 1961–62, the volume of foreign operations by the U.S. Federal Reserve was relatively low. Those involved in controlling exchange rates found the boundaries of the Agreement were not realistic and so ceased this in March 1973, when sometime afterward none of the major currencies were maintained with a capacity for conversion to gold organizations relied instead on reserves of currency. From 1970 to 1973, the volume of trading in the market increased three-fold At some time (according to Gandolfo during February–March 1973) some of the markets were "split", and a two-tier currency market was subsequently introduced, with dual currency rates. This was abolished in March 1974. Reuters introduced computer monitors during June 1973,
THANK YOU.