Although Forex markets are open 24/7 there are certain periods of increased activity. These periods occur within working hours of different equity markets across the globe. And increased activity in Forex market reflects capital flows between all the financial markets of the world. By analyzing these periods separately trader can get additional understanding about sentiment and market direction changes which doesn't occur in charts, displayed using traditional time frames like D1 and H4.
The problem with medium-term time frames, like daily (D1) and four hours (H4) is that these are calculated differently according to different time zones. I've seen professional analysts/traders display their analysis with three different time zone settings for H4 time frame: GMT, EST and DST (GMT+1). Because Forex is not centralized, for every trader is up to him self to decide how to set up H4 and D1 chart to align with one of the main sessions: Tokyo, London or New York.

So every time when I see a red H4 "spinner" on the top of the swing – I'm not in a hurry to place short orders . I'm always checking other H4 or D1 settings (usually I check EST time zone as my trading platform is aligned with GMT) – the view often differs substantially.

In order to avoid uncertainty about bearishness or bullishness of the market it is very useful to analyze separate sessions. These different periods of activity falls in to three main sessions during one day:

Asian session – it is quite stretched period that includes: Wellington, Sydney, Shanghai, Singapore and Tokyo stock exchanges, but main activity occurs within working hours of Tokyo Stock Exchange – 00:00-06:00 GMT.

European session – biggest mover of the day usually (it is also called as London session). Its the time when all European equity markets open and goes along with Middle Eastern, Russian and African markets (European equity markets working hours - from 7:00 till 15:30 GMT). Because of greatness of liquidity during the European working hours – speculators around the world join the army of market participants herewith creating additional activity.

North American session (also called as New York session) shares two very volatile hours with London session. North American session starts at 13:30 GMT, ends at 20:00 GMT. In addition I should mention that Eastern time (EST time zone) H4 time frame candle starts at 9 am NY time (13:00 GMT) – that is 30 min prior equity markets opening. Usually whole hour prior NY equity markets opening is very volatile – often choppy and difficult to trade. Because many intraday traders from European session closing their positions before North American banks start their morning with non-speculative cash flows.

Here is an example of marked sessions on the chart. Tokyo session in red, London is green and New York – blue. Red dotted line is opening level of every session – it is notable how opening level acts as a pivot for ongoing session. Often price bounces just above/below opening level for a few hours and then price crosses with momentum and breaks out the micro range: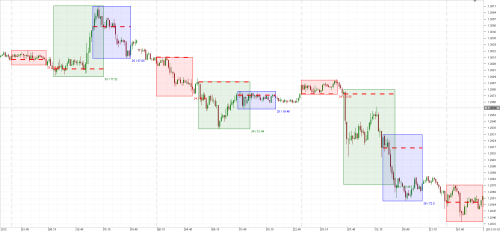 Opening and closing levels of London session act as support/resistance for fallowing sessions. And if closed at or near highs/lows or other significant technical levels - they play they role for a whole week or even longer periods of time.
In this case few consecutive opening and closing levels with rejection of lows show that range is compressing. That is not visible when analyzing "naked" chart in various time frames: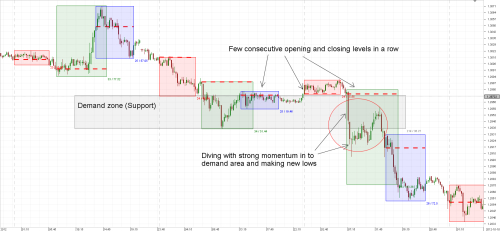 It helps to imagine sessions as separate candles. In this example session candles clearly shows rejection while on H4 or H1 time frames it just looks like usual swing down: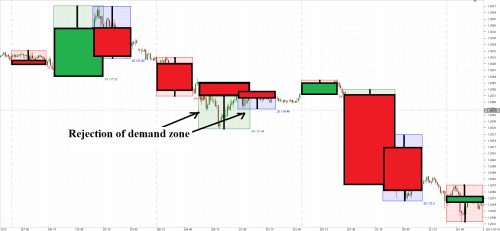 Range of the session is far less important if closed near it's opening level. It is like candlestick/bar patterns – if it creates long "wick" when compared to it's "body" – it shows rejection.
Best way to exploit this approach of separate session analysis is when currency pair consolidates in a tight range for a few days . Opening and closing levels of the sessions may reveal that they make higher highs or lower lows. It is wise to mark them and have at least week's old levels.
Every new session is bit a new story – that means that patterns created by previous session often are ignored in the new one. Traders should be especially cautious with patterns created in Asian session because London more often then not goes with it's own mind and uses prior supply/demand levels and the stops beyond them for it's classic breakout movements.
Although majority of intraday movement happens during European working hours, some currencies may move just as much during working hours of their "home" markets, for example: JPY, AUD, NZD, SGD, HKD are quite active during Asian session.
Sessions can be marked according to working hours of banks too, but its a bit clearer and more purified when restricted to working hours of equity markets – mainly because of correlations that can help to determine direction of capital flows across the different markets.
Trading tips:
Middle of yesterdays session's range often gets strong reaction (it acts as support/resistance and as a magnet) and this level becomes stronger if range of the session is much wider than ranges of surrounding sessions.
It is less risky to trade with the trend and/or with momentum during first hours of London session – not against it. Counter trend trades or in other words – scalping rejections of technical levels is advisable to perform right before London opening or later in the day when moves becomes exhausted and average daily range is reached.
One hour prior New York opening level often is very volatile and choppy, momentum candles engulf each other – it is advisable to trade cautiously.
When London session ends (at 15:30 GMT) and if there isn't any substantial economical data releases – markets usually calming down to such low volatility that is better to stop trading and do something more useful with your time.
As with all levels of technical analysis here plays same simple principle – more levels coincide in one place – the better chances that price will react to that level accordingly.