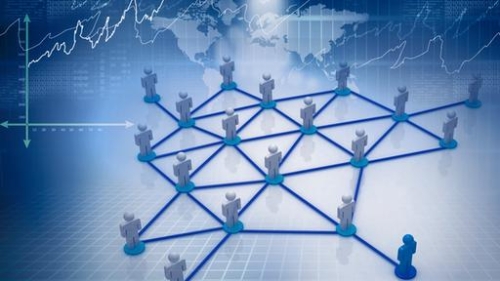 Make room people,there is a new star on the block. Maybe you have heard of the Dukascopy Social Trading Contest already ,but for those who didn't and don't know exactly what is going on i wrote this article presenting the general idea of the contest, rules, prizes, tips and some secrets that will come in handy when you will deal with the same situations like I did in my first month attending contest.
Social Trading is a brand new contest running for 2 months now and even though is a great contest with considerable prizes the number of participants is reduced compared to other contests ,although this one does not require trading skills or programming skills at all. Here it's all about signal trading. The only thing that needs done here is register the contest, chose your signal providers and at the end of the month you can be one of the 10 lucky winners The prizes are as follows:
1st - 500 $;
2nd -400 $;
3rd - 300$ ;
4th - 200$ ;
5,6...10th - 100 $ .
Sounds appealing ,doesn't it?.
"To good to true...hmm of course there is a catch,there is always one,i will explain that a bit later."
Now ,first things first:
Step 1:
REGISTRATION
You need to register to the contest and after you receive your contest details log in the J Forex platform like you normally do on other contests.On the left side of the platform, on the menu you will find under
Services
section among others
Signal Trading
.Access signal trading and a webpage will open directing you to your
social signal trading subscription form.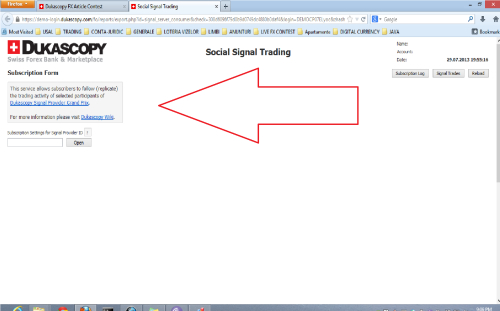 This is your "management platform" for the social trading contest .From here you will manage your subscribed traders and set up your subscription settings for you account.More details about this a bit later
Step 2:
SUBSCRIPTION
Go to
Dukascopy Signal Provider Grand Prix
page . This is a contest in which are displayed the most consistent long-term traders from traders contest, from which you can select your favorites by pressing the subscribe button displayed on the right side of each trader. If you press the subscribe button a window will appear showing the
Signal Sever ID number
and if you are not logged in DUKASCOPY site you will have to copy that number ,get back to the
social signal trading subscription form
and paste it to subscribe to your selected trader.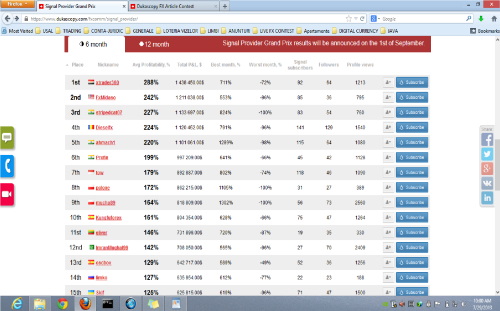 If you are logged in, you can subscribe automatically from the site,a different window will appear and will offer you subscription settings like
Trading Ratio&
Market Order Slippage.
(Trading Ratio represents the percentage ratio of a Signal provider's respective trade amount for each signal. An example with a default amount setting of 1%: when the Provider makes a trade for 250,000.00 EUR/USD, the subscriber will receive a trading signal for 2,500.00 EUR/USD.
Step 3:
MANAGEMENT
Once these settings are set your signal providers will appear in your
Social Signal Trading
"management platform" as can be seen in the image bellow.From there you can see all your signal providers ,the subscription settings for each and every one of them.You can increase or decrease your trading ratio ,also from there you can cancel your subscription with a specific signal provider by pressing cancel button.
Step 4: CONTROL ( This is the catch of the whole process...read it carefully)
.
Now that you are all set up and have subscribed to your favorite signal providers, the most important piece of the puzzle comes in,and that one's called control.The fact that you subscribed to some signaled providers won't win you a prize.You and another 10 people may have the same signal providers. That means that we all heave the same results??. Well no, you see here is the secret.
The most important thing is how you set your trading ratio to a certain provider and to all of them. I recommend you to be very picky about selecting your providers but more important study a little how they usually trade .More important to you is the volumes that they trade.Why? you would say...Well this is very important because the majority of the providers have risky strategies, trying to increase their equity in a very short period of time with large volumes and that may not be very good fo you .
If for example you select 10 providers and put an 100% trading ratio on all of them that means if one provider open an EUR/USD 5 million position ,automatically your account will replicate that position. Maybe 5 mil position isn't much on a 100.000$ account;but what if 5 of your providers open 5 million position each??Yeah i think you guess it, you will hit the margin call closing your position and let your account empty or bleeding.You maybe lucky for some time,but going on luck usually ends bad. So how should i do it???
Let's say we are at the start of the month. All your providers have each 100.000$ on their account and you don't want to expose yourself to one provider more than another because at this point you don't know how each of them will perform. Even if you selected the very best traders,a large exposure on one of them isn't a good bet because every trader has his bad month and you might not have the start you want . An example of a safe approach ,will be 10% exposure to each of your providers , in that way you will have a moderate risk of going empty handed and you will survive the first week .
After the first week you should study your providers performance ,and from this step you can see the big picture,know a little about their style&approach this month and reset your trading ratio for each provider in part to a rate that you feel comfortable and that will make your account grow on a steady rate.
Step 5: TRADING MANAGEMENT & CONTROL.


Aren't we done yet ?? What do i need to know?? Well just hang in there until the end and i will reveal you a "secret" that i am sure not many of you know since the contest is brand new and since not all the participants read the
RULES
.
One of the rules mentioned :
"Manual trading is allowed, although manually opened positions are not taken into consideration in standings calculation."
So what do you want to say with this?? Manually opened position are not taken into consideration in standings calculation ,nothing about manual close of positions,does it??. What
???
.
'
'Yes you can close the positions opened by your selected signal providers when you want. This not only is allowed but it is sometimes is even advised. ''

Since some of your providers may trade long term and some short-term their trading styles and the ratio that you are subscribed to them may affect you equity .One of your providers may have an equity of 300.000$ and an open position of 5 million on an specific instrument. He may aim for a long term trade so he would set his Stop-Loss higher like 50 pips which he is comfortable with. The problem in this picture is that you may have in that moment for example an equity of only 150.000$ and -50 pips and other trades that you supposedly have open will kinda hit your account hard. So the normal thing to do is to mange and control this account by logging in from time to time,seeing the open trades and modifying your Stop-Loss , Take-Profit levels or close the trades that you think will go against you, or the ones that are already against you .
That been said ,don't forget to subscribe to none less than 10 providers if you want to have your overall rank intact. Not subscribing to the minimum providers stated in the Rules ,will entitle Dukascopy to penalize you with 5% of the total amount used for ranking for each missing provider .

That was all !!!. I hope you didn't fall asleep till the end.

)
Good luck in the Social Trading Contest this month!!!!.
Best Regards,
Metal_Mind.