Intro:

It is no surprise to anyone that the FX markets are dead right now... We are glad when the EUR moves 50 points these days. Gone are the days of the 300-500 point daily swings of 2011 - at least for the foreseeable future anyway. In a year such as this one so far, it is beyond critical to adapt our horizons in a realistic way.
This year has been so against consensus it is crazy. Going into the year, everyone was expecting the USDJPY to rally towards 110, the Nikkei to hugely outperform and Global rates to be rising, and fast. Yet none of these have happened. USDJPY is 4% lower, the Nikkei is a huge -11.15% down (in USD terms) and US 10's are 40bps lower. So it is fair to say that this year has been a tough one, one of the toughest in terms of alpha generation since 2008 in my opinion.
Here is JPM's FX volatility index.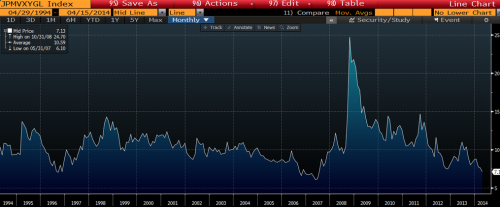 As we can see it is very low, and still heading lower, and given the lack of any huge events its not a surprise.
In a previous article
here
I discussed how to use Volatility to aid in trading, and this article, while similar will focus on how we need to adapt to low vol environments, giving a few tips I've learnt from my times trading both high and low vol periods.
Correlations:

It is a well documented fact, that during periods of higher volatility, correlations rise. Simple as that.
Just look at this chart showing the S&P500 vs. the Turkish Lira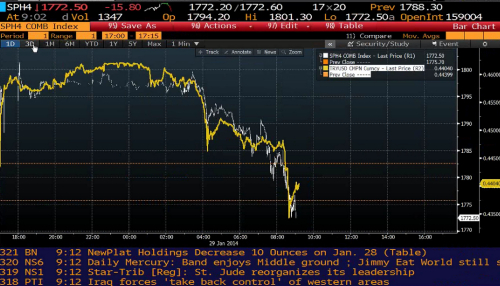 Normally the correlation is close to 0, and frankly who is surprised, there is no reason to find a correlation here. However back in the peak problems for the EM FX markets in January, correlations rose sharply (as shown here). And it wasn't just for the TRY and Equity markets, but in fact all the cross asset markets were more correlated, its just a fact of life.
Given this, in a low vol environment we would expect to see correlations disappear. This is where the first tip as it were can be seen. We need to throw away the majority of a correlations, or at least depend on them less. This not only means in the cross asset spectrum but also in the major FX pairs. As such we start to see larger, more pronounced moves in the cross FX pairs. So the first idea is too focus far more on the cross rates, such as NZDCAD for example which was the largest mover in Q1 at nearly 10%!
Expectations and targets:

This fits into the idea that as volatility drops, the market is expected to move less. Using the options markets we can price the highest probability range that the market is expected to trade in other a given period of time.
If we look to the end of the year 2014, these are the expected ranges for FX
EURUSD
(current spot 1.3810) High 1.448, low 1.314
USDJPY
(current spot 101.80) High 107.8, low 96.8
GBPUSD
(current spot 1.6720) High 1.742, low 1.6020
AUDUSD
(current spot 0.9355) High 0.975, low 0.895
As we can see, the expected ranges for the markets are quite small, and more than 1/2 what they would have been 2 years ago. Therefore we need to think about how much we expect to see from our trades.
I too often see people suggest that due to some technical reason, we can expect a 200 point drop in the EURUSD over the next few days, and while yes, it can happen, right now we need to adjust. This isn't 2011! 200 points is much harder to come by these days and maybe we should expect a little less.
This is true for almost any time frame or currency, we see people suggest large moves in a short period of time, and they never materialize.
This can also be considered when considering risk-adjusted returns across different currency pairs. This topic came up in one of my recent webinars when we were looking at a EURCHF trade.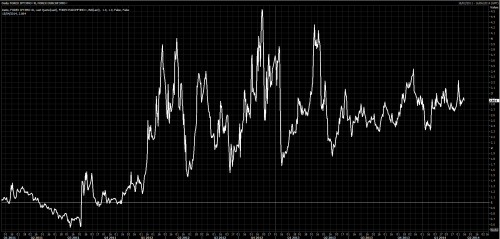 Here we see the 3 month implied volatility of the USDJPY divided by the 3M EURCHF IV. We can see that in 2011 they were expected to move a similar % amount, yet today, while variable, the USDJPY is expected to move 3x more than the EURCHF.
Frankly this is not a surprise, but we can use this idea to allow for risk-adjusted returns. The idea would be, that if your normal trade size in USDJPY was $100,000, a similar trade in EURCHF should be around $300,000.
Another way of looking at this is that, a 50 point move in EURCHF from 1.2150 to 1.22 is around 0.4%. In USDJPY terms this is around a 1.2% move (3*0.4) and as such, we adjust our targets for EURCHF by an equivalent factor. This means that even though the EURCHF is far less volatile, we can still profit the same in a risk-adjusted sense (which is the most important idea). In essence that is my second main tip for trading in a low vol environment, but it doesn't need to be just considered between two different currencies.
We can also compare what we trade today, to what we traded in the past. Thinking now about the GBPUSD for example, the Implied volatilty for the next month is around 5, 2.5 years ago the 1 month volatility was larger than 10. How we consider this is that a 100 pip profit today, is analogous to a 200 pip profit from a few years ago.
This is a key point, because the market, when volatility is low, is also short gamma, which makes "chasing" a move quite difficult and in currencies with unclear fundamentals almost impossible to trend trade.
To quote a friend, who is chief EUR dealer at a major bank in London
"Vol has been smashed (not just in EUR but across G10) so you have to take profit when you see 1% or so in your favour."

This is the biggest message in this article, take profits when you get them, because in a low vol environment, they can slowly and painfully disappear.
Anyway, thank you for reading, and this is just intended to be a quick, helpful guide to how to change certain habits when trading during periods of low volatility.
To sum up (TL;DR)
1. Correlations, especially currency correlations, disappear in low vol - so act accordingly and don't rely on them.
2. Risk-adjust your trades by considering the relative vols between two currencies (BUT don't use ATR for this!)
3. Take-profits when you can, swing trades are less and less sizeable (in %) and lets take what we can get

Cheers for reading, Adrian.