Dear Traders,
this is the third article my series
Bollinger Band Strategy for Trending Markets.
In the first article (December 2014) I described how you get in and out of the trade when we are in a trending market. In the second article (January 2015) it was all about managing stops and take profits.
In this one, it will be all about how to
determine a sideways market
. This is the time frame, when we don't trade at all, since we have no underlying trend. Don't underestimate this –
staying aside and waiting for good opportunities is a big part in successful trading.
Te keep things simple and concentrate on the active trades I showed that you are in a trending market when the middle line of the Bollinger Bands is consistently rising or falling. When this middle line – which is just a moving average – is flat or directionless, we are in a sideways market.
This all is completely true, but we can do better: In
standard Bollinger Band settings
the middle line is a
exponential
moving average. The parameters don't matter that much, the key is to keep them on a fixed level to get the feeling how they move.
Back to the middle line - there are numerous ways to alter that line. Jforex is a fantastic charting tool and we have several options to set how this "moving average" is being calculated.
I like to pick the
EURUSD
pair on a
daily
chart to show the differences. We are all familiar that we had been on a sharp downmove and went in a directionless market the last several weeks.
Let's go – first of all I will show you all the charts with different settings and comment them briefly before we go to the conclusion. I keep all settings at 20/2 which means the moving average will be calculated with 20 periods and the upper and lower bands set at 2 standard deviations apart.
EURUSD, Daily,
EMA - Exponential Moving Average
(standard setting)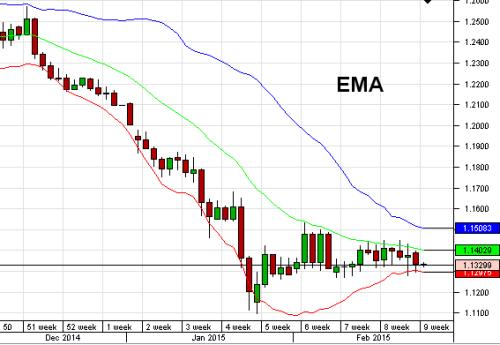 With the exponential moving average
EMA
we get no clue that we might enter a sideways market. The bands narrow, but this happens often after sharp moves. In fact, early February in week 6 we get a short entry signal, since the middle line was hit. We would have exited that trade with a profit two days ago. We notice that the EMA is
still falling
.
EURUSD, Daily,
SMA - Simple Moving Average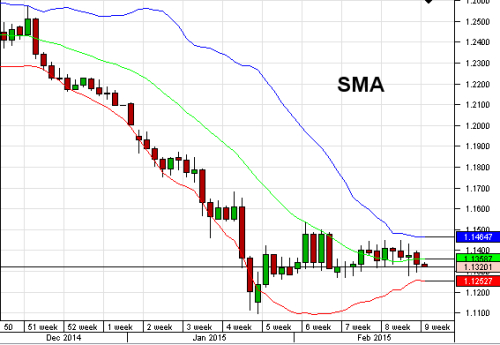 The simple moving average
SMA
does not look much different, it just moves slower, since it the last days are not weighted like in the EMA before. We would have entered the same trade on the same day, but we are still waiting for the exit at the lower band, which is right now at 1.12527. We notice that the SMA is moving
sideways
and beginning to rise.
EURUSD, Daily,
WMA - Weighted Moving Average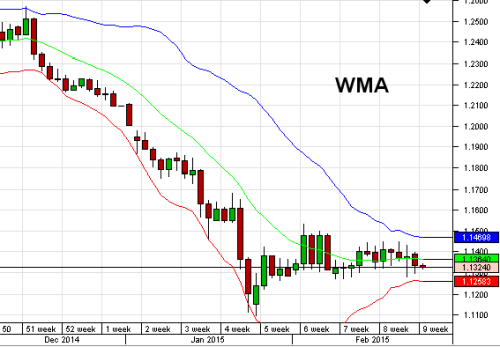 The weighted moving average
WMA
is much more "weighted" to the average price action and we are already in a clear sideways market since mid of week 7. This keeps us out if any trade.
EURUSD, Daily,
DEMA – Double Exponential Moving Average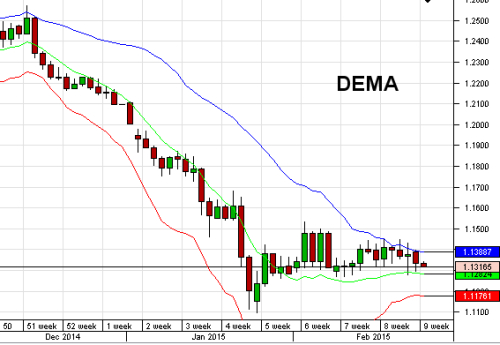 With the double exponential moving average
DEMA
we are in a sideways market since
end of week 5
. This keeps us out of any trades. But if you take a look on the downtrend we had plenty of entry signals but our Take Profit was never hit. If I had to trade with the Bollinger Bands and DEMA as the middle line, I would lower the standard deviation setting from 2 to 1.5.
EURUSD, Daily,
TEMA – Triple Exponential Moving Average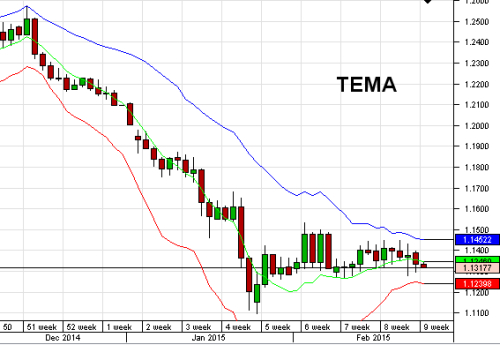 The triple exponential moving average
TEMA
follows the price action very closely. In fact we have a
rising
middle line for the recent weeks. If we had to trade the trend with this one, the standard deviation setting would have to be lowered down from 2 to 1.
EURUSD, Daily,
TRIMA – Triangular Moving Average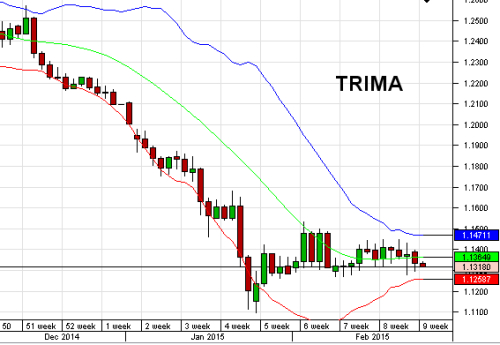 The triangular moving average
TRIMA
moves very smoothly. The sideways action since mid of week 7 is also
very smooth
and keeps us out of any trades. The big downside is that we can't use that average for trading in trending markets at all, since it was never hit and we had no chance to enter any trade.
Conclusion:
What did we learn so far? It makes totally sense to
switch around different settings
and see how other moving averages are doing. Whenever you are unsure if to enter a trade and in doubt if we are already in a
sideways market
again, switch around. Jforex is one of the best tools when it comes down to change settings quickly.
I personally like
DEMA
, the double exponential moving average as it shows changes in trend very quickly. And also
TRIMA
because of its smoothness. There is no wondering if the average goes up or down at all.
The key is to find out if we already entered a sideways market
as early as possible
. This can be done better with
any other moving average
than the exponential moving average EMA in the standard Bollinger Band settings.
There are some
more moving averages
to choose, but there is a word limit on an article. I will go into those in a second part 2.
Thank you for your support so far, keep your questions rolling and see you soon in my webinar.
Green pips to all,
fullmoon