On December 15
th
, at midnight, the Russian Central Bank held an emergency meeting. The currency was in free fall, caused by a deadly mix of lower oil prices and western sanctions. The Rouble lost almost 50 percent of its value in four short months. On December 15
th
, the USD/RUB closed the day at 65.82, a massive 15 percent higher in a single day. Something had to be done.
The Russian Central Bank
decided
to hike interest rates by a shocking 650 basis points, from 10.5% to 17%.
''We had a choice between the very bad and the very, very bad''
, Sergei Shvetsov, the deputy governor of Bank would later say.
A Flash From the Past
I woke up that day staring at a 10% gain in the Ruble. The USD/RUB was now quoted at 59.50. After a quick double-take and a check on Bloomberg, I realize the reason behind the rally. But as everyone was busy buying Rubles, I got a flashback of Black Wednesday 1992. During most of 1992 Britain was busy propping up the Pound in order to keep it within the boundaries set by the ERM (Exchange Rate Mechanism). After spending massive amounts of money, the Bank of England took one last desperate step.
On September 16
th
1992 at 11:00 AM, the BOE jacked up interest rates from 10 to 12%. But the market perceived the large rate increase as weakness not as strength. Famous investor George Soros:
''We had a fairly strong sense that we were on the kill. It indicated to us that we're at the end game, that this was an act of desperation. So instead of restraining us, it was really an invitation to double up. To try to sell as much more as possible.''
I covered the fascinating Black Wednesday crisis in a two part article series called
''It Takes Courage to Be a Pig''
. You can take a look
HERE
for part one and
HERE
for part two.
No Point Being Right at the Wrong Time
I had Soros words ringing in my ears as I topped up an old trading account to $100.
''This is an act of desperation''.
One hundred dollars was the most I was willing to lose on this trade and with the massive volatility in the Ruble, I wasn't prepared to place my USD/RUB trades in my regular account. As the day went on and traders across the world learned about the news, the USD/RUB climbed back above 60, then above 61 and then above 62. But I held up and waited for the uptrend to be firmly in place. It's no use being right at the wrong time. Finally, at 09:32 CET (10:32 broker time), as the USD/RUB broke a previous swing high and the pair was getting ready to break the 64.00 round figure, I entered my first trade, long at 63.98. Due to article contest rules, I will use Dukascopy charts to show my entries. But keep in mind that the trades were taken at another broker, as can be seen from the screenshots below.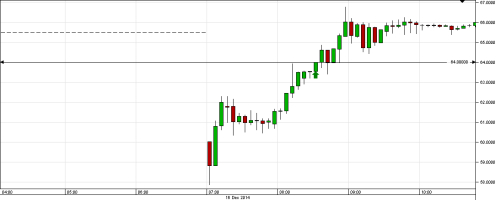 I wanted to have a large enough cushion if prices would fell back down to the day's low at 58.08. So I sized my position at only 1,000 units. As expected, the break of 64.00 lead to quick gains toward the next round figure at 65.00. Here I made a small mistake. I decided to foolishly add another 1K but I closed that trade at a small profit after I realised the risk I was taking. Less then 25 minutes after my entry, the USD/RUB hit a high of 66.50. I was now sitting on a profit of $40 dollars, from my initial tiny position of 1,000 units.
It Takes Courage to be a Pig
For the next two hours, the USD/RUB swung back and forth between my entry at 64.00 and 66.50. I wanted to load up on dollars and sell all the Rubles in the world. But I had to wait for the market to give me a signal. Keep in mind that with the massive volatility in the USD/RUB at that time, even my small 1,000 position could wipe out my initial capital of $100 in just a few hours.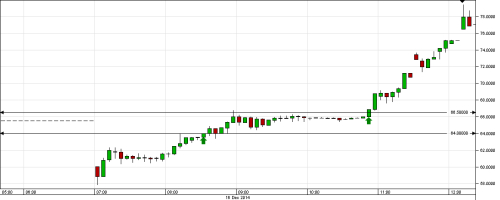 I had my eyes on 66.50. The previous swing high was now my new target. I would double my position on a retest of this level. At 11:50 CET (Central European Time), as the currency pair was attacking 66.50, I added another 1,000 units at 66.40. Two minutes later, the USD/RUB broke 66.50 and didn't look back. Ten minutes later, the pair was quoted at 69.09. I was now sitting on + $120. I placed another order, buy at 70.25. I expected the gains to accelerate after the break of the important round figure. Unfortunately my broker didn't honor this trade, claiming slippage was too great.

As expected, the break of 70.00 at 12:22 CET sent the Ruble in a tailspin and forex brokers scrambling. In the next two hours, the USD/RUB rallied over 10 percent, hitting a high of 77.71 on my charts. During the same two hours, quotes on the currency pair crawled to a standstill. This is how my broker charts looked like. I'm not exaggerating when I say this, I was getting 1 quote every 7-8 minutes.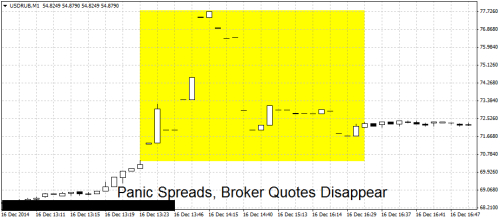 Panic Spreads, the EUR/RUB Hits 100, and Quotes Disappear
At one point, Bloomberg reported that the EUR/RUB hit the 100 round figure. This would translate into 80.00 on the USD/RUB. I suspected that the selling was overdone. But I had no way to exit my trades. I couldn't just click close, there were no recent quotes from my broker . So I did the only thing that I could, I set my stoploss at 76.399, somewhat below the most recent price quote. This meant that if the next quote came in below 76.399, the broker should take me out of my trade at the first available price. The next quote came in at 72.91, a massive 4.5 percent below my stoploss. For some reason this wasn't good enough for my broker and they decided to wait for the next quote 14 minutes later at 71.96. This cost me a further $32 dollars.

I was finally taken out at 71.96 on both positions. I had made a profit of $110.89 on my first trade and $77.33 dollars on the second. Keep in mind that this was after I experienced a massive slippage of 5.7 percent. This would be the equivalent of around 700 pips slippage on the EUR/USD. Under normal execution, my stoploss exit at 76.399 would've netted me $140 extra, on top of my $187 profit. But this wasn't a normal market.
Putin Defiant as Economy Crumbles
For Russia, December 16
th
2014 will likely be hence forth referred to as Black Tuesday. In the following days, the Russian government unveiled a series of
measures
that included selling of foreign currency reverses held by the finance ministry, estimated at around $7 billion. The Russian Central Bank began working on measures to recapitalize credit institutions in 2015 and suspended mark-to-market accounting.
The measures helped to restore some confidence to the struggling Ruble. The USD/RUB is currently trading at 55.24, a reversal of over 30 percent from the September 16
th
lows. But wider cracks in the system are already showing. Earlier today, the Russia's central bank
provided
a 30 billion Ruble bailout for National Bank Trust.
But Russia's problems are not economic in nature. Due to its invasion of Ukraine earlier in the year, the country faced wave after wave of western sanctions. After Black Tuesday, investors were looking at Putin's end of year conference for conciliatory tone. They didn't get any. Russia's strong man remained
defiant
, painting a picture of a country under siege:
''Sometimes I wonder, maybe the bear should just sit quietly, munch on berries and honey rather than chasing after piglets, maybe then, they would leave it alone? But no, they wouldn't, because they will always try to chain it up. And as soon as they chain it up, they will pull out its teeth and claws.''
Going the Way of Belarus?
For a glimpse of what may happen next, let's take a look at Russia's longterm ally Belarus. In a desperate move to stop a run on banks and shops, authorities
blocked
online stores and news websites on Sunday. The Belarussian Ruble lost half of its value since the beginning of the year, having been hit hard by the depreciation of the Russian Ruble. The country's Overnight Deposit Rate surged to 49% yesterday as the government banned OTC forex trading until 2017. The picture below shows shops being hollowed out by panicked shoppers.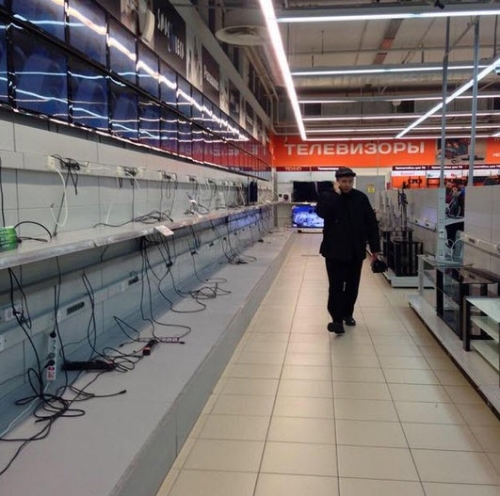 To lighten up the mood a bit, here are screenshots of some of the trades taken in my contest account on December 16
th
. I made a profit of 51,093 pips and I managed to increase my capital by a factor of 20, from 500 to 10,000.