Hello Friends,
I am doing extensive research and practice before I will open a trade position in my live account and in the process I have come to know some interesting facts about Forex trader's traits and how one can get successful by sheer appliance of some common principles which are applicable to every
Forex trader.



GOOD TRADER TAKES RISK, BETTER TRADER MANAGES RISK, BEST TRADER AVOIDS RISK
So friends, my first preference is to avoid big risk as I want to be a best trader.
We all know every traders should follow following Golden rules.
1. One should, be
Goal-oriented.

2. One should
know Thyself.

3. One should follow habit of
Extensive Reading.

4.
Cut Losses and Let the profit Run.

5.
Risk Management
.
6.
Be Adaptive.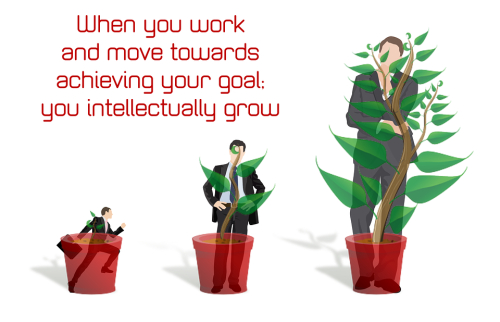 I think everybody have come across above rules at some moment but less people follow these rules so success ratio in Forex Market is just around
5-8 percent.
Here new thing I am going to share is entry point in trade and it is for those who have decided no matter whatever happens I will be successful in my
Forex Trading Career.
Before that I want to say if we take Forex Trading as profession and take self training in terms of practice in Demo account I believe, anyone can successful in trading.
Here I will share how just small changes in entry point into trade can change our success ratio.So lets begin to learn how it can be done. I will explain with charts and tools. Chart below shows uptrend, downtrend and consolidation now you can open a trade at any point of time in the market but I will show how by choosing a good entry point you can benefit more and risks less in the trading.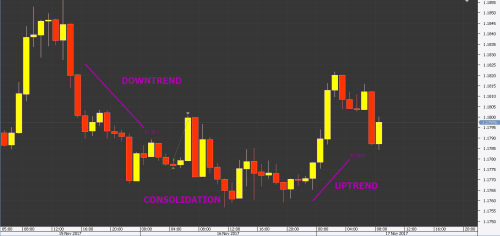 UPTREND:
Its a simple thing current candle is higher than previous candle whether it is of daily or hourly or any time frame you choose. I have shown in chart.
DOWNTREND:
It is opposite of uptrend and means current candle closes lower than previous candle.
CONSOLIDATION:
It means mostly candle are sideways one red other green in the same range.
One must note that pure trend-following system doesn't work in intra-day trading currency though it may help in positional trading, because as the economic data changes currency changes their trends. And even sometimes currencies doesn't goes anywhere they remain range bound for a years also.
Coming to the point, below I have shown chart of EUR/USD, as it is the largest pair and it is trending this whole year as there were changes expected in Quantitative easing programme of Central Bank of Euro zone.
Point one should note from below chart.
1.
UPTREND OR DOWNTREND
2.
CONSOLIDATION
I HAVE SHOWN BY CIRCLING THEM BY ECLIPSE.
3. CANDLE PATTERN:
BEAR CANDLE BULL CANDLE DOJI CANDLE.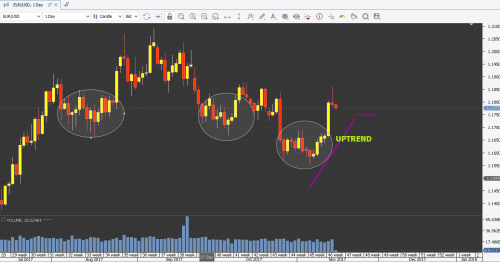 On above chart notice
consolidation
which suggests selling has come to an end.
Then notice the
Doji Candle or hammer candle
which shows. bulls are taking over on bears.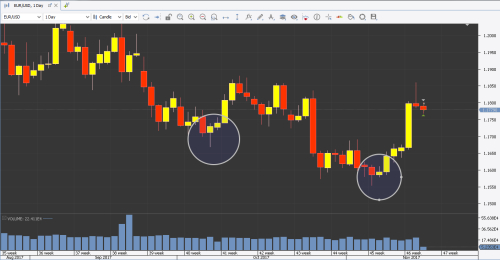 Now I will give hourly chart.
1. Always prefer
consolidation
as it helps to reduce risk, in this process stop loss is the latest low which comes hardly within 20 pips. And target is undefined let the profit run and exit when it consolidates and reverses trend.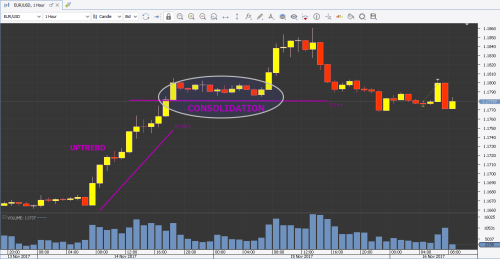 This is about PRICE-ACTION. With this I use two indicators to make my guess strong.
1.
ADX:
This is average directional Index and it shows strength in trend. If it is above 25 and rising means trend is strong means you can enter into trade.
2.
On Balance Volume
: This shows market participants end position that is total accumulation or selling.
I have shown it on chart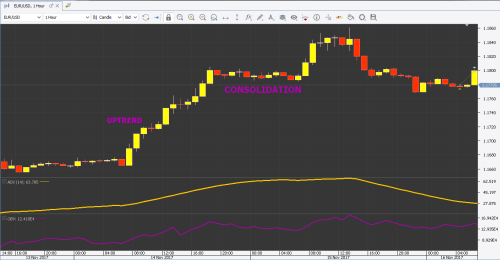 On the above chart one can notice
ADX is rising
and
On Balance Volume also rising
so one can enter into trade.
Similar system one can use for sell trade.
1. Identify downtrend.

2. Wait for consolidation.

I have give hourly chart of USD/JPY below where you can find the downtrend.
1. In Forex market simply trend following system doesn't work means you cannot be confident about trend, that as this currency pair is in uptrend it will continue uptrend or if currency pairs, is in downtrend it will continue downtrend. I will give you real example of Yesterday's USD/JPY move.
So simply adapt to trend, just don't be over confident on previous trend, change your mindset, as currencies change their trend.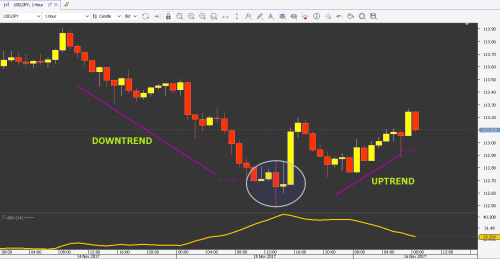 Here you will notice it was in downtrend and trend was strong as
ADX suggests
, but you cannot say it will continue in downtrend. In the evening
United States CPI
was near to expectations and other factors supported its growth and then it has changed its trend to uptrend. And now also you cannot say whether it will continue uptrend, it might goes up or down or remain in sideways trend.
What I want to say is, be adaptive square off the position if you found it is going down or let the profit run till it continues in that direction. This can only be helpful in
intra-day trading.
Above I have described consolidation method because it reduces your risk, with that you need to prepare your psychology because one cannot be a surgeon by simply reading books, Doctor need practice before you enter into operation theater.
Same thing applies here one cannot be a trader by simply learning technical and various methods on trading. One needs extensive practice to prepare mindset.
That's why, I am doing extensive practice to prepare mindset. Psychology plays a key role in executing trades, when you are backed by extensive practice then only you are confident enough to execute an order. Practice helps to develop right psychology and perfect psychology helps in attaining goals in profit.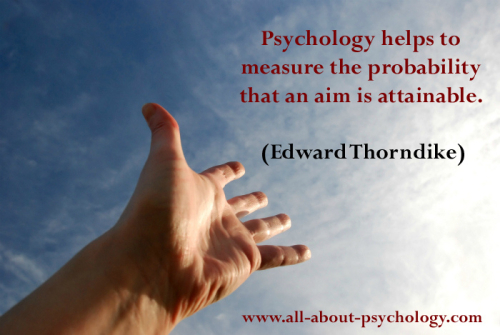 ADAPTATION
In Forex trading, ones needs to follow adaptive tendency to survive in trading and become successful. Change the position as the trend changes
if you are intra-day trader
. Because many times I have observed profit of the day can get converted into loss if you don't act on time. Profit booking is also an art and this also one needs to adapt as per changing scenario you cannot say it will go 100 pips or 20 pips when we enter into trade. We need to act like a chameleon.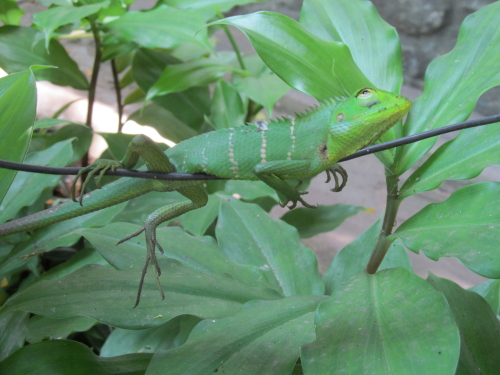 Trading is not about one size fits all solution. I have just shown an example how by implementing changes in entry point can benefit more and avoids risk. Keep changing your own entry points to benefit more and to lessen risk.
Hope you all have enjoyed reading kindly leave your comments below in the comments box.